Spotlight
A story of the Sari and its paar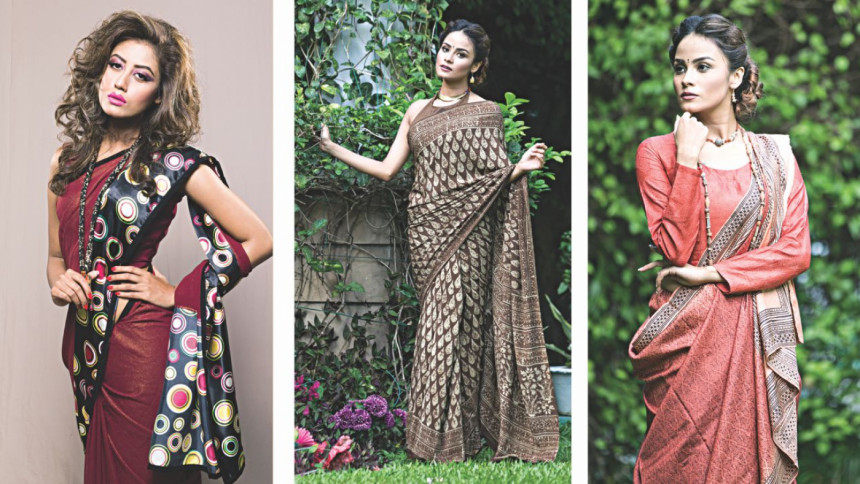 A sari is not a mere piece of garment for Bengali women. In its delicate folds lie hundreds of years of tradition. An attire so imbued in our culture and heritage, it feels special every single time, and bestows its wearer with grace and poise. You slip on a pair of jeans or kurti without any fuss, barely make the effort of powdering your nose when going out in shalwar kameez but never when wearing a sari. Out comes the matching jewellery, shoes and of course, the all-important teep! And come summer when one's heart yearns for fresh, pretty things, a shopping spree is incomplete without a beautiful, unique sari. It also is the time to splurge on a special piece your heart has been yearning for. So without further ado, read on to know what's hot and what's not!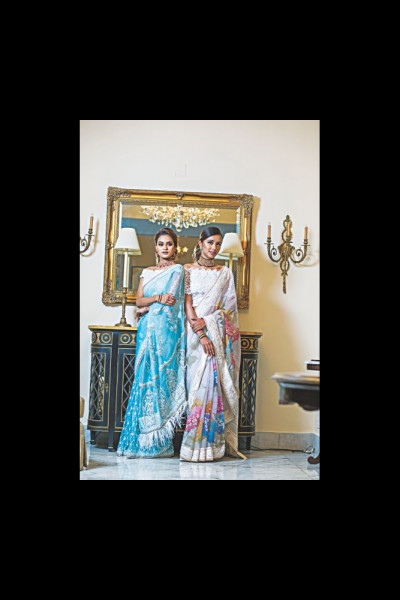 Summer has descended upon us in its glory which means we all want to keep our cool while looking hot! Light embellishments are the order of the day, and one can truly get away with it when done right. We tend to talk about the body of the sari, i.e. the jomin incessantly but the paar is so much more.  A sari with a unique paar will turn heads instantly. What's more it has endless possibilities. An ombre effect can be achieved by dip-dyeing which is very hot at the moment. One can go for a light-deep colour scheme, or a contrasting one. Another option is to have a wide embroidered border trailing along the sari, keeping the rest of the jomin plain and simple. Ruffles on kameez sleeves are very hot right now so why not wear it on the paar? A wide border of ruffles adds instant sophistication to a simple sari, as well as making it super fun and trendy. One can also go for feathers along the border to truly elevate things to the next level. Wide pleated border in a solid colour looks great on the lower part of the sari. A chiffon sari with a Chantilly lace border is all things fabulous. Hand painted saris look stunning with an interesting paar. A border of ruffles and pearls will give it a modern facelift.  Just make sure to keep the rest of the sari simple when doing a statement border. A white border of pearls of different sizes scattered throughout the paar of a colourful sari that has a printed jomin will look chic and cool. Other trendy embellishments such as the stick lace in metallic colours or rice pearl strands will add a new dimension to the paar when done tastefully.
And of course there is also the classic, golden zari paar with a single-hued jomin. No one can ever go wrong with sophistication! Let's also not leave out muted colours on the borders of a sari. For that's exactly what our predecessors have been flaunting for ages.
 A little tip: keep the blouse in mind. When focusing on the paar keep it simple and in sync with the sari in a subtle way.
In terms of materials, soft, flowing fabrics such as chiffon, georgette, muslin and gauzy linen are the choicest ones to look out for. Summer calls for the most delicate of fabrics that let your skin breathe. Any fashionista worth her Himalayan Pink Salt knows that comfort is key when it comes to looking and feeling best. Choose your sari keeping that in mind. This then leads us to the next important factor-- the colour. Pastel shades in all their glory are hot this summer; pretty, flattering hues such as sage, lavender, lemon, blush are eternal favourites. Slightly unusual pastels such as Celadon green, shell pink, and Tiffany blue look great. For those not willing to go the pastel way can choose moody shades like dove grey, cornflower blue, amethyst or khaki to stand out yet look soothing. Floral prints in all shapes and sizes are perfect for summer, as always.
Photo: LS Archive/Sazzad Ibne Sayed