Fountain pens and investment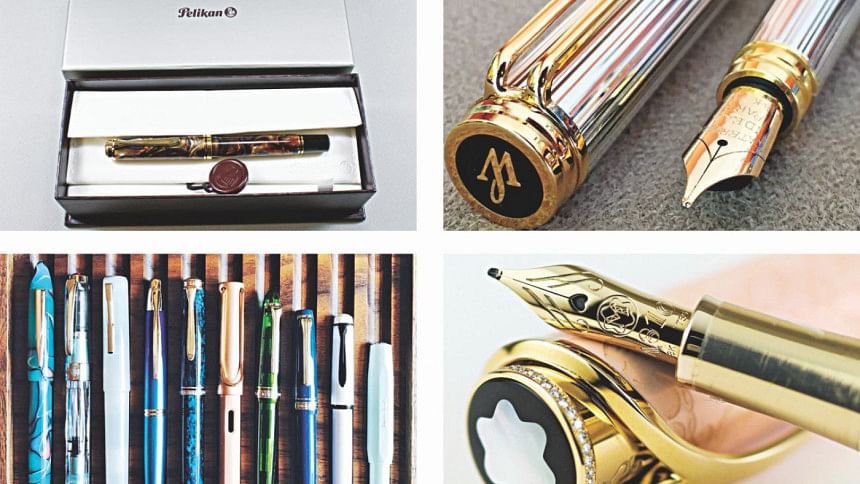 In the words of pen expert John Windsor, "this era is the third big surge for fountain pens." The first was back in the 20s when coloured plastics in fountain pens were developed, the second in the 80s and the third is now —the 21st century.
Two factors have heavily affected the sudden growth in demand for collector pens especially by the young generation; because they see it as a status symbol as well as a long term investment.
"I got my first fountain pen as a gift from my father after graduating high school. I was taking a leap into a new phase in life and I saw the pen as a beacon of light, as a symbol of excellence.
Even though the pen wasn't a collectible, I developed a knack for fountain pens and started looking into them; it brought to me such an emotional satisfaction that is hard to explain and can only be experienced if you can manage to buy one," said Afnan, an undergraduate student at North South University.
Collectible pens come in designs that they make a very strong, everlasting statement. They come with nibs often made of precious metals along with clips and bands made of gold or platinum. The pens are aesthetically pleasing to watch for the fine details they are crafted to. You have nibs which have Aztec heads or floral designs or even mandalas intricately hand carved on them.
Filigree pens were introduced in the late 1800s; they were decorated with leaf and floral patterns. However, they could not make much of a mark for themselves for they were not cost effective as they slowly became a rare commodity. Today, these are worth thousands of dollars.
When we refer to collectible pens, we mostly refer to fountain pens. Collectors however only go for the classics, or ones that were produced in far lesser numbers than the market demand — limited editions.
This is one of the main reasons why brands like Pelikan, Parker, Mont Blanc and Montegrappa, which are centuries old are still sought after by investors. The brands' history and heritage also appeals to them.
Collectible fountain pens lie in the price range of $400 and $7000 or even more. It is difficult to acquire them from Bangladesh, however, having friends and family living abroad can really help for they can get one for you from a branded store. But hope is not lost.
Their lies a two-decade old store in the heart of Banani by the name of Genius which can cater to your passion for collectible pens. Stepping through the doors of the store situated in Iqbal Tower, you would find stacks of cosmetics. Amidst them one part is occupied by branded pens.
The first thought that will occur to you is the authenticity of the pens. Rest assured, all these pens are genuine as they come with a certificate vouching that they are bonafide-- allowing you to have them serviced from any store of the respective brand all over the world.
"I have been running this store since 1997. I have a range of pens in my arsenal like Shaeffer, Waterman, Parker and of course, Mont Blanc; all imported from Singapore," stated Abu Tayeb, the owner of the store.
Apart from Genius, there are many stores like Time Zone in the same building as Genius which sell authentic collectible pens. Dhaka sadly doesn't have too many options for buying collectible pens, forcing us to rely on foreign lands to acquire them. And if the stars lie in your favour, you can find one or two people willing to sell off their collectibles here, in our motherland. But such opportunities are rarer than the blue moon itself.
A collectible fountain pen is like wine, the older it gets the better it adapts to your style and the better it writes. Don't just let it collect dust in the drawer of your study table, use it at least once and appreciate its beauty.
Photo: Collected