Why collapse of education is the collapse of a nation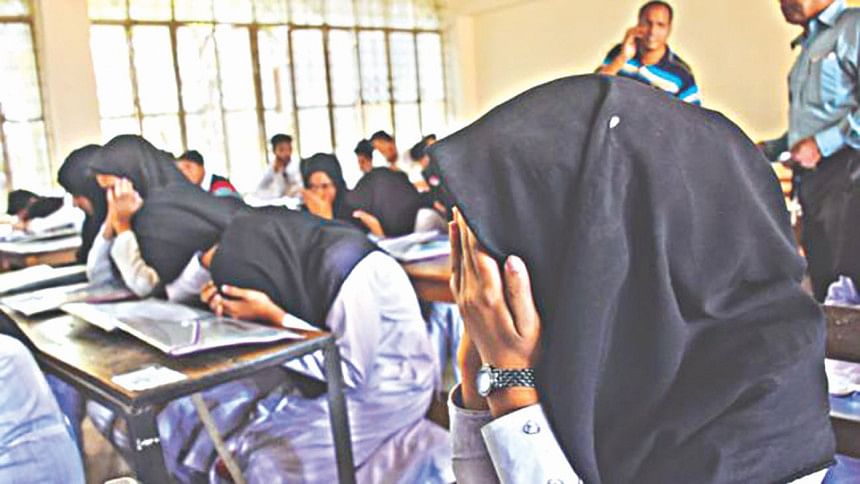 Education is a major driving force of development in any modern society. Quality education equips young people with knowledge and necessary skills and helps them develop positive values, ideas and morals so that they are ready to take the responsibilities and challenges of adulthood. It also plays a vital role in promoting the intellectual, social, economic, cultural, religious, spiritual and political development. The ability of a nation to sustain this process is key to its development, economic prosperity and the wellbeing of its citizens.
In Bangladesh today, corruption exists almost everywhere in one form or another; the education sector is no exception. Corruption in the education sector starts at the very beginning of a child's schooling. As per our constitution, every child is supposed to receive free education up to the secondary level. But in reality, it is not so, especially when it comes to children from poorer households in rural areas. Numerous studies show that poor parents have to pay bribe at every step of their child's schooling. They have to pay bribe to ensure their children get admission to school, secure good grades and graduate. This practice of extorting money from poor parents prevails among about half of government schools in our country.
According to a report titled "Global Corruption Report: Education," corruption occurs in different forms: bribery in procurement, construction and other infrastructure development, in access to education, and such acts as buying of grades, nepotism in teacher appointment, illicit payments in recruitment and admission, the misuse of educational grants, absenteeism, and private tutoring in place of formal teaching-learning.
Bangladesh has certainly made remarkable progress in expanding primary education, especially in raising enrolment of students and in bringing gender parity. But in the recent past, a serious question has been raised from different quarters that the quality and curriculum of our primary, secondary and higher secondary studies do not effectively serve the goals of human development. At present, the entire educational system has become a victim of a corrupt mindset that is devoting all its energy on securing higher pass rates through an apparent policy of easy marking, while showing less concern with actual learning outcomes. The discomforting consequence of this is evident when we find that a substantial chunk of skilled jobs in our industries and other economic enterprises are occupied by professionals from neighbouring countries, with India alone claiming nearly USD 4 billion in remittances that flow out of Bangladesh.
This goes to show our inability to provide the necessary educational and skill-enhancing resources to young people for them to prepare themselves for highly skilled jobs within the country.
In the midst of all that has gone wrong, a certain quarter is now trying to destroy our children's future by leaking question papers of almost all public examinations well in advance. It's true that question leak is nothing new, and such incidents have been taking place for a long time. But this time, things are different. It appears money is not the main goal of those doing the leaking. Even though they are selling the question papers the day before the exam, they have been giving it away for free on various social media networks, including via secret messenger groups on Facebook hours before exams. It seems their main motive is to cause chaos.
Question leakage, in fact, is now the biggest threat to the very foundation of our education system. It is destroying the learning process for our students and their capability, creativity, goodwill towards learning, and is undermining the foundation of a strong ethical and social fabric for the future. Students who are passing their exams using leaked question papers are getting habituated to using shortcuts to overcoming hardship. They are passing their exams without studying and are getting good results. This is very harmful and dangerous as it normalises a social acceptance of corruption in students at very early ages.
Apart from students, parents and teachers too have become active participants in the practice of corruption. They are buying leaked question papers for their children/students. With the help of leaked question papers, these students are passing public examinations with good grades and getting their degrees and certificates. Soon these miseducated individuals will take the helm of important positions in our country—some will become engineers, doctors, lawyers, teachers, politicians, etc. One may wonder how they would tackle real-world problems then.
The following words posted at the entrance gate of a South African university sums up the problems we are now facing: "Destroying any nation does not require the use of atomic bombs or the use of long-range missiles. It only requires lowering the quality of education and allowing cheating in the examinations by the students." The result is that: Patients die at the hands of doctors. Buildings collapse at the hands of engineers. Money is lost at the hands of economists and accountants. Humanity dies at the hands of religious scholars. Justice is lost at the hands of judges. Because, "The collapse of education is the collapse of the nation."
---
Abu Afsarul Haider graduated from Illinois State University, USA in Economics and Business Administration and is currently involved in International Trade in Dhaka.
Email: [email protected]
---
Follow

The Daily Star Opinion

on Facebook for the latest opinions, commentaries and analyses by experts and professionals.
To contribute your article or letter to The Daily Star Opinion, see our

guidelines for submission

.
---