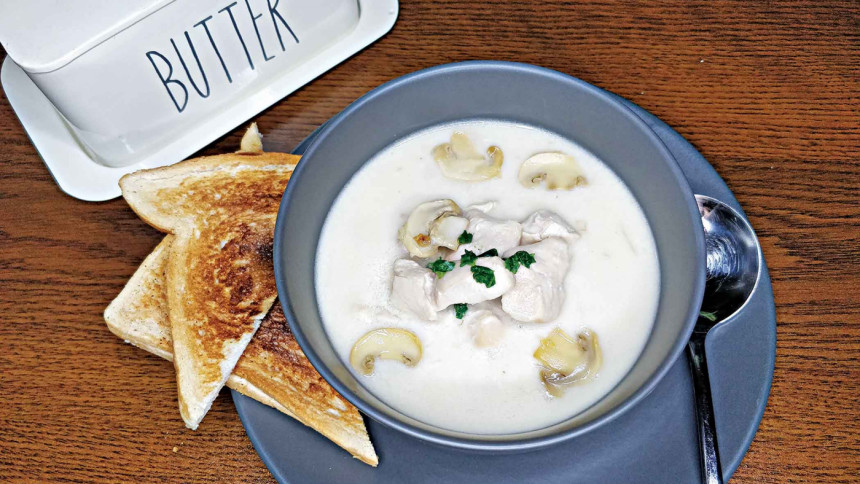 After a whole year of scorching heat and suffocating humidity, winter is a season loved and welcomed by most. However, the negatives are those cold foggy mornings, the freezing cold tap water, the reluctance to get out from those warm beds, and coughs and colds.
We try to tackle the cold with layers of sweaters and jackets, scarves and fuzzy woollen socks, but nothing beats the cold like a steaming cup of tea or a piping hot bowl of soup. A bowl of delicious savoury soup will warm up your body and soul from the inside out, right down to those frozen toes.
I come from a family where everybody loves to cook, my late grandparents, my parents, and my siblings all have a passion for cooking. My childhood memory is filled with my father making different kinds of soups throughout the year, especially during winter.
Our house had an unbelievably long open veranda, with a garden at the front and a backyard. In the 1980s, there were only a handful of tall commercial buildings, which meant nothing blocked the sun, the rain or the wind. And cold draft blew throughout the house, through the gaps under the doors and froze everyone.
Back then, everyone sat together as a family and watched the programmes like dharabahik natoks, which aired on BTV, or a movie played on the VCR from a rented video cassette.
The electric heater was placed carefully on the floor in a corner, away from hanging clothes and wooden furniture and us children were constantly warned not to touch the red hot glowing electric rods.
A tray filled with bowls of soup was passed around and we cradled our steaming bowls, warming up those frozen fingers, and let the delicious hot liquid warm us up right from the inside.
My father made all kinds of soups. Everyone had their own favourites. My favourite was, and still is, cream of chicken. He made it whenever I demanded or when I was sick because I would not eat anything else. Now, even though I'm all grown up and a mother of two, my father still makes cream of chicken soup for me during my pregnancies, or when I'm sick.
Another all-time family favourite was cream of tomato soup. Back when cream did not come from a tin, and canned tomatoes were unheard of, my father made this soup from scratch, using fresh, good quality tomatoes that came out in winter and always served it with homemade croutons.
Nowadays, with all kinds of ingredients available, cooking has become so much easier, simpler and time saving. The recipes have evolved during transition from one generation to the next, the old ways embracing the new.
So, here is my take on my father's recipe of cream of chicken and cream of tomato soup.
Happy cooking everyone!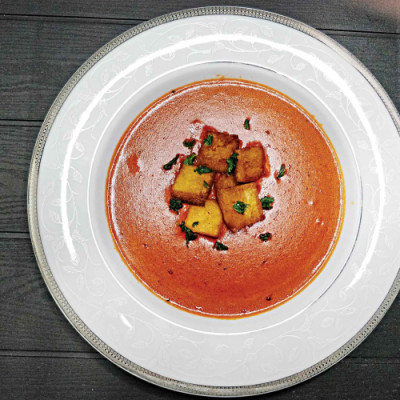 CREAM OF CHICKEN AND MUSHROOM
Ingredients
1 cup boneless chicken (cut in cubes)
½ cup sliced mushrooms 
2 tbsp finely chopped onions 
2 tbsp butter 
1 tbsp flour 
250ml milk, thickened with powder milk
250ml hot water 
2 tbsp oil
1 chicken cube
Salt and pepper, to taste
Method
In a saucepan, add oil and sliced mushrooms. Cook till all the water released from the mushrooms have evaporated, and there's a slight golden colour. Add the onions and chicken, and cook, with a pinch of salt. Add the butter and stir till it melts completely. Add flour and stir. Cook the flour, along with the chicken and mushrooms, till it becomes light brown and fragrant.
Add the milk and simultaneously, stir vigorously. This will make a thick roux. Dissolve the chicken cube in the water and add. Add salt and pepper according to your taste. Serve with toast and butter.
Tip
If you find the flour has become too dry while frying, add more butter. Do not fry the flour till it's dark brown, this will change the taste of the soup, and you won't have a sweet silky cream base. Always be careful as flour burns quickly.
You can always use canned cream to make cream soup. In this case, eliminate the milk and cut down on the flour.
CREAM OF TOMATO SOUP
Ingredients
500g tomatoes
2 tbsp finely chopped garlic
1 tbsp finely chopped onions
2 tbsp butter
1 tbsp flour
1 cup milk
2 tbsp oil
1 cups water
Salt and pepper, according to taste
Method
In a large saucepan add water, and bring it to boil. Score crosses on the bottom of the tomatoes. In a large bowl, have ice water ready to use. Place the tomatoes in the pot of boiling water for 30 seconds to a minute, till the skin starts to peel back. Using a strainer transfer the tomatoes from the pot to the ice water.
Peal the tomatoes and chop into pieces. In a saucepan, add oil and garlic and fry till garlic is light brown and aromatic. Add onions and cook till translucent. Add the chopped tomatoes and cook till the raw taste and smell is completely gone. Take the cooked tomatoes off the heat and blend to make a smooth puree. In another clean saucepan, make roux with flour, butter and milk. (Detailed instructions are given in cream of chicken soup recipe).
Add the tomato puree. Cook till soup thickens to your preference. Add salt and pepper according to taste. Add water if required. Serve with croutons.
Tip
Always use tomatoes that are packed with flavour and bright in colour. The easier, hassle free way to make this soup is to use canned tomatoes, tomato paste or canned tomato puree. The garlic flavour should come through with the tomatoes. Taste, and add more garlic if needed. Instead of roux, you can add canned cream.
Food and Photo: Nafisa Ahmed Sonali