Evolving with Travel: GoZayaan sets a Precedent for Digital Tourism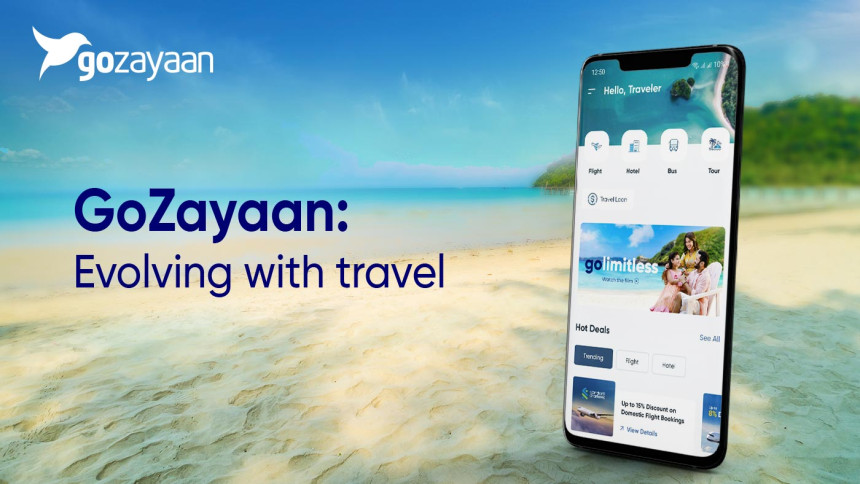 The term 'Digital Tourism' refers to the way travel can be organized, managed, and even enjoyed using digital resources. Although a relatively new term in Bangladesh, digital tourism has been slowly taking over the 4 trillion-dollar tourism industry worldwide. Just as we steadily shifted from landlines to smartphones and Information Technology became a mandatory class in schools, we have to wonder — why should such a profitable industry as tourism be left behind during the digital revolution?
A frontrunner in the battle to digitize the Bangladeshi tourism scene is GoZayaan. GoZayaan is an online travel-tech platform working to steadily shift the country's tourism industry online. The company has been making headlines recently with the acquisition of a foreign company and an inspiring new brand campaign saying 'Go Limitless.' GoZayaan's endeavours to bring about change are not only commendable, but ground-breaking in the context of Bangladesh.
The Essentials of Digital Tourism
Foreign tourism is heavily dominated by online players. Even our very own neighbouring country India is greatly influenced by some of the largest OTAs in the market. The drive for digital tourism comes from one specific need — accessibility. In the age of transparency, no one should be left behind from the wonders of travel due to inaccessibility.
This has been the driving force of GoZayaan from the beginning of its journey. Providing transparency when it comes to prices, building a holistic system of paper-free bookings, providing a 'book now, pay later' EMI facility — these are all examples of progressing towards a more inclusive future. The company's data has shown an 82.45 per cent increase in the number of flight ticket purchases over the past 6 months since the launch of the EMI facility. This only goes on to prove that no limits should stand in the way of travel.
Navigating the Landscape of Bangladeshi Tourism
The journey so far hasn't been entirely smooth for GoZayaan. The tourism scene in Bangladesh is still largely controlled by offline travel agents. With only 5 per cent of the tourism industry having online visibility, the travel tech platform was abruptly halted during its exponential rise because of the pandemic. Back-to-back lockdowns forced many tourism-based businesses to shut down during this time. But GoZayaan rose from the ashes like a phoenix with a new business strategy — to focus on home grounds.
The company which was primarily focused on international travel steadily shifted their attention to domestic transport and hotels. GoZayaan onboarded hotels and even intercity bus firms to cater to a nation of pandemic-stricken people. The company went down to root levels to find vendors and give them visibility in the digital space. GoZayaan's initiative played a significant role in bringing the Bangladeshi tourism scene in front of the eyes of international travellers.
At the peak of tourism now, GoZayaan has recently acquired a Pakistani company and expanded their operations overseas, becoming the first Bangladeshi travel platform to achieve this feat. Similarity in consumer behaviour, demographic, geography and holidays made this a smart move for the company.
Limitless Travel for the Limitless Dreamer
Travel is for everyone regardless of preferences. Whether one prefers mountains or the beach, leisure or adventure, bustling cities or quiet landscapes — travellers have endless possibilities to explore. GoZayaan aims to enable those people to fulfil their dreams.
The brand campaign 'Go Limitless' held the promise that travel is possible as long as the intent exists. To stay true to the promise, facilities like the travel loan, 0 per cent EMI, limitless discounts etc. have been adding new layers to their service. The campaign is here not only for travellers, but for individuals who go limitless every day from their own places. From penny-pinching students to tech savvy corporates- GoZayaan is here to prove that they are the go-to travel solution for the smart travellers of tomorrow.