Right Nau
After the huge success of Boma Burger, the owners, along with a few other friends, have launched Nau Bangladesh to bring the perfect snack to the Dhaka food scene. On 7 September, they organised a meet and greet with the press to talk about their vision and story behind Nau.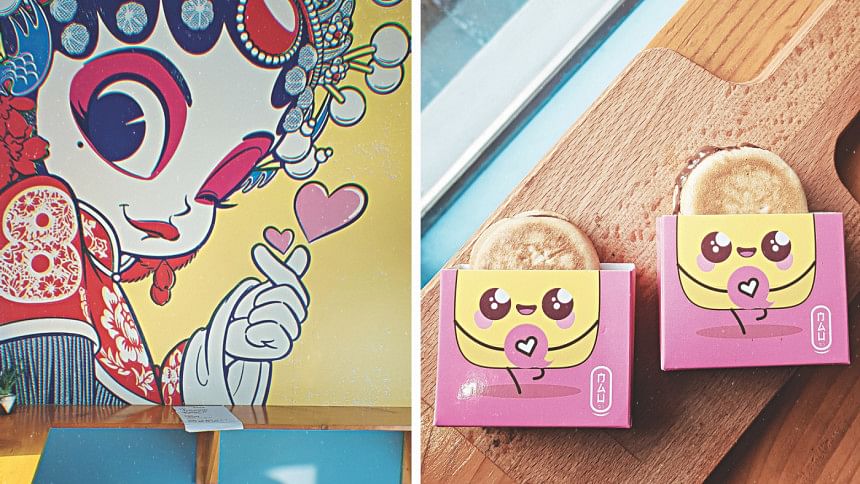 "We felt that Dhaka needed a place that offered quality snacks. More often than not, we find ourselves consuming entire meals in the name of a light evening snack. So, we wanted to introduce a genuine snack item," stated Daniel Rahman, one of the co-owners.
Nau has reconstructed Korean egg bread, a popular street food in Korea and other parts of Asia by adding a fun twist to it. As the name suggests, Korean egg bread is made with pancake dough filled with a whole egg, but Nau is playing with the possibilities of using different kinds of fillings to cater to different tastes.
"I wanted to make sure that kids would love to snack on this but also ensure that parents' wouldn't be able to resist either," said Rahman. When asked about the name, he added, "My friends and I have a fascination for Japanese art, so we chose the Japanese word for now. It is to signify food that you can just grab and go."
Even in a small space, the colours of the cartoon art on the walls help broaden the space, while making it seem homely. The décor is cute and aesthetic perfect for children to enjoy, and for photos as sunlight pours in through a big window.
They are currently serving three different flavours: two sweet flavours that include 'Kreamcheese' and 'Number 10,' and a savoury flavour of quiche called 'Keesh.'
Kreamcheese has a perfect balance of sweetness and a hint of tanginess of the cream cheese filling, while Number 10 is a classic Nutella flavour for chocolate and hazelnut lovers. Keesh is filled with mushroom, cream, leek and beef, where all the flavours are balanced to ensure that neither the filling nor the bread is overwhelming. The bread is soft, fluffy and buttery, with a tad sweetness and is flavourful on its own.
Nau is working on other flavours to cater to everyone's taste buds. "We are planning on bringing out a 'Shahi Tukra' flavour that we hope everyone will love," said Daniel Rahman. "The filling flavours are so customisable that the possibilities are endless," he further added.
Visit Nau today at house 63, road 15, block D, Banani, Dhaka.
Photo courtesy: Nau Bangladesh