Jute as a lifestyle product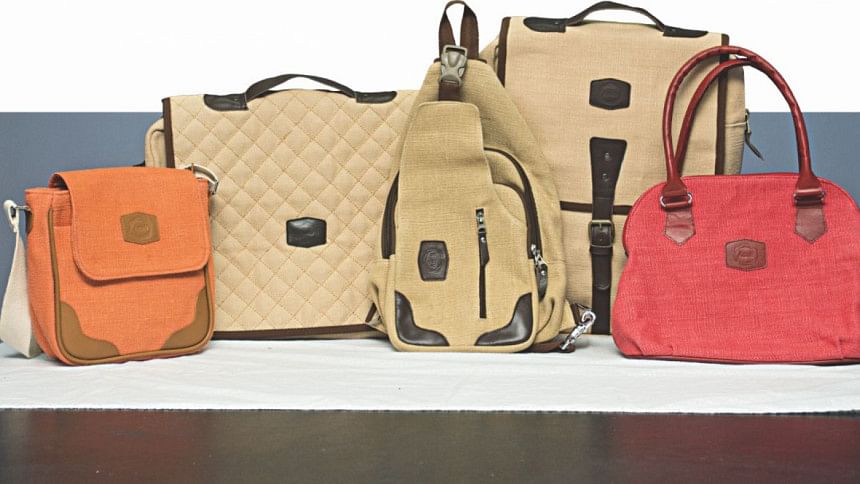 Modern fashion and living are ascending the steps to embrace the senses, while providing the people with a platform of expression. The issue of sustainability and eco-friendliness are now highlighted more than ever; fashion and living too are now addressing these concerns.
Jute has time and again, been upheld as one of the greenest solutions in terms of packaging. As an everyday item however, the concept often falls flat. You are used to seeing the sacks and the ropes, even the fabric, but even home décor, or everyday items?
Yes, it is possible!
Mos-ud-ul Alam, Managing Director of Banijyo Antorjatik Ltd. had a very interesting thing to say on this, "Just close your eyes and think of all the things in your home. You can make all of those with jute!"
It is a matter of mindset, as well as the attitude to actually be interested in jute products. Amir Rangan's Khiyoo Fashion House has been churning out jute fabric based jackets and wearables, which have been showcased time and again to the public eye. While people are warming up to the idea of having and using jute bags and other such carrying options, it is still quite a long way to go when it comes to actual fashionable jute fabric wears.
From a layman's perspective, it is relatively easy to visualise cotton growing in the field to it being made into yarn and finally woven into fabrics. But it still requires quite a bit of brain work to visualise the jute plant being processed into a fabric! This is not relevant for the end result but the perspective is necessary to establish acceptability.
Another issue that lingers is the visibility of such jute products. The diversified use of jute is sadly not that visible to the people. Even with fairs and display centres, the impact disintegrates as time passes by. 
Most recently, at The Eco Fair, held in Dhaka on 5 May, 2018, Barlap Footwear, which featured jute Espadrille footwear, made quite an impact with the crowd with their eye-catching designs. To continue this momentum, both the consumers and the producers have to change a lot of their outlook.
Jute, with its prominent placement as the 'Golden Fibre' has every potential to become a part of our life and style, it just needs the right mindset, paired with the appropriate promotion and production.
Photo courtesy: Ali Zakir/Amali Export Import Sdn Bhd