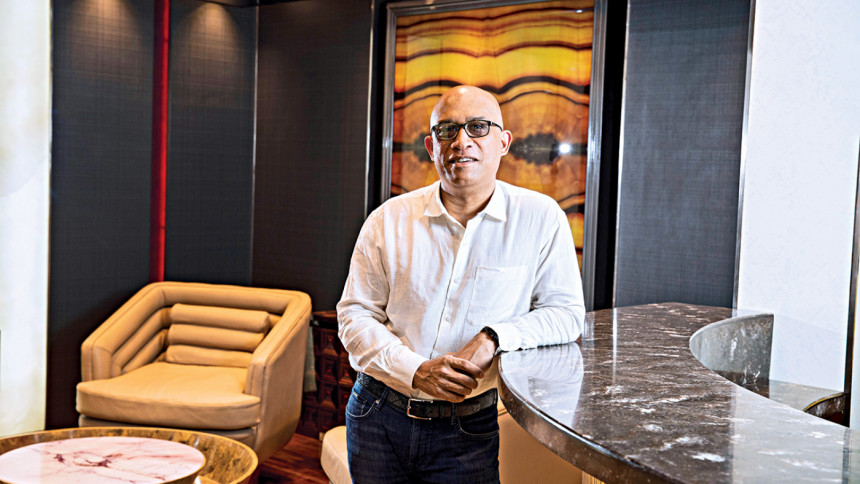 A museum housing fragments of imagination willed into solid reality by the ambition of Kawsar Chowdhury, Green Furniture, on Dhaka's Pragati Sarani, is the definition of atypical. Expanding the capabilities of a mere furniture store, this is where art is juxtaposed with décor to create stunning masterpieces that can transform any single space into a vivid dream! 
"When it comes to furniture, it's all about asking the right questions. If I look at just one chair, I will give the colour a deeper thought. I will ponder over why the designer designed it in the first place and ask myself if it's a commercial object or just meant as a collector's piece defying regular function. I will wonder how I can interpret the design to incorporate my own ideas and play around with similar themes," shares CEO and luxury interior and furniture designer of Green Furniture, Kawsar Chowdhury.
The pursuit of this very thrill drives Chowdhury into making spaces for homes to really make customers feel like they have walked into something special.
Lusting over your dream kitchen, complete with pristine-white cabinets, waterproof countertops, and incandescence from the ceiling can be met with Green Furniture's modern and contemporary designs, worthy of all the pins on Pinterest. Boring walls and wide pillars can be given a sophisticated twist of 3-D designs of waves and a lighting column inside to finally make the space vibrant. Glass can be used for wall panels to catch the light and you can try tracing the ripples of the onyx marble embedded within. Even leather can be optimised to be in the colour blue true to worn-out jeans to make a wall scream elegance at its finest.
More in the logs of Green Furniture are cabinets with extra care to minute details, sofas made from Italian leather that are naturally dyed, regal to look at and comfortable to sink into, stunning ceiling designs, beds, tables and everything in between. The furniture store is, therefore, fit to have a whole house, corporate space or even just a single room designed and furnished to your definition of perfection.
(A reassuring side-note- it even has, tucked away, cheaper alternatives to keep the client's budget in mind while ensuring quality.)
Whatever the requirement, behind every item lies innovation.
"Innovation is in our DNA. We will never sell the same pieces to two different customers," assures Chowdhury.
With newer designs ever so often, high-end machinery imported from around the world and finishing methods recognisable in plain sight, no stone is left unturned when it comes to your furniture solutions here. And so, with the exhibits at Chowdhury's museum of a furniture store is constantly changing; what remains ever so alluring are the designer's inspirations.
Whether it's the dream-like paintings by icons like Dali and van Gogh, monarchs influencing antiques distinctive to French art and furniture styles, modern and exotic collections of luxury fashion houses or simply an everyday conversation over dinner, the thoughts sparking Green Furniture's designs are truly endless!
And with thought comes consideration. Staying true to sustainability and keeping the environment in mind is still a caution for the furniture store.
"We use FSC certified materials for our products. With an FSC certification, materials are guaranteed to have been sourced responsibly, making them eco-friendly. We also have been experimenting with more and more manufactured wood like MDF so we can use lesser amounts of real wood," explains Chowdhury.
Green Furniture boasts a first impression of contemporary designs with a classical twist and every furniture piece ensures it lives up to the expectations built by Chowdhury's specialisation skills and love for innovation. A customer at Green Furniture will not inquire about what kinds of chairs and sofas are for sale here. Instead, your curiosity will be piqued by the unique creations on display and you'll be vying to find out how Kawsar Chowdhury can transform your single space next.
Photo: Sazzad Ibne Sayed
Green Furniture- 01678004256