In conversation with Dr Radhika Lakshmanan
​Star Lifestyle recently met with Dr Radhika Lakshmanan, the renowned oncological surgeon, and discussed matters related to the diagnosis and treatment of breast cancer.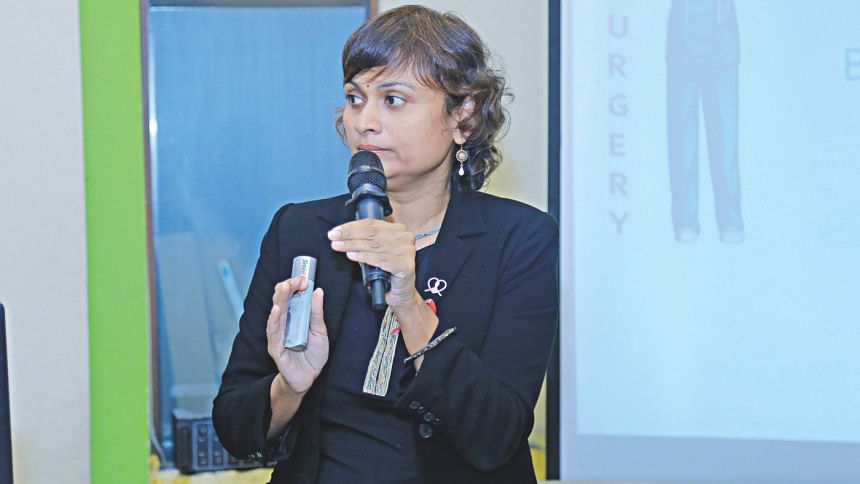 How common is breast cancer in Bangladesh? What is the mindset of people as far as breast cancer is concerned?
Breast cancer is one of the most common forms of cancers. In Singapore, it is the most frequent cause of all cancer deaths. Whereas in Bangladesh, lung cancer is the leading cause of death in men, but in case of breast cancers, the figure doubles, resulting into the most common cancer and the most common cause of cancer related death among women. Moreover, the chances of getting breast cancer is higher than any other cancers during pregnancy.
I think, in Bangladesh, certain groups of people are still apprehensive of seeing a doctor. When they find a lump in the breast, or the breast looks abnormal, they are afraid to see a doctor thinking that they will cut off the breast.
They come in late when the situation becomes difficult to treat. What they do not know is when they come in late, the success rate of operation decreases down to less than 25 percent.
What are the main risk factors of breast cancer?
The general risk factors could be categorised in two parts — one is lifestyle, and the other is inherent factor. One can barely do anything about inherent factors, for instance, age. The older one becomes, the greater the chance of getting cancers.
Secondly, a higher lifetime exposure to oestrogen may increase breast cancer risk. Risk increases if periods start at a young age, or if menopause occurs at a later age. Then, there are some women who take hormone replacement pills after menopause, which is a definite risk factor of breast cancer. 
However, the risk factors arising through lifestyle, i.e. bad food habits, can be controlled easily. High cholesterol, or high sugar foods, excess alcohol, and smoking could be among the mainstreams of bad food habits. Mental stress and lack of physical exercise are also associated with cancer.
What are the surgical options for people suffering from breast cancer?
In light of standard breast cancer surgeries, lumpectomy refers to removing the tumour and some tissues around the growth, whereas mastectomy refers to removing the entire breast. If the tumour is large, or if it has spread, the former is not going to work, and the only option is to go for the complete removal of the affected breast.
SYMPTOMS AND EARLY DETECTIONS
Lumps can be the first signs of warning for breast cancer. When a woman finds a lump in the breast, they should first undergo self-examination, which is encouraged at least once in a three-month period. In most of the cases, women avoid the lump as it does not cause any pain.
Secondly, if any fluid comes out of the nipples in the form of water or blood, one should go for detection.
Thirdly, if skin shows any changes due to dimpling of the breast, one should go for a mammography. Moreover, lump in the armpit could also be considered as one of the signs of breast cancer.
In addition, inverted nipples i.e. if it lies flat against the areola or goes inward instead of sticking out, then something can be wrong. Most women avoid worry about the changes in the shape of nipples because it does not cause any pain at all. 
TREATMENT
Early treatments can involve surgery, which is compulsory and cannot be dealt with medication alone. However, one can avoid chemotherapy if they are able to detect it early and undergo surgery. Another benefit of getting early treatment is one might not need mastectomy, and simply be done with a lumpectomy.
The treatment varies depending on the cells. Some might require chemotherapy, some might not, whereas some might need chemo and additional radiotherapy. It varies from cell to cell. However, surgery is mandatory in all cases.
When one is at the age of forty or above, one should go for mammography and if they are below forty, one can undergo ultrasonogram for early detection of breast cancer.
Photo courtesy: International Medical Consultants
Dr Radhika Lakshmanan is the Senior consultant of breast surgery of Farrer Park Hospital, Singapore with more than 20 years of surgical experience. She is accredited by the Royal College of Surgeons Edinburgh and was appointed as an Honorary Clinical Fellow in Breast Surgery at the Nottingham Breast Institute in 2011.