Pitha galore this winter
Revisiting the winter festivities with favorite delicacies
As the blistering humid summer finally takes a leave, Dhaka happily welcomes the festive winter season. Where in many other countries winters are spent draped in dull dreary colours, sloshing through inches of snow and hoping this god forsaken season ends soon, here in tropical Bangladesh winter begins with festivities of 'Nobanno'; a harvest celebration usually celebrated with food, dance and music. Not to mention, Bangladeshi winters also mean weddings, steaming plates of biriyani drenched in ghee with soft potatoes, the cozy sweaters gathering dust and the smell of naphthalene balls in your cupboard, badminton games in your neighbourhood, warm warm blankets, monkey caps and of course the pièce de résistance of winter—Pithas.
The harvest of rice is celebrated with Nobanno utshab and is a time of celebration in rural areas. Farmers harvest new rice, houses smell of the rice being husked, sounds of 'dhak dhak dhak' can be heard in each courtyard as fresh rice is being broken down into powder in a 'dheki'—a tool akin to the mortar and pestle but on a much larger scale. It is used to remove the husks of rice and also to pound rice into powder. Coupled with 'Nobanno' winters also come with "Khejur er rosh," or date juice, which is the sweet sap extracted from the soft trunk of the top-most part of the date tree. Around the rural areas, it is a common sight in winter--a clay pot attached to the top of date trees collecting the extract overnight and dismantled in the early morning. The juice can be consumed fresh and also turned into molasses and jaggery—a key ingredient in pithas.


Bhapa Pitha: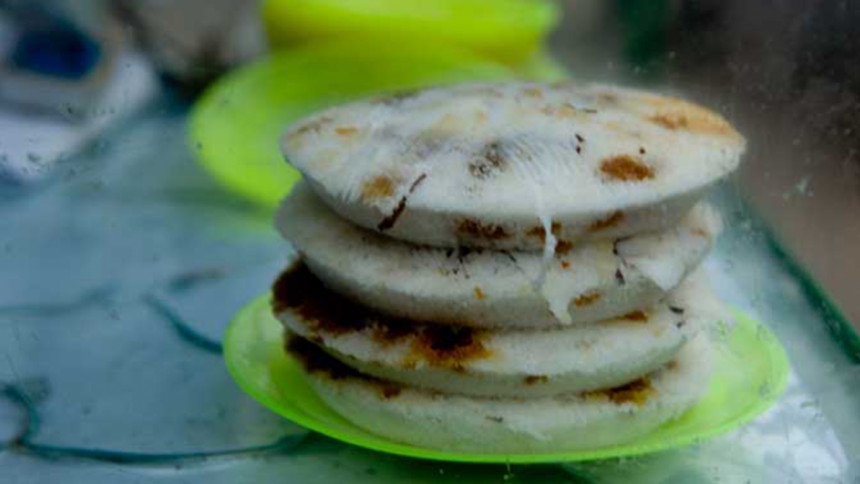 This is a winter favourite, made from roughly pounded rice mixed with fresh coconut shavings and stuffed with date palm jaggery. It is usually made into tiny discs of goodness, steamed and eaten piping hot. When made right, it is soft and fluffy and rewards you with bites of creamy coconut oozing with molten jaggery in each bite. Bhapa pithas can be found on most streets in Dhaka along with pitha ghar in Bailey road. It of course tastes best when cooked over earthen stoves crackling and spitting fire, with your grandmother keeping a hawks eye on the preparation and the winter chill hanging low over the trees in your village home.
Chitoi Pitha:

Another classic, the chitoi and bhapa go hand in hand. Here the rice powder is made into a runny paste with a little salt to taste and cooked in either clay pots or iron pots over medium to high heat. It is similar to a pancake minus the flip. Chitoi is eaten with a variety of condiments: Dry fish paste (Shutki bhorta), mustard paste (Shorshe bhorta), chilli paste (Kacha Morich bhorta), molasses and can also be eaten with duck curry. The chitoi is an empty canvas and you can unleash your culinary expertise pairing it with all sorts of food items.
The chitoi can also be turned into dudh chitoi. Soaked in milk sweetened with date molasses topped with coconut shavings, Dudh chitoi makes for a wonderful deshi dessert.
Dudh Puli:
Small pockets of coconut filled rice cakes which is then boiled in milk that is separately flavoured with cardamom, bay leaf, cinnamon, sweetened with date palm molasses or jaggery along with coconut shavings. This is a sweet lover's heaven and is a burst of flavors in your mouth. Small rice pockets filled with fried coconut in a sea of sweet milk will flood your mouth in each bite.  
Tel er Pitha: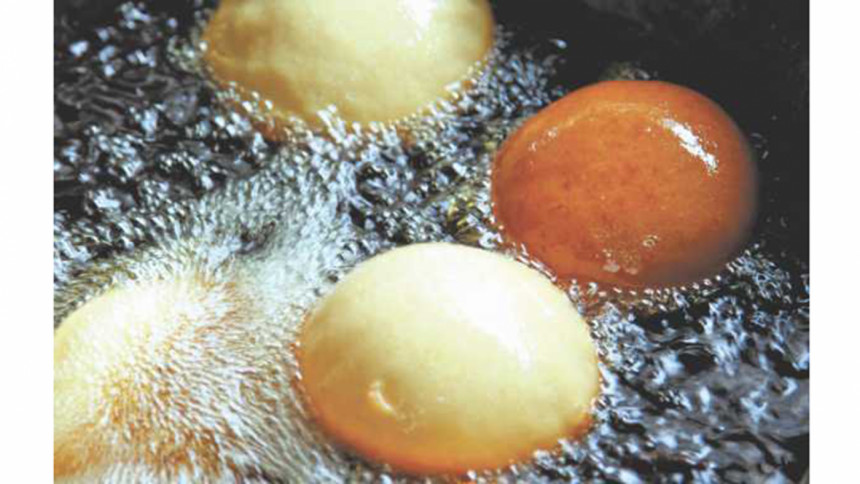 A runny mixture of powdered rice flour sweetened with date palm jaggery and fried in hot oil will give you the scrumptious tel-er-pitha. Each bite is a beautiful sweet and sticky melody. Crunchy on the outside, warm and sticky soft on the inside, tel-er-pitha is for those winter evenings spent hanging out with family complete with warm cups of sugary tea.
 
Patishapta:
These are flat crepes made with mixture of runny date palm molasses and powdered rice later stuffed with milk boiled down to a creamy concoction. Forget the French culinary delight our deshi crepes are a delight to dairy connoisseurs. Bite into it and you will be delighted with the creamy milk reduction beautifully complimented by the sweet crepe.
Mera Pitha/Choi Pitha:
These are steamed or boiled rice balls but made in different shapes in different areas. In the Sylhet region, they are called choi pitha and they are eaten with steaming duck curry, spicy red hot beef curry and different kinds of bhorta. They can be kept for a few days and when a little old they are diced and fried in oil along with scrambled eggs and slit green chilies. In Bikrampur, Noakhali, Comilla they are called Mera pitha and is usually eaten with date palm molasses.
Nakshipitha: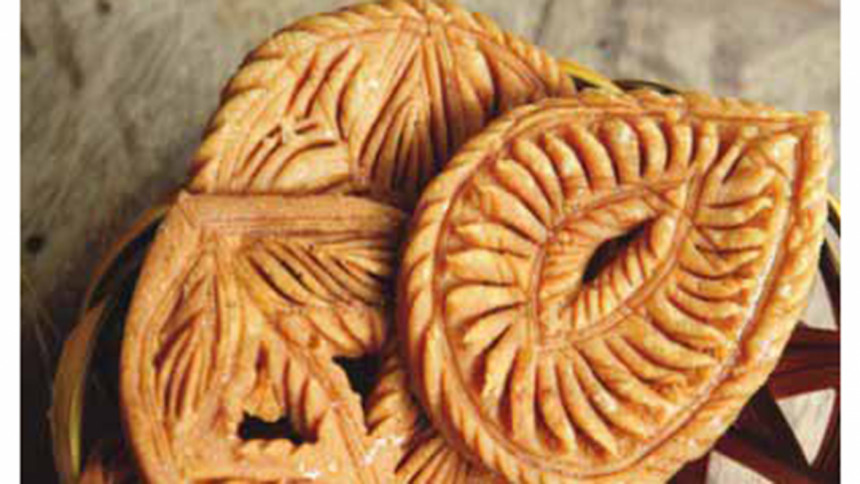 These are crispy rice cakes made with rice flour dough that is kneaded and then given various shapes to be designed with intricate 'naksha' inspired with motifs from everyday life such as leaves, flowers and waves. Nakshipitha is deep fried in oil and soaked in a syrupy mixture of date palm molasses. The intricate designs on the pitha were traditionally made using the thorn of the date palm tree.

Quintessential Bangladeshi winters would be incomplete without Pithas and pitha making is usually a communal affair where young and old of the family get together and partake in the various stages involved in making these delicacies. Ingrained into our culture, pithas hold a special place in the Bangalee's heart and winters are made all the more special by them.