Out of the freezer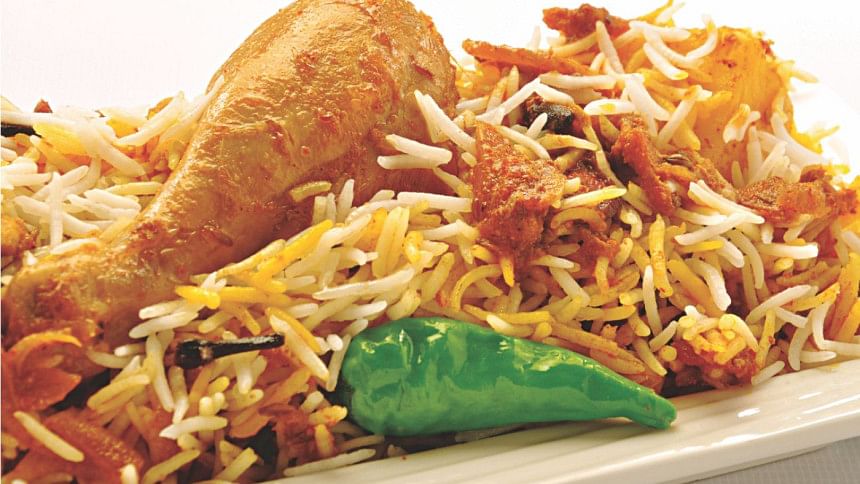 The post-korbani shift from meat to a diet comprising fish and veggies is slowly drawing to an end, and the eager diners in the house, gathering around the dinner table, seemingly seek meat. Some of you may still have a lamb leg stored somewhere in the fridge; or even some other prized cuts. The time is here to finally take them out. The following are some hand-picked recipes, easy to make yet something that brings out the rich flavour associated with korbani meat.  
Bon appétit!
BOMBAY BIRYANI

(Beef/mutton)

Ingredients

1 kg basmati rice

2 kg meat

1½ cups yoghurt

½ cup coriander leaves and 5-6 green chillies (turned into a fine paste)

1 tbsp garlic paste

1 tbsp ginger paste

1 tbsp salt

1 tbsp red chilli powder

1 tbsp cumin powder

1 tsp garam masala

3 tbsp oil

1 large cardamom

4-5 green cardamoms

2-3 cinnamons

4-5 whole black peppers

2-3 cloves

½ cup roasted onion

7-8 baby potatoes

4-5 green chillies (chopped) 

5-6 aloo bukharas

2 tsp kewra water, plus a pinch of saffron (for colour)

1 tsp cardamom powder

1 tsp nutmeg and mice powder

4-5 tomatoes

½ cup of chopped coriander leaves, mint leaves, and green chillies
Method

Cut meat into regular pieces. Wash, clean and rinse. Marinate meat with ginger, garlic paste, yoghurt, ground coriander, green chillies, salt, red chillies, cumin powder, and garam masala powder. Keep aside for 2 hours. Heat oil in a large pan, add large cardamom, green cardamoms, cinnamons, cloves, and whole black peppers; stir.  Add roasted onion and marinated meat. Mix thoroughly for 7-8 minutes over medium heat. Cover and cook on low heat for 20 minutes. Add 2 cups of water and cover the pan. Let it simmer on low heat. 
Keep cooking until meat is soft and tender. If necessary add more water. Then add fried potatoes, aloo bukharas, and whole green chillies. Cover and simmer on low heat. Boil rice with salt, whole garam masala, and 7-8 cups of hot water. When rice is completely boiled, add nutmeg, mace and cardamom powder. Mix well. Pour cooked meat into rice and sprinkle chopped tomatoes, coriander, mint leaves, green chillies, and kewra and saffron mixture. Cover and simmer for 10-15 minutes. Turn off the heat and keep the pan covered. Mix well before serving.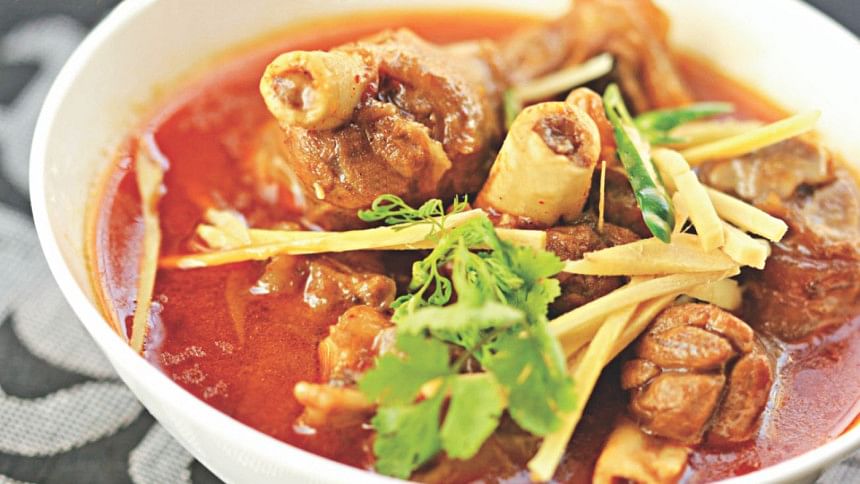 LAMB LEG ROAST 

Ingredients

Leg of lamb, medium size

1 tsp salt

1 tsp chilli powder

1 tsp coriander powder

5-6 cloves

2-3 black cardamoms

2 inches cinnamon stick

4-5 tamarind seed pieces

¼ tsp nutmeg powder

1 tsp cumin seed

1 tsp whole black pepper

2 medium sized tomatoes

¾ cup yoghurt

Sesame seeds for garnishing
Method

Make deep cuts on both sides of the lamb leg.  Add all of the whole and ground spices, whole tomatoes, yoghurt, and ½ cup of water and put in a pressure cooker; check regularly until the meat is cooked. After opening it, stir on heat till the water dries up. Within a few minutes the gravy will start to stick to the meat and oil will be released. Take it off the heat, and set on a baking tray. Pour the thick gravy on top, as well as the remaining oil, and sprinkle some sesame seeds (this will give it a glazed look) and then bake on high heat for just 10-15 minutes. Serve with yoghurt 'chatni' or 'raita' and 'naan'. Usually it takes an hour to make leg roast but this method takes only 20-25 minutes, and creates a very appetising juicy and tasty one.
BEEF NIHARI
Ingredients

1 kg beef leg bone or shank cut into large pieces (korolir haddi) 

½ kg 'koroli' meat

1 tbsp garlic paste 

1 tbsp ginger paste

3 tbsp fennel seed

1 tbsp garam masala powder

1 tbsp cumin seed powder

1½ tbsp salt, 2 tbsp red chilli powder

2 tbsp paprika, ½ tsp turmeric powder

5 tbsp plain flour

1 bunch coriander, chopped

2 tbsp ginger, chopped

2 tbsp chopped green chillies

½ cup oil

Water, as required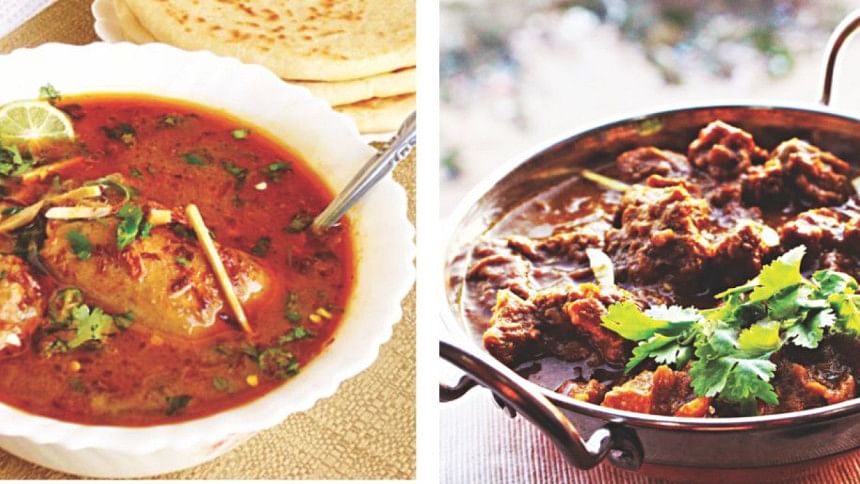 Method

Take a large wok, boil bones with ample water, salt and fennel seeds (wrap fennel seeds in a piece of cloth and knot it tightly) for 4-6 hours. Take another large pan, heat some oil and fry the ginger, garlic paste and beef for 10 minutes. Add red chilli powder, turmeric powder, salt, and fry for further 5 minutes. Add ½ litre water and bring to a boil, then cover and cook on low heat until the meat is tender. 
In a fry pan, lightly fry red chilli powder and paprika powder and add 2 cups of oily water from the boiled bones, then pour this mixture into the cooked beef. Cook for a further 10 minutes. Now pour this meat into the boiled bones and cook for 30 minutes. Dissolve flour in some water and add to the gravy, mixing and cooking till it becomes thick. Garnish with cumin powder, garam masala powder, chopped ginger, coriander leaves, and green chillies. Mix them lightly, then keep few minutes on low heat. Take off from heat and serve hot with naan or roti.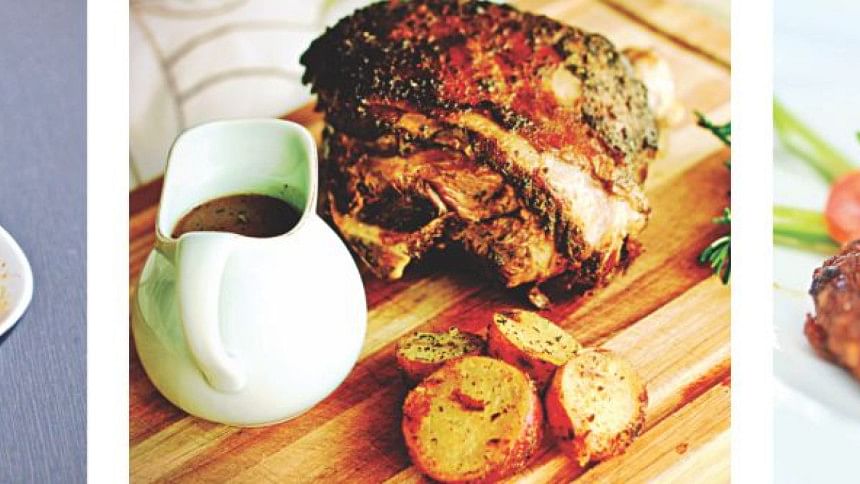 MUTTON TIKKA KARAHI

Ingredients

½ kg mutton, boneless

1 tbsp raw papaya paste

3 tbsp yoghurt

1 tbsp ginger and garlic paste

1 tsp salt, 2 tbsp lemon juice

1 tsp red chilli powder, ¼ tsp turmeric

1 tsp coriander powder

1 tsp cumin powder

1 pinch food colour (optional)

2 tbsp coriander leaves, chopped

1 onion for garnishing, sliced

2 tomatoes for garnishing, sliced

1 lemon for garnishing

4-5 green chillies for garnishing
Method

Marinate mutton in papaya, yoghurt, ginger and garlic paste, salt, lemon juice, red chilli powder, turmeric, coriander, cumin powder and food colour (if using) for 2 hours. Pour ¼ cup oil in a skillet and put mutton in it. Cover and cook on low heat till meat is cooked through. Then place a slice of onion over the cooked meat and place a piece of inflamed coal over the onion. Drizzle a little oil, and immediately cover with a tight lid and let it sit for 5 minutes. Now take out on a serving dish and garnish with onion rings, tomato slices, lemon, fresh coriander leaves and green chilli. 
CHAPLI KABAB

Ingredients

250g mince beef

3 tbsp gram flour (besan), roasted

1 tbsp of whole coriander and cumin seeds

8 red chillies

1 tbsp pomegranate seeds

2 tbsp fresh coriander, 2 green chillies

1 chopped onion, 1 egg

Salt to taste
Method 

Take mince beef and add roasted besan/gram flour to it. Add whole coriander and cumin seeds, whole red chillies and salt. Add pomegranate seeds, fresh coriander leaves, and green chillies as well. Then add chopped onion and an egg, mix well by hand. Let it rest for one hour. Finally make round patties of the whole mixture, put some chopped tomatoes over them, and fry it in pre-heated oil. Delicious 'chapli kabab' is ready to serve.
Photo: Collected