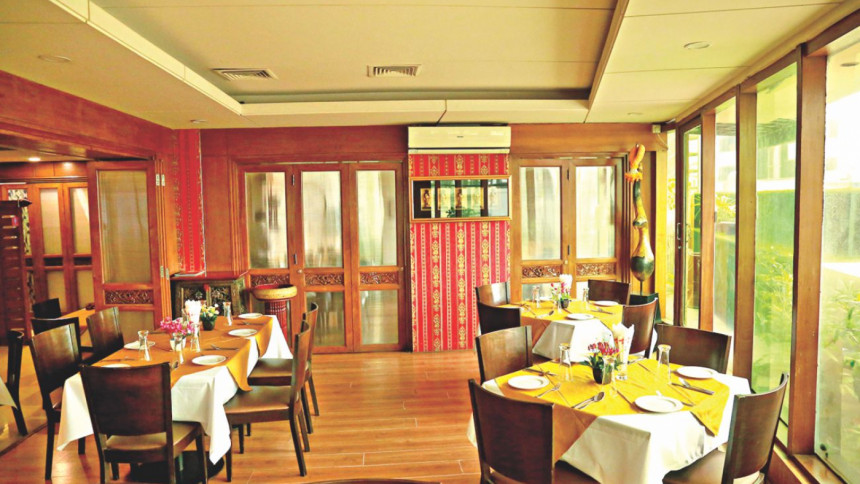 By introducing a well-known cuisine at its finest, 'Umbrella' gives us an insight into the food scenario in Thailand itself with the use of heart-warming flavours as well as showcasing their own Thai twists on many mainstream food dishes.
For starters, they have an array of Thai salads including Umbrella's special salad which is an addictive combination of crunchy and spicy tangy flavours, consisting of a chicken or prawn made with their secret sauce and topped off with a generous mounting of crispy deep-fried morning glory; 'Yum Talay' is a refreshing mixed seafood salad that will take your taste buds on a joy ride flavoured with cilantro, mint, lime and a dash of chili that will keep you going back for more! Besides salads, they also serve different kinds of spring rolls, prawn and fish cakes, chicken satay, soup and many more. For the main course, they have different kinds of rice and noodle dishes that complement an array of seafood and meat dishes. They serve whole snappers, deep fried or steamed such as 'Pla Ka Pong Sam Rod' (Spicy Three flavour Fish) and 'Pla Ka Pong Nung Mae Ow' (Steamed Lemon Fish) respectively.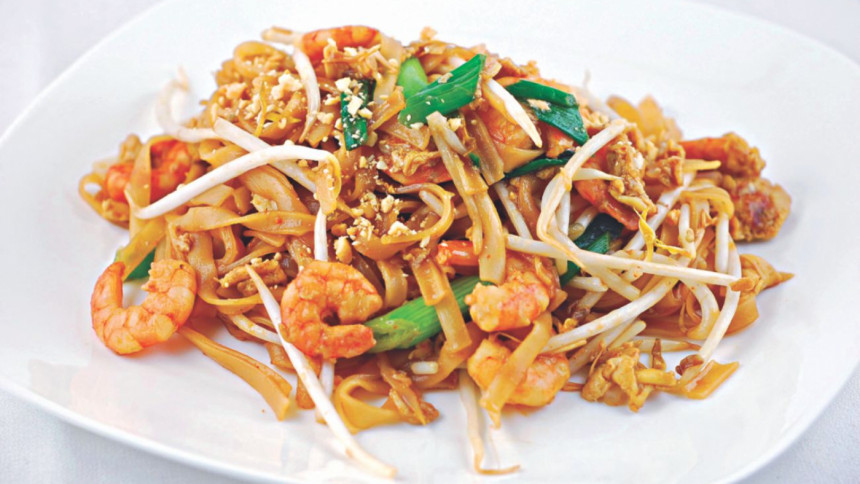 The first as the name suggests comes with three flavoured sauces, spicy, sweet and sour while the latter is prepared by stuffing the cavity of the fish with garlic and stalks of lemongrass and then steaming it, giving the fish a fragrant but spicy and sour flavor. A must try is their 'Hor Mok', a Thai curry fish custard, made with fish, calamari, red curry paste, kaffir lime leaves, sugar and coconut cream, the flavours are mild and layered and you get a fragrant lemony whiff towards the end of each bite. Umbrella Steak Thai is their take on a grilled fillet steak made with a special home- made basil sauce and they also have the classics such as Larb Gai and Pad Thai. For dessert the menu offers 'Khao Niaow Ma Muang' better known as Mango with Sticky Rice (seasonal) served with mango slices and sticky rice covered in a heavenly and creamy coconut sauce, they also have other mainstream desserts such as waffles and ice-cream, sundaes and many more. A great way to sample their food but in small portions is by ordering the set lunches or take away boxes from their menu ranging from Tk345-Tk525, which is a plus if ordering within Banani, Gulshan and Baridhara where they offer free home delivery and cash on delivery services to customers.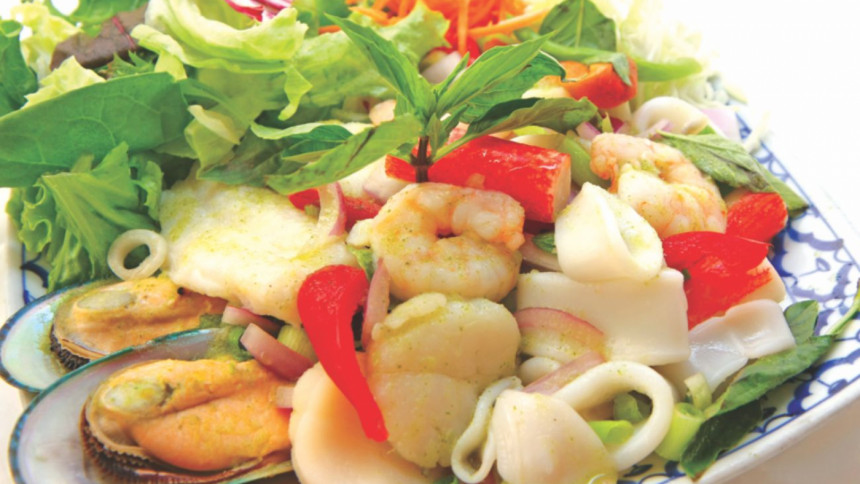 Besides their menu that includes a splendid assortment of Thai dishes, they also have a juice bar serving fresh juices that complement the food.
With great service and space that can comfortably accommodate around 150 guests, it allows customers to enjoy meals without burning a hole through the wallet. The décor and ambience of the place is very calm and welcoming with large windows, beautiful wooden and golden Thai decor, soft yellow lights and wooden filigree panels.
Photo courtesy: Umbrella
The aesthetically pleasing family styled restaurant 'Umbrella' is located in Navana Shopping Complex (4th Floor), Gulshan 1 Circle.
Find them on Facebook at https://www.facebook.com/umbrellarestaurant/
For free home delivery: +8801736358556; +88029862588; +88029853851