eating out
Brunch and Ice-cream all day!
A joint known for serving delectable brunch dishes 24/7, The White Canary Café and Marble Slab Creamery Bangladesh, is every foodie's version of what heaven should be. Serving the best of both worlds, from addictive mouth-watering French toast, Nutella pizzas to ice-cream shakes and sundaes, and scoops of ice-cream that come with unlimited toppings, respectively.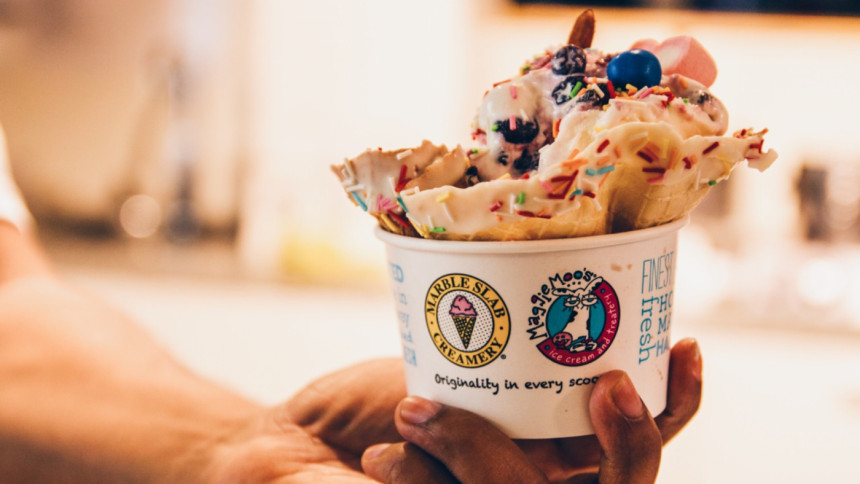 While The White Canary Café is a local concern and business, Marble Slab Creamery Bangladesh is an international franchise; both operate simultaneously under the Shanta Multiverse Limited, in addition to also having separate branches in Banani 11 and Shanta Tower, Tejgaon, accordingly.
So what sets The White Canary Café apart from all the other eateries around? First and foremost, the quirky pop culture characters inspired names of the dishes in the menu, like their "Green Arrow" which is actually a tantalising spaghetti dish with tomatoes, mushrooms, and spinach, or their "Captain America's Breakfast Special" platter, made up of two mini classic pancakes or brown bread, two chorizo chicken sausages, two fried eggs, roasted tomato or mushrooms and one glass of orange juice (only available till 1PM).
Truth be told, there isn't one dish on the menu that doesn't live up to its superhero name. Their signature dish, "Blueberry Buttermilk Pancakes" is served with a special cream-cheese and doused in blueberry jam. This dish is the best thing to have happened to Dhaka since the invention of Naga burgers. The sweet sticky jam and the subtle contrasts from the cream-cheese in every bite, combined with with the fluffiest pancakes that can be found in all of Dhaka, for Tk 425 is more than just a reasonable price for this dish. Other pancake options available are, "Red Velvet Pancakes" (a take on the legendary red velvet ones found in Los Angeles), "Chocolate Chip Pancakes" that the menu describes as triple layered and full of dark and milk chocolates. Is your mouth already watering? The latest addition is the "Chocolate Pancake," served with copious amounts of chocolate syrup and cream. For those who do not have a sweet tooth, try out their savoury counterparts such as their "Salmon Eggs Benedict," consisting of a freshly baked French croissant, poached egg and Atlantic salmon, and their house special hollandaise sauce. White Canary Café's menu also includes a selection of "omelettes," "appetisers and snacks," and "pasta specials" to choose from. So pick your brain away as you figure out if you want a "Funghi Sausage Omelette," "Smoked chicken Sandwich," or a "Spicy Tandoori Chicken" pasta (tandoori chicken, spaghetti and Sriracha). If you still remain unconvinced, then let's not forget that the menu also allows customers to order their very own "Hot Chocolate Fondue." Finish off the meal with a dash of their signature coffee drink such as, "The Bruce Wayne" (tiramisu frappe), "The Flash" (red velvet latte with 2 espresso shots), or "Betty Cooper" (hot fudge latte with chocolate chips), to name a few.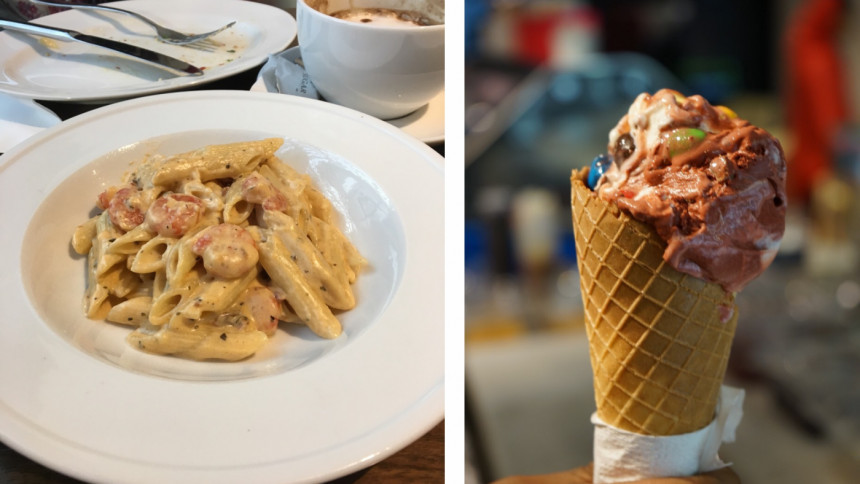 Marble Slab Creamery Bangladesh's menu is dessert paradise, from ice-cream shakes, sundaes to dessert options as well. In total, they have 19 flavours that include coffee, cheesecake, cotton candy, double dark chocolate etc. All of their dairy based flavours are made with buttermilk, which gives the ice-cream a rich creamy texture that easily sets them apart from other ice-cream companies in Dhaka currently. If all of that wasn't enough, Marble Slab Creamery Bangladesh provides unlimited toppings if customers order two or more scoops. Just to name drop a few of the toppings they have are, Nutella, cornflakes, Reese's, coco puffs, M&M, gummy bears, almonds, hot fudge, Twix, Galaxy, Kitkat, smores and more. Marble Slab Creamery offers ice-cream cakes that need to be pre-ordered and can be customised decoration wise.
The best part about the eatery is how amazing the staff and service is, the care taken in preparing each dish and the quality of the ingredients used. Rest assured this is one place well worth the money and repeated visits!
Photo courtesy: White Canary Cafe