DESHI VEG DELIGHTS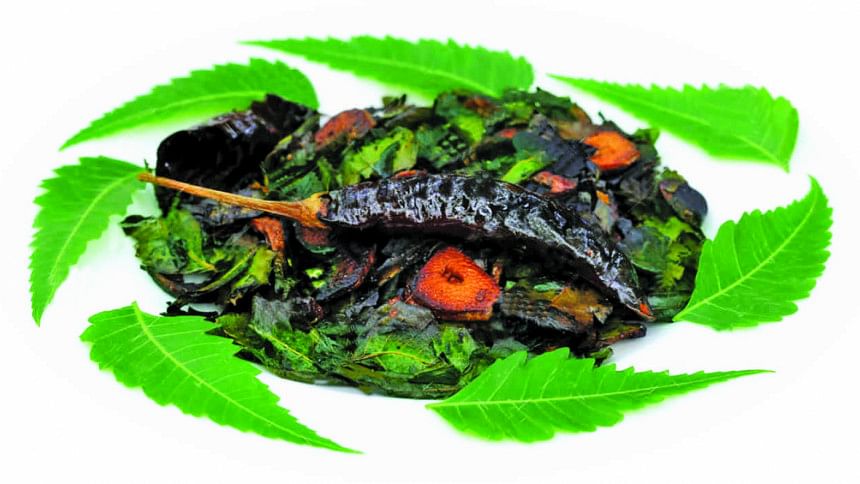 The neem tree has diverse use in the traditional medicine and thus earned its just designation - 'Sorvo Rog Nivaroni' (the one that can cure all ailments). Neem's traditional use is based on its detoxifying benefits that help maintain healthy circulatory, digestive, respiratory, and urinary systems. 
Neem is one of the most powerful blood purifiers and detoxifiers in Ayurvedic medical usage today. Scientific studies indicate that neem boosts the immune system by energising lymphocytes (type of white blood cells) to respond to infection and other challenges to the body's immunity. Young neem leaves contain 60 percent water, 23 percent carbohydrates, 7 percent proteins, more than 3 percent minerals and 1 percent  fat and have been used as a tonic and astringent that promotes wound healing.
Sautéed neem leaves 
Ingredients:
2 cups of tender neem leaves
½ tbsp mustard oil
½ tsp salt
½ tsp turmeric powder
Method: 
Heat oil to a smoking point. Toss in the salt and stir until they dissolve. Chuck in the turmeric powder and mix up. Immediately throw in the leaves-sauté stirring all the time for few seconds.
Transfer leaves to a serving dish. Longer cooking time will strip the leaves off its therapeutic values.
Tip:
Dry fry the neem leaves, crumple them between your palms, and sprinkle them over any vegetable item like fried aubergine; you get an instant bitter (teeta) dish.
Pointed gourd dolma
In European cuisine 'dolma' is an edible leaf (e.g. grape leaf or cabbage) cooked with a filling of ground meat, herbs, or rice. In Bangladesh and West Bengal it is stuffed vegetables. The word 'dolma' (plural: dolmades), is from the Greek process of wrapping food in grape leaves, to cook. We term stuffed vegetables as dolma, because it is convenient to do so for stuffed leaves already had a name in Bangla: paturi.
40 Servings
Ingredients:
40 (2 kg) pointed gourd (potols/parval)
250g split peas (boot'er daal), soaked, boiled and ground to a firm paste (daal paste)
8 tbsp coconut grate (½ coconut)
1 cup coconut milk, 1st extract
2 cups coconut milk, 2nd extract
3 cups coconut milk, 3rd extract
200g raisins
4 tbsp ghee
8 tsp garam mosla powder
1+1 tbsp ginger paste
1 + 1 tbsp sugar
1 tsp cumin seeds
4 tsp cumin powder
1 kg yoghurt
10 green cardamom pods, gently cracked
6 bay leaves (tejpata)
15 green chillies
Paste of ½ tsp Turmeric power
2+2 tsp red chilli powder
1 tsp + 1 tsp + 2 tsp salt
6 tbsp + 2 tbsp soya oil
Method:
Scrape out the outer membrane of the potol's rind with a very sharp knife (do not peel the rind). Heat 6 tbsp oil in a wok; when hot, toss in the following: daal paste, 1 teaspoon salt, 1 tablespoon sugar, 1 tbsp ginger, green chilli paste, 2 teaspoon red chilli, raisins, coconut grate, 4 teaspoon cumin powder and green cardamom.
Cook stirring and scraping constantly with a rubber spatula/wooden khunti, until the raw smell of ginger fades away, (say after 5 minutes) and the mixture emits a pleasing aroma. Transfer cooked daal paste to a bowl and set aside.*
Heat 2 tablespoon oil in a wok; sprinkle with 1 teaspoon salt, and chuck in the potols (pointed gourd). Sauté them until they become a few shades darker, (overcooking will wrinkle the rind). Strain out the potols from the wok, and set aside to cool.
When potol reaches room temperature, top and tail them. With the tip of a sharp knife slash a lengthwise slit alongside the middle section of the potol. Press slit. With a teaspoon scoop out the seeds and discard them.
Stuff the potols with the cooked daal paste*, press to close the slit. Arrange them on a serving dish, the slashed side facing down. Pour the coco-sauce (recipe given below) over them, and serve.
Coconut sauce:
Heat ghee in a pan, toss in the following: bay leaves, cumin seeds, 1 tablespoon sugar, 1 tablespoon ginger, turmeric powder, 2 teaspoon salt and 1 teaspoon red chilli. Sauté stirring vigorously until spice releases its flavour.
Pour in: yoghurt, coconut milk (1st 2nd & 3rd extract). Mix up, bring it to a boil and cook for 5 minutes. Pour sauce over the cooked potol. Sprinkle with garam mosla. 
Dried beans curry
The seeds of the broad beans called 'sheem bichi' in Bangla and the dried form is called 'khaissha'. This recipe uses the dried form of the broad bean seeds. The dried beans are not a daal, through other split/un-split dried beans, such as 'rajma' (kidney beans) and 'moong beans' (green gram) are called daals. Technically daal is the split halves of legumes.
Ingredients:
250g dry broad bean seeds
2 bay leaves (tejpata)
1 tsp cumin seeds
1 tsp cumin powder
10 green chillies, chopped
2 tsp ginger paste
½ tsp turmeric powder
1 cup vegetable stock
2 tsp salt (optional if stock is unsalted)
Method:
Soak the dry beans overnight in enough water. Boil the soaked beans to tenderness, cool and then peel off the dark skins and discard. You will now have tender beans ready for cooking. Heat oil in a wok, when smoking hot, toss in: bay leaves and cumin seeds. Cook undisturbed for a few seconds. Chuck in the green chillies and cook for a minute. Add the following: beans and cumin powder, turmeric powder, ginger, salt (optional) and the stock. Bring contents to a boil, and cook until beans are ready and flavoured with the spices.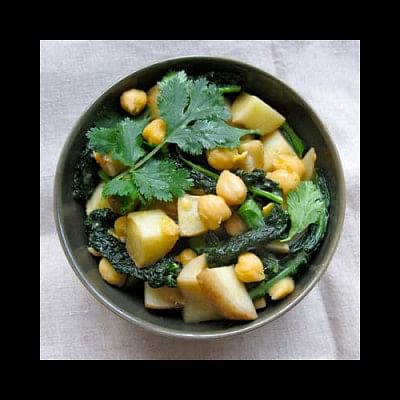 Note: If you want thicker gravy, take out 2 tablespoon of cooked beans and grind them to a smooth paste. Merge this paste with the cooking gravy, and mix up to assimilate.
Bori
These days you can buy commercially made "boris" in all grocery shops. Those were the days when the ladies of the village would make the 'bori' at home and sun-dry them in the 'lepa ou'than' (mud washed farmyard). It was the fun-job of the small children to chase the crows away from the drying 'boris', with their slings, toy bows and arrows. The sun-dried 'bori' keeps for months if kept airtight and cool. The 'boris' are made to be cooked with vegetables (see recipe below) or fish.
Ingredients: 
500g grass pea (khesari daal) or black gram (mashkolai daal)
½ tsp salt
1 tsp cumin seeds
3 tbsp ginger paste
3 tsp red chilli powder
3 tbsp coriander powder
1 cup poppy seeds (posto dana)
1 tsp salt
1 tsp garam mosla powder
Method:
Soak any one of the two daals overnight. Next morning drain the daal and place them in a food processor and work them into a fine paste-like consistency. In a mixing bowl, combine the following: salt, cumin, ginger, red chilli powder, coriander and daal paste.
Blend in enough water to make this mixture into a pliable paste similar to pancake dough. Spread a muslin cloth over a large flat platter; spread out the poppy seeds to cover the muslin. Scoop up one ladle full of the dough and pour 2 tablespoons amount of the dough on top of the poppy seeds, at regular intervals. Keep 2 cm space between the dough (boris). Cover with a wire mesh and let them dry under the sun. Once dried reserve these 'boris' sealed in an airtight container. Will keep for 3 months.
New and old potato gravy
Both new and old potatoes are used in this rather elaborate "aalu'r dom" recipe. It boasts of all the classic Bengali flavours of mustard, panch phoron, and posto.
Ingredients:
500g new potatoes
500g old potatoes
¼ cup ghee
¼ cup mustard oil
6 dry red chillies
2 tsp panch phoron
1 cup onion, chopped
¼ cup garlic, crushed
4 cardamom pods, gently cracked
6 clovers
2.5 cm long cinnamon stick 
2 tbsp poppy seeds
(Posto dana) paste
1 tbsp mustard paste
½ kg yoghurt, whisked with 
2 tsp cornstarch
1 tsp turmeric powder
10 green chillies, chopped
2 tsp red chilli powder
2 ½ tsp salt
½ cup cilantro, chopped
Method:
Boil new potatoes, keep the skin on, and cut into halves or wedges. Boil old potatoes, peel off their skins, and break them into small pieces. Heat oil and ghee in a wok, toss in dry red chillies and as soon as they acquire colour, fling in the panch phoron. After few seconds, stir in the following: onion, garlic, cardamom, clove and cinnamon.
Sauté stirring vigorously until onion turns red. Add: poppy seed paste and mustard paste. Cook stirring constantly until they release their flavour.
Next stir in the following: yoghurt, turmeric powder, green chilli, red chilli and salt. As soon as the liquid starts simmering at the edges chuck in the potatoes. With a wooden khunti/spatula, swirl the potatoes till they are coated with the yoghurt gravy. Heat through, and serve with chopped cilantro sprinkled on top. 
Cottage cheese kofta curry
Ingredients:
1 kg fresh cottage cheese (chana)
1 tsp garlic paste
½ tsp ginger paste
3 tbsp corn/arrowroot flour
½ tsp nutmeg, grated
2 tbsp onion, finely chopped
2 tbsp cilantro paste
4 cups ghee
1 cup onion, sliced
1 cup plain yoghurt
2 tbsp onion paste
1 tbsp garlic paste
½ tbsp ginger paste
3 tbsp poppy seed paste
2 tbsp almond paste
½ tbsp coriander powder
2 tsp and 3 tsp salt
1 cup milk
3 cups boiling water
3 tomatoes cut into wedges
1 cup hung yoghurt
Method:
In a mixing bowl, combine the following: chana, 1 teaspoon ginger paste, ½ teaspoon garlic paste, nutmeg grate, 2 tbsp chopped onion, cilantro paste, corn flour and 2 teaspoon salt. Mix thoroughly. Take 2 tablespoon full of this paste and shape it into oval shaped patties (koftas). Heat 1 tablespoon ghee in a wok, shallow-fry the patties in hot ghee and arrange them on a serving dish. Add some more ghee to the wok; when hot slide in 1 cup sliced onion and sauté until golden brown. With a slotted spoon strain out the fried onions (baresta), and lay them on absorbent kitchen paper to finish draining. Retain fat.*
When onions get to room temperature, grind with one tablespoon full of water to a fine brown paste (baresta paste). In a glass mixing bowl, merge this ground baresta paste with the plain yoghurt, whisk to assimilate them properly, set aside.**
In the ghee remaining in the wok*, add the following: 2 tablespoon onion paste, 1 tablespoon garlic paste, ½ tablespoon ginger paste. Sauté stirring vigorously until the spice releases its aroma. Then stir in: poppy seed paste and almond paste. Sauté stirring constantly until change of colour. Pour milk into the wok, and sprinkle with coriander powder. Mix thoroughly, and lead contents to a gentle boil.
Stir in the yoghurt-baresta mixture ** and 3 cups boiling water. Mix up and cook until the gravy thickens. Now chuck in the tomato and cook until the tomatoes are soft and the stir in 3 tsp salt. Take wok off the flame and stir in the hung yoghurt, mix well. Pour this sauce over the fried koftas and serve.
Aubergine curry (kalia)
Ingredients:
1 kg aubergine
½ litre yoghurt, whisked
½ cup mustard oil
3 tbsp ghee
10 green cardamoms
15 cloves
2 five centimetre long cinnamon
1 tsp ginger paste
2 tsp red chilli powder
½ tsp turmeric powder
3 tsp salt
Method:
Slit the aubergine length wise up to the base of the stalk make several slits and do not disturb the stalk keep it intact so that it can keep the slit pieces together. Shallow fry the aubergines in hot oil until they are cooked; put them into the whished yoghurt. Let them soak.
In the meantime prepare the temper - heat the ghee and toss in: cardamom, cloves, and cinnamon; sauté for few seconds and add ginger, red chilli, turmeric and salt. Transfer the 'yoghurt-aubergine' to the cooking spices and bring it to a gentle simmer for a few minutes and serve hot.
Photo: collected