Our home grown palate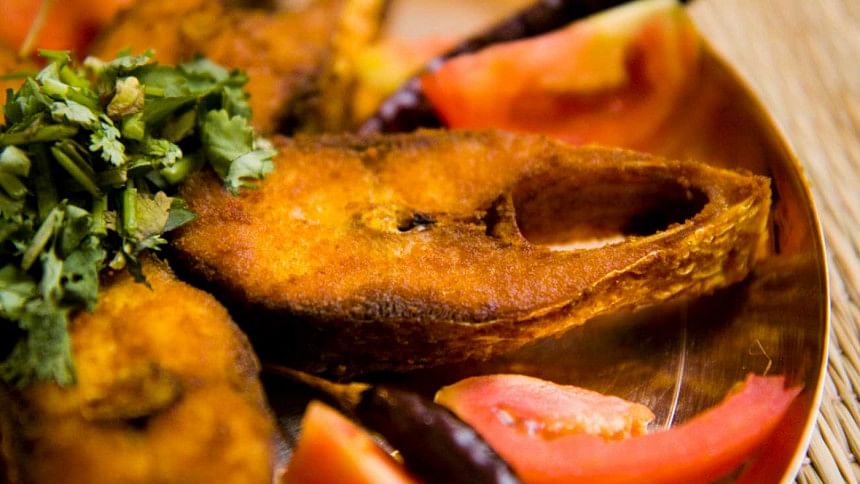 The typical Bangladeshi meal consists of three to five dishes eaten in a certain sequence of inclination and flavours, running from a bitter start to a sweet finish and the most important part of ingestion, are eating each dish separately with a little rice in order to savour its individual taste. A large number of rivers and abundant rainfall on the deltaic plain of Bangladesh are ideal for the fish and rice farming. 
An important contributory element of the fish/prawn culture, is our 'shutki', (fermented fish), the archetypal 'deshi' food. Shutki is used both as a main ingredient and as a condiment. 
The social, demographical and geographical variation of Bangladesh makes it difficult to describe one 'typical' Bangladeshi food culture. Our great delicacies are all results of fusion – intermingling of diverse streams – Persian, Turko-Afgan, Vedic Hindu, Muslim Arab, Portuguese and British as well as our very own local ethnic tributary.
The foundation of Bangla cooking depends not so much on special techniques or expensive ingredients, but on the flavourings, especially, locally grown herbs and spices. Deshi spices such as kalojira (Nigella sativa), radhuni (Trachyspermum Roxburghianum), dhonia (coriander seeds), mouri (aniseed), meth i(fenugreek), lal sorisa rai (red mustard) ,holud (turmeric) and lal morich (dry red chilli) are the most commonly used dry spices. 
A bona fide Bengali spice combine is the famous 'panchforon' (five spices) made with a balanced quantity of radhuni, fennel, fenugreek, nigella, and red mustard seeds.
Among the fresh condiments and herbs used, by far the most common is the peyaj (onion), followed by roshun(garlic), dhoney-pata(cilantro), ada(ginger), kachamorich(green chillies), peyajpata(spring onions), roshunkoli(garlic shoots) and pudina (mint).  The main group of 'foreign' spices include garam masala (cardamoms, cinnamon, and cloves), nutmeg, mace, cubeb pepper, black pepper and cumin and are sparingly used for cooking fowl and meat dishes. Equally distinctive as our spices are our much-preferred cooking mediums --gawa ghee and mustard oil. 
The greatest credit of the 'deshi' cooks is their minimalist attitude towards not only spice but also towards other additives such as yoghurt, coconut milk, cream, milk, sugar and herbs.