AAPPAYON
Boishabi Celebrations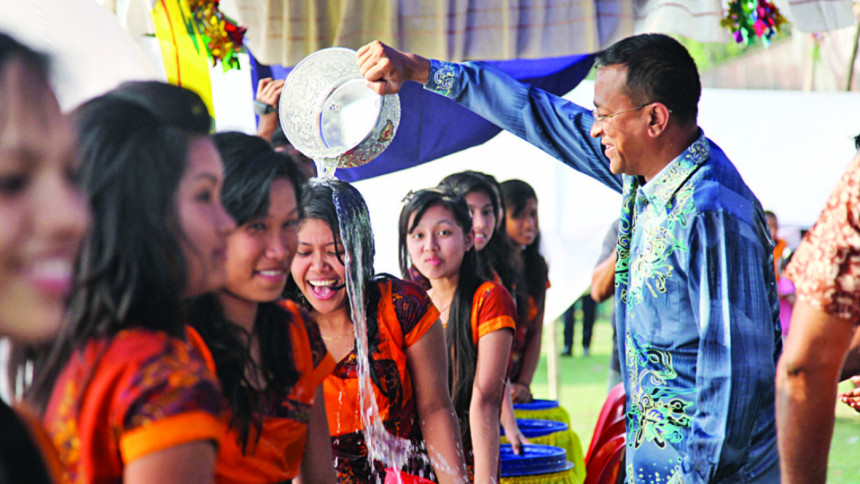 The last two days of Chaitra (the last month of the Bengali calendar) and the first day of Boishaki (Bengali New Year's Day), makes the three day combined festivities of the Boishabi revelry by the aadibasi tribes of Chittagong Hill Tracts. 
The name Boishabi comes from the first few letters of three vernacular words: Boisukh (Tripura tribe's New Year), Shangail (Marma tribe's New Year), and Biju (Chakma tribe's New Year). It is the grandest carnival of all the tribes who are residents of the Chittagong Hill Tracts. 
Boishabi is celebrated in three fractions, three separate activities on three consecutive days, and each festivity has its own religious or cultural significance. 
It is rounded up with new resolutions to lead a more pious, harmonious and meaningful existence contained by Mother Nature. In the coming New Year, a fresh sanitised start of 'existing' is the true goal of every individual, free of greed and animosity. 
This feeling of well-being is for all living beings, including plants and animals and the environment. Such novel gestures in such simple and artistic forms are rare in our so-called civilised urban cultures. 
The festivity starts on the 30th day of Chaitra, and is known as "Hariboisu" (prelude to Boisukh, the first month of their calendar year) in the Tripura dialect, and termed much more artfully by the Chakma, Tonjona, Bom,     
Pankhu, Lusai, Chakmro, Khusi, Khiyang and Marma tribes as "Fulubiju", because on that day their abode is decorated with "Fulu" or flowers and leaves, symbol of faith and love, and "Biju" or seeds (including nuts) - symbol of longevity.
The house is festooned with the sole purpose of welcoming the expected guests, who are considered as the representatives of Lord Shiva. Early in the morning the male-folks take their cattle and other domesticated animals to the river or a spring, and wash them with fresh water, after which they are garlanded and further rinsed with incense and other sweet smelling smoke. 
The men then wash themselves, to rid themselves of all the past indulgences and sins. Thereafter they send prayers to the departed souls, symbolically in the form of little floats made of leaves and flowers, sent off with a prayer onto the river stream. This prayer for their lost ones is called "Seemtung Puja".
After the daylong hosting of guests and visiting each other, the young members of the tribe gather on the river shore in a "boy-meet-girl" function. They drift little lighted floats, made with jackfruit leaves, on the river current with an entreaty to the gods, for them to have the good luck to meet their future lover or spouse. 
In the darkness of the night the sight of the drifting lighted floats creates an overwhelming hauntingly romantic sight. Such an artsy way of alluring your secret lover or submitting a lover's plea is truly, unique, beautiful, passionate, fresh and sparkling.