Top 5 FIFA World Cup 2022 group stage matches to look out for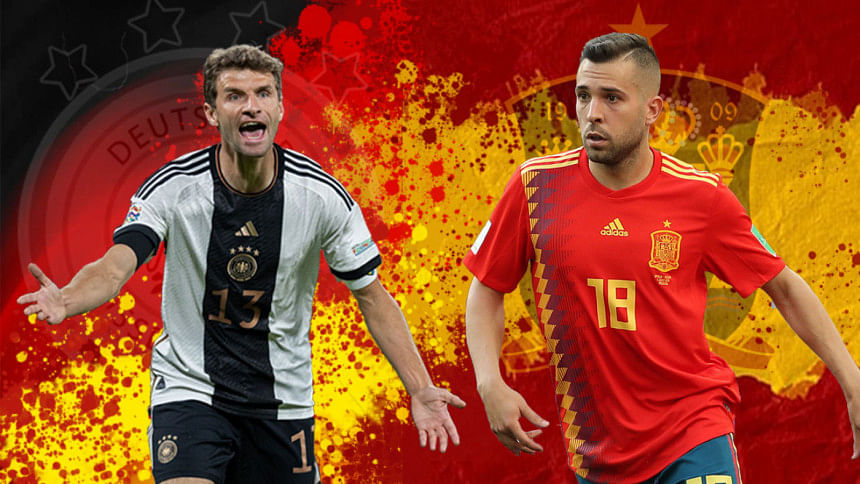 The FIFA World Cup 2022 will begin on 20 November, presenting to us a month of football extravaganza, with the best national teams from around the world fighting for the ultimate glory. And we do not have to wait long as even before the knockout stage, the group stage will feature some exciting matches that will have all football fans pumped up! So, let's take a look at the 5 most anticipated group-stage matches of this World Cup. 
Spain vs. Germany, Group E, November 28
Two giants of European football, Spain and Germany, will go head-to-head and it will be Germany who will be out for revenge as Spain has made it all but a habit to defeat them frequently. Spain defeated Germany in the Euro 2008 final and the World Cup 2010 semi-final, not to forget the humiliating 6-0 hammering in the Nations League a couple of years ago. Against this backdrop, this match is all set to be one of the most eagerly anticipated matches.
Belgium vs. Croatia, Group F, December 1
The third-place winner in the last World Cup, Belgium will go face the last edition's runners-up, Croatia in an exciting clash. Both the teams are full of talented stars that play for the biggest clubs in Europe. It will be interesting to see how players who are friends at the club level duke it out against each other at the World Cup.  
Portugal vs. Uruguay, Group H, November 29
It will be Portugal led by Cristiano Ronaldo facing Luis Suarez's Uruguay in Group H, offering football fans worldwide the chance to see two of the best forwards in the world go head-to-head. Portugal's last two World Cup outing has been rather poor, while Uruguay will be looking to make a positive start against a European heavyweight. 
Argentina vs. Poland, Group C, December 1
Lionel Messi vs. Robert Lewandowski — arguably two icons of the sport who will go against each other in this exciting clash. While Messi has conquered everything at the club level and is on great momentum with his national team right now, having won the Copa America last year, Lewandowski will be looking to add to his tally more spectacular goals in the biggest footballing stage. 
England vs. USA, Group B, November 26
The country that is famous for its football culture against the country that calls the sport 'soccer' — England vs. USA promises to be a fiery clash between two countries with somewhat opposing football cultures. The USA missed out on qualifying for the last World Cup so it will be on them to make a statement against England upon their comeback on the biggest stage of them all.