The back to school business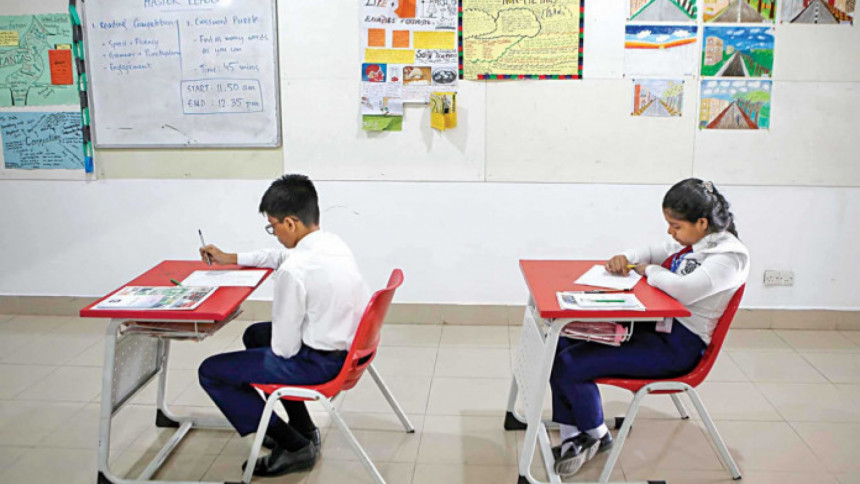 A couple of weeks ago I woke with a start, fresh from a nightmare of rushing to school but missing the bus. Except, I have not been a school student in at least a decade and a half. Perhaps, this helps me relate to the kids better in that I still carry some of the stress from my time there, and being late was just one of the things.
As schools the world over gear up to reopen after periodic shutdowns due to the coronavirus pandemic, Bangladesh has kept educational institutes closed for over a year and a half, since March last year. In light of the country's insufficient health infrastructure, it seems like a sensible decision, even if a bit overcautious. Many children have missed out on the big-leap exams like SSC, HSC, O Levels and A Levels, and higher education students have been ruing the loss of potential work years as their lack of certificates held them back from applying to various jobs. 
But now, as a fresh government directive could be opening up schools for real, how will it affect the numerous individuals whose lives will again see a great change? 
The first stakeholders in this are obviously the students, and true to their nature, the reactions are mixed, depending on age, schooling level, and also individual personalities! The youngest of the lot, who are more concerned with the cute little chairs and toys and colours at school, have nothing but excitement. But as you go up the age groups and ask about how children feel about going back to school, it reveals a mixed scene. 
From grade 5 onwards, even as most children feel lonely and isolated, many of them got used to the more relaxed vibe of the online classes, and the gentler rigour of the online school day. 
A student of class seven said that they have slept more in this year than they slept in the seven years past, as there is so much pressure that most kids only manage to get 4/5 hours on weekdays. Another in class 9 said that they relish being able to sit back and do classes and not be forced into awkward interactions with teachers and fellow students. 
One child said the imposed social distance had cut down the drama from their lives, and they stayed in touch with only those who care about each other. 
On the other hand, some children cannot wait to go back to school to meet their friends, play during tiffin time, and get away from the confines of their homes. The prolonged confinement has been torture, enough to cause them tremendous pain, and the idea of school is just relief. Little and cute concerns about school uniforms being too small and early mornings being difficult also abound.
The other stakeholders are parents. While many of them worry about safety and the health of their children, most are happy to expect some normalcy back into their and the children's lives. 
A dear friend, mother to two children, said that for online school where just tasks were assigned, she had to do a major part of teaching herself, and it was difficult as working mother, to manage that extra time. 
Many parents have hopes that schools will put in extra effort towards pandemic protocols, and perhaps introduce rotational classes where the large batches are broken up with only a small number going to class each day. Others feel that even if school open, children should be eased into the concept, with one or two days of physical classes and the rest of the days remain online. 
As teachers, most of us like to see our children up front, and it is easier to gauge a child's reaction, attention and understanding when they are sitting right in front of our eyes. It is also easier to bond with, and nurture each child according to their specific style and requirements. 
In my perfect world, long after the Coronavirus is a distant memory, in crowded cities like Dhaka where commute is so difficult, all school that are capable would continue classes with an ideal combination of three days on campus and two days online, so that all involved can cut out the painful commute for two days and use that time more constructively. 
See you back in school!