Khazana Iftar Bazar: Buffet featuring exquisite Hyderabadi delicacies throughout Ramadan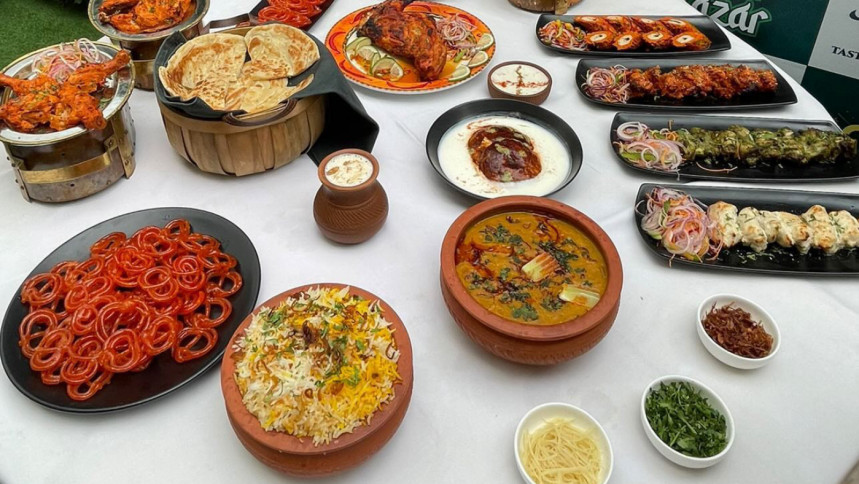 It is said that for many residents of Dhaka, breaking fast during Ramadan feels incomplete if they don't have the jilapi from Khazana, the fine dine Indian restaurant which has been serving for 20 years in Bangladesh. This Ramadan, prepare to indulge yourself for delicious and exquisite dishes that are offered by Khazana, as their Ramadan offering of Iftar Bazar is back in full swing this year!
 "In India, the cuisine changes every 500 miles, from Hyderabad to Kolkata to Mumbai, so what we try to do is give you that transformative taste which also goes with the local palette," said Avishek Sinha, CEO of Khazana.
The restaurant is showcasing Jashn-e-Nizam, a Hyderabadi iftar special from the city of Charminar. Be it the Hyderabadi Murgh Dum Biryani with its aromatic taste that has just the right level of spicy chicken within or the Nihari Ghost, which feels so delicious when you have it with nan roti, the Charminar Food Stall at Khazana will be sure to make you enjoy the authentic delicacies of Hyderabad.
As food safety and hygiene is of utmost importance to us, Khazana has ensured to make the gourmet experience even more memorable, by putting live counters of kababs, rolls and its famous jilapi, 'Khazana ke Jelebi'. Watching scrumptious jilapi and kababs that scintillate your taste buds made right in front of you adds an even more special appeal for the live counters!
"The iftar cooking is all live; you see the rolls, the jilapis that are cooked right in front of you. This gives us the opportunity to demonstrate cooking with our freshly sourced ingredients, which our guests appreciate and that gives us confidence to be trustworthy," added Avishek.
Khazana's other signature items like Haleem, Kadai Chicken, Dal Makhni, Fish Hariyali Kabab, Chicken Dopiaza, Dum ka Murgh and many others are also available alongside their Hyderabad focused foods. Their Matka lassi, available in sweetened and salted variant, offers a very refreshing taste. For dessert, in addition to the marvellous Jelebis and Laddu, their Gulab Jamun is another item that those of us who have a sweet tooth can't resist!
As you step into Khazana, you will notice the interior boasts a combination of modern and classical Indian design, coupled with its spiral staircase and impeccable sitting arrangements for the guests. Arts on walls provide a gallery like atmosphere while the emerald and gold shades throughout the décor gives off a royal look. It also offers an open rooftop terrace, hall room and a banquet hall.
Khazana restaurant will be holding iftar dinner buffet throughout the month of Ramadan. Catering both family guests and corporate clients, special packages with a wide variety of selections will be offered, as well as iftar take away boxes and dalas.
Khazana is at House 8, Road 53, Gulshan – 2, Dhaka. For reservation please call 01711476379.