Khan Shaheba and Co. — A tale of cooking happiness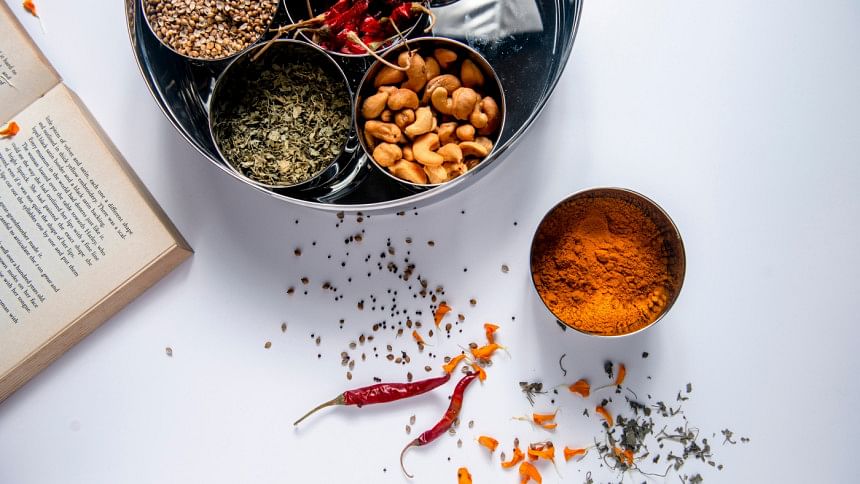 You can take the foodie out of Bangladesh, but you cannot take Bangladesh out of the foodie — this is the principal concept for Sumaya Khan, a lawyer turned food and fashion entrepreneur, who is co-founder at the much loved catering service, Khan Shaheba and Co.
We had a delightful opportunity to talk to this food entrepreneur who has been running an in-house catering service with her beloved mother for almost a year now.
How did you come up with an interesting name like Khan Shaheba and Co.?
I like all my ventures to have a personal touch in them. Khan Shaheba, to my own hilarity, is my Instagram handle. When I started it, I knew a name as such spoke royalty and would create a hype among the people of Dhaka.
What made you enter the home catering industry?
I have always been a foodie — loved cooking and baking since a very early age. Wherever I travelled, food played an important part as it is something that ignited a fascination in me. However, initially something such as an in-house catering service was not something I had in mind.
It was not until my father's demise in 2019 which helped me think in this direction. I started Khan Shaheba and Co. to mainly distract my mother from such a big loss in our personal lives and just like any Bengali family out there, nothing brings people together like food.
For me, I think it was one of the best decisions of my life because not only is she enjoying being my partner and the head chef of the kitchen, she and I are also sharing the strongest bond ever.
What does Khan Shaheba and Co. specialise in?
We offer a huge range of South Asian cuisines; Bangladeshi, Indian, Pakistani. I want to focus on what South Asians eat and go back to our own roots. We are also the first catering in Dhaka to introduce some famous British Indian Curries, something I have adopted when I went to law school in London. If you have lived in London, you know what I am talking about.
During Ramadan, the craze for healthy and homemade food is at its peak. What are your Ramadan best sellers so far?
We have received a great response from all of the dishes in our menu as they are our exclusive recipes. For Ramadan, our bestselling dishes are mutton haleem (Tk 800/kg) Nargis aloo kofta (Tk 180 each) and cheese keema toasties (Tk 120 each).
We also have iftar platters — Mini, Rani, and Maharani. They have a healthy balance as all of them comprises Ramadan regulars and our own specialities that will keep you wanting more!
During regular days, what are your best sellers and what is the order volume for it on a daily basis?
Our all-time best sellers are chicken tikka masala, vegetable vindaloo, and Dhakaiya beef tehari. They are priced at Tk 690, Tk 320, and Tk 350 respectively. We have return customers and that gives us a total order value of 50 for each of these dishes. A special mention to my mango shahi tukra (Tk 500) as we are the only ones making these.
How has the journey been for you as a food entrepreneur?
With my mother, Eve Khan on board as a business partner and with a team of five people working day and night to provide quality food to our customers, life has been great. It is easier than I thought. This is probably because of the support and love our customers have showered upon us. There were challenges but there was the willingness to overcome that as well. Like sourcing Shatkora from Sylhet for my special beef dish is no piece of cake but I do it for the love of food. The love of my business!
 
Where do you see Khan Shaheba and Co. in the next five years?
We see ourselves catering to all the big events and even have a direct-to-consumer process ready by then. The possibilities are endless.
What are your key takeaways from your journey as a food entrepreneur so far?
My key takeaways are that age is just a number, ambitions are limitless and consistency will take you places. There is this famous quote by Gandhi, which sums up Khan Shaheba and Co. very well — A man is but the product of his thoughts. What he thinks, he becomes.
Khan Shaheba and Co. is a rapidly growing catering company that has been getting positive feedback from all their customers due to the lip-smacking dishes they offer. So, do check their Facebook page out at https://www.facebook.com/Khanshahebacatering and indulge in their impressive dishes.
By Zeba Fareha Hossain
Here are recipes for some of Khan Shaheba and Co.'s most popular dishes —
CHEESE KEEMA TOASTIES
Serves 4
Preparation and cooking time: 45 min
Ingredients
2 cheese slices
2 tbsp deshi paneer (grated)
6-7 onions
Milk bread
6 eggs
1 kg minced chicken
10 pieces green chillies
2 whole garlic, chopped
2 tsp ginger paste
½ chilli powder
½ tsp turmeric paste
1 tsp garlic powder
Salt
Ghee
1 tsp pepper
1 tsp cumin powder
Method
Heat a large pan, add some oil. Add finely chopped fresh onions, sauté until it turns golden. Add minced chicken; garlic powder, cumin powder, green chillies (chopped), garlic paste, ginger paste — cook till the chicken releases its natural water. Add turmeric paste and chilli powder —cook until it completely dries. Sprinkle salt and pepper and leave it aside until you prepare the cheese bread. Cut each milk bread into half; spread some fresh homemade butter on both sides. Make a sandwich adding both the slice cheese and local cheese (deshi paneer) in-between.  Now add the spicy cooked keema with 6 eggs and 2 chopped onions. Dip the cheese sandwich in the egg mix. Fry in ghee (you can use oil as well) until it turns light brown. Serve fresh and hot so that you get the melted cheese in your mouth.
DUDH LAU
Serves 4
Preparation and cooking time: 20 min
Ingredients
1 medium size lau (gourd)
6 tsp sugar
4 tbsp ghee
1 litre fresh milk
6-7 pieces cardamoms
2 sticks of cinnamon
Use any kind of dry fruits or nuts for garnish
Method
Steam the chopped gourd. Make sure to remove the extra water. Toast the steamed gourd in heated ghee. Add whole portions of cardamom and cinnamon; fresh hot boiling milk; sugar and cook until the milk is thick. Garnish with dry fruits and nuts (preferably pistachio).