Football superstitions, rituals, and curses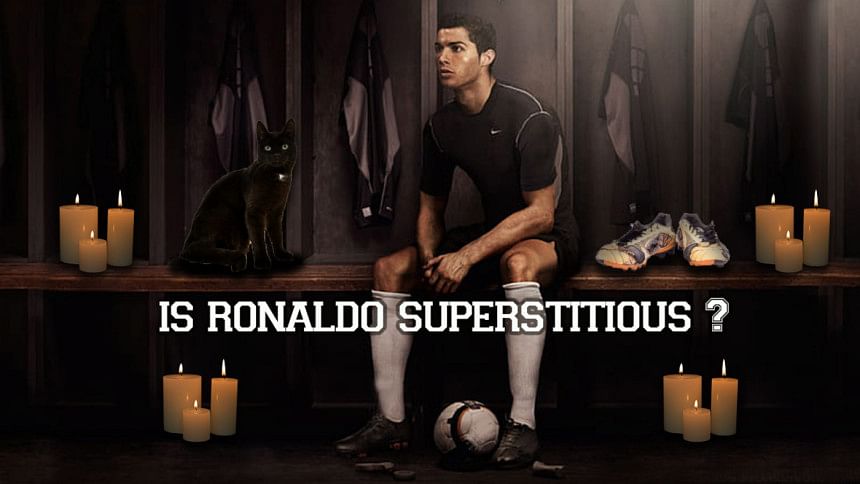 Football is an exciting sport. It is intense, physical, and loved all over the world. Modern football has seen many changes and modern technology is being used more and more to improve the game experience but even something as grand as football has its fair share of superstitions. Football has some interesting superstitions and even some 'curses' as well. Are the curses true? We don't know for sure. Are the superstitions valid and does the ritual leave an impact on the result? Once again, we cannot say with absolute certainty. But then again, if we could, they would not be called superstitions. Either way, they might seem illogical to many but they sure make football more interesting than it already is.
Let's take a look at some of the most famous superstitions in football. 
Jerseys can affect the result
One of the most common superstitions is that kits can affect the outcome of the match. This belief is present among the players, coaching staff, as well as fans and is prevalent both in club and international football. 
In the 1950 World Cup final, the Brazilian team were wearing a white kit contrary to the yellow or blue that we associate with Brazil. The result? They lost 2-1 to Uruguay and the blame was on the all-white 'unpatriotic' kit.
Take Real Madrid for another example. Usually seen in their signature white kit, they had a pink third kit in 2020-21 season. Whenever they donned that pink kit, not only they lost, they lost playing terribly. 
Boots are important
Boots are arguably the most important kit of a footballer. You will see that jerseys are often exchanged or given away but it's rare when it comes to boots. Many players believe that a certain pair of boots is a lucky charm for them and has specific rituals regarding their boots. 
The German Midfielder Toni Kroos insists on wearing the same boots (Adidas 11Pro) even though they appear to be quite worn out. It's actually one of his rituals and he cleans the boots himself instead of letting the kit-man do it. 
In 2019, during his Aston Villa days, Jack Grealish was spotted playing in a pair of boots that were in tatters and looked to be one shot away from disintegrating. But that did not bother the English man as he believed that they were his lucky boots. 
World Cup Winner's Curse
Often discussed with annoyance, the World Cup winner's curse is one that comes with the trophy. As you lift the trophy, you will have to bear not only its weight but also the weight of expectations and as many believe — the winner's curse. 
Seemingly started after the 1998 world cup, the winners are unable to go past the group stage in the next world cup. So far, only one team has been able to evade the curse when they became champions in 2002 World Cup and progressed from group stages in the 2006 World Cup. Every other defending champion has crashed and the victim list includes teams like — Spain, France, Italy, and Germany. Can France overcome the curse this year? As luck would have it, they did!
Unlucky 13
Kit numbers are important to players and many players prefer a specific number on their back. But when it comes to number 13, people are not usually eager for it. Whether you count 'The Last Supper' or 'Apollo-13' in your logic, the number doesn't appear to be very appealing even amongst footballers.
Goalkeepers are usually the ones to put on this number in recent years and even they are reluctant, and who could blame them? The number does seem to have a way of being a bit ill-omened and that's not just in football. 
Commentator's Curse
The commentator's curse is spotted very frequently and not just in football but in other sports as well. The commentator's curse is when a commentator praises a specific player for his talents, and that player makes a blunder almost immediately. Or in a more general view — whenever a commentator keeps saying 'a certain player must score today', that player does not score and ends up playing rather poorly. 
There are good instances of this curse too. Whenever commentators start criticising and underestimating a player or a team they will probably end up with a memorable win. As you can imagine, the commentator ends up looking like a fool. (Except Peter Drury. Everybody loves Peter Drury). 
Players and their personal rituals
Leaving aside the general rituals, superstitions, and curses, there are many rituals and curses of players that are personal to them. Take Cristiano Ronaldo for example — he is always the last one out of the tunnel and gets on the pitch right foot first. David Beckham used to arrange his fridge before leaving for a game. Neymar calls his father and they pray together before every match. Messi always sets the ball down with both hands before a freekick and Casemiro prays on the pitch right before the whistle blows.