5 South Indian movies that will defy logic and turn you into a fan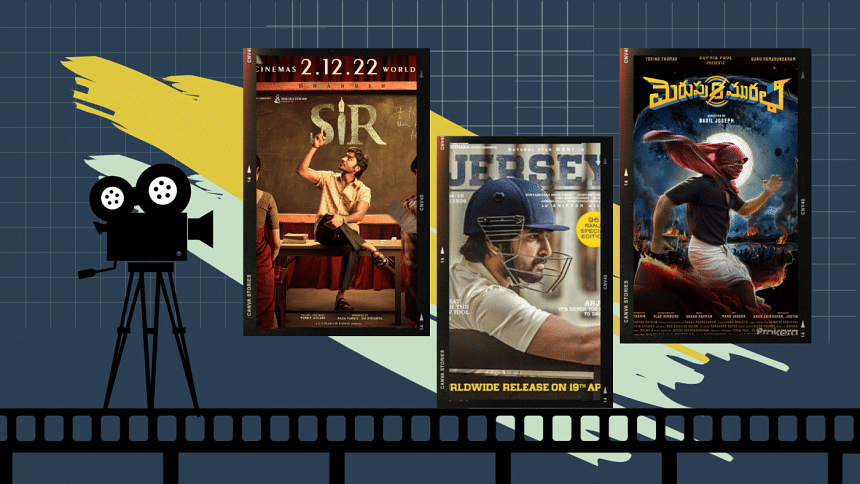 South Indian movies are often known to hold nothing back when it comes to their screenplay. They will usually start with over-the-top emotions, followed by catchy phrases, and then some truly mind-boggling action sequels that defy all logic and laws of physics alike. However, hidden in this 'fascinating' carnival are some truly amazing stories that hit all the right notes, and are played out with perfect cinematography.
Without further ado, here are 5 remarkably underrated films of South Indian cinema that might leave you surprised, delighted and perhaps, even a little bewildered.
Kurup
A captivating crime thriller, which is based on true events, is about the life of an infamous criminal. The film delves into the thoughts of a man who is driven by ambition, money, and the desire for acceptance.
The story takes you on a fascinating journey, allowing you to look inside the world of this criminal mastermind, and the many factors that influence his actions. Because of its gripping plot and examination of the darker aspects of human nature, the movie is entertaining to see, and will make you ponder the thin line between fame and notoriety.
Sir
It is no surprise that education quality often differs with the amount of price one can pay for it. This movie takes a much deeper look into the discrimination that divides students of the same institution, based on their societal and/or religious status.
Although it starts off on a predictable note, the movie takes a dig on the tangled world of greed and profit, where the line between knowledge and business is blurred. Each character is played out so perfectly that in many parts, it is easy to forget that this is in fact a work of fiction.
Jersey
Jersey is a heart-warming story that explores how resilient an ordinary person can be with the right motivation. After giving up his career as a cricketer and pretty much on the verge of giving up on life itself, a father decides to go back into the game for his son and his love for the sport.
The story is inspiring, relatable and above all, a beautiful portrayal of a father-son relationship.
Minnal Murali
The name is not something that makes you eager to click on it, but take a chance with this one. Minnal Murali is fresh take on a superhero fantasy packed with equal parts comedy, drama, and a very real message.
Two insignificant individuals from a small town are hit by lightening one fateful night, which lands them with superhuman skills. But while one chooses to use his powers to help his neighbourhood, the other decides to go against everyone. An epic clash between the two showcases the fact that it is never about how much power you have, but how you choose to use it that makes all the difference. Minnal Murali is a strong reminder of the potential for ordinary individuals to become extraordinary heroes when they have a sense of responsibility.
Gatta Kusthi
Gatta Kusthi brings back the unmistakable flavour of commercial cinema from the '90s. It begins with all clichés from movies of the era but then surprises us by defying the majority of them with an amazing storyline.
The narrative centres on a male chauvinist who marries the exact opposite of the shy, submissive woman he had been looking for. The theme of women's empowerment, which begins with the heroine's portrayal, gives this story a modern twist. The female lead receives numerous moments that are often designated for the hero in our films. Thankfully, the protagonist eventually comes to his senses and makes a successful comeback, using these scenes to discuss gender injustice in our society. The strength of the film lies in the fact that he accomplishes this without using lectures, but rather, humour and hard-hitting dialogues.