Food for a healthy heart
Cardiovascular disease (CVD) account for nearly one-third of all deaths worldwide, and is on the rise in Bangladesh. Diet plays a major role in cardiovascular health, and can impact our risk of developing heart diseases.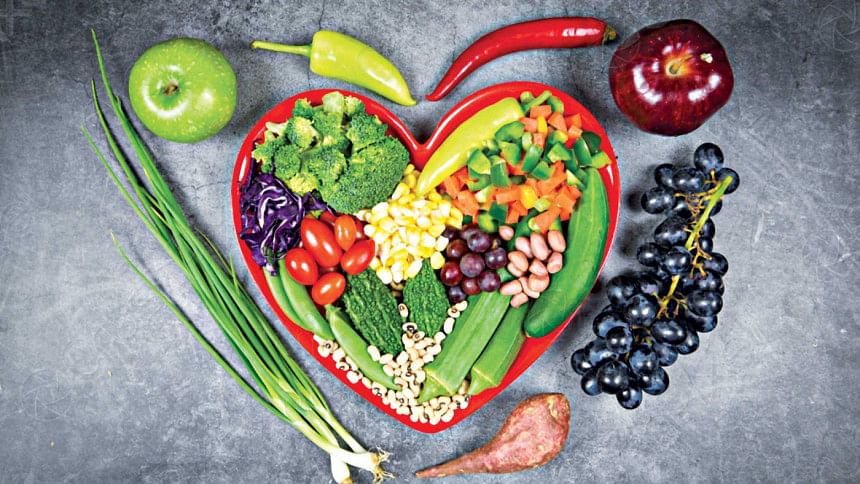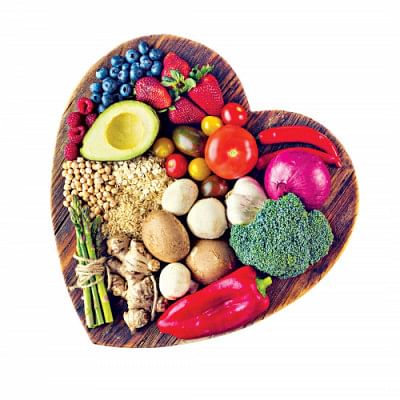 Cardiovascular disease (CVD) account for nearly one-third of all deaths worldwide, and is on the rise in Bangladesh. Diet plays a major role in cardiovascular health, and can impact our risk of developing heart diseases.
Once we know more of which food to eat and which to limit, we will be on our way toward a more heart-friendly routine.
Healthy fats
Not all fats are bad for you. Monounsaturated fats are considered one of the healthiest sources of fat in the diet. This includes olive oil, canola and peanut oils, most nuts, nut oils and nut butters, olives, and avocados. (Nuts also contain vitamin E, which helps lower "bad" cholesterol and some, like walnuts, are high in omega-3 fatty acids).
Olive oil is high in antioxidants and monounsaturated fats. It has been associated with lower blood pressure and lower risk of heart disease. But if it is cooked for too long, its health benefits are diminished. So, it's preferable to add olive oil only 10 minutes before wrapping up cooking.
Good sources of polyunsaturated fats include safflower oil, flax oil and flax seeds, sunflower oil, walnuts, fish (hilsa, tuna, rupchanda, salmon, koral), soybeans, canola oil, etc.
Have plenty of fibre-rich food  Most of us do not get enough fibre in our diet. The recommended amount is 25-35 grams of dietary fibre per day.
Dietary fibre is a type of carbohydrate that the body cannot digest. As fibre passes through the gut, it affects the way the body digest foods and absorb nutrients. Fibre can help reduce our LDL level, which is considered as "bad" cholesterol. 
A fibre-rich diet can also help control blood sugar, promote regularity, prevent gastrointestinal disease and help manage weight. Soluble fibre provides the greatest heart benefits. It helps lower total and LDL cholesterol levels by binding to bile in the gut and removing it with the body waste.
Good sources of soluble fibre include oats and oat bran, barley, legumes (dried beans, lentils and split peas). Apples, bananas, pears and citrus fruits, Brussels sprouts, broccoli, cabbage, sweet potatoes, and squash.
Insoluble fibre is generally referred to as roughage. Wheat bran and whole wheat or grain bread/bread products, vegetables etc. are good sources of roughage. 
NUTRIENTS
Leafy green vegetables are high in vitamin K, fibre and nitrates, which can help reduce blood pressure and improve arterial function. Berries (strawberries, jam, blackberries) are rich in antioxidants. Studies show that eating them can reduce multiple risk factors for heart disease.
Tomatoes are rich in lycopene, a type of organic pigment called a carotenoid, and have been associated with a lower risk of heart disease and stroke, as well as an increase in good cholesterol. Eating chia seeds, flaxseeds, sweet pumpkin seed, etc. may improve several risk factors for heart disease, including inflammation, blood pressure, cholesterol, and triglycerides.
Garlic and its components have been shown to help reduce blood pressure and cholesterol. They may also help inhibit blood clot formation. Be sure to consume garlic raw, or crush it and let it sit for a few minutes before cooking. This maximises its potential health benefits.
Green tea is high in polyphenols and catechins. It has been associated with lowering cholesterol and triglycerides, and blood pressure. 
Pomegranates contain numerous antioxidants, including heart-promoting polyphenols, and anthocyanins, which may help stave off hardening of the arteries. Oranges contain cholesterol-fighting pectin. The fruit is also rich in potassium, which helps control blood pressure. The antioxidant hesperidin present also helps lower blood pressure.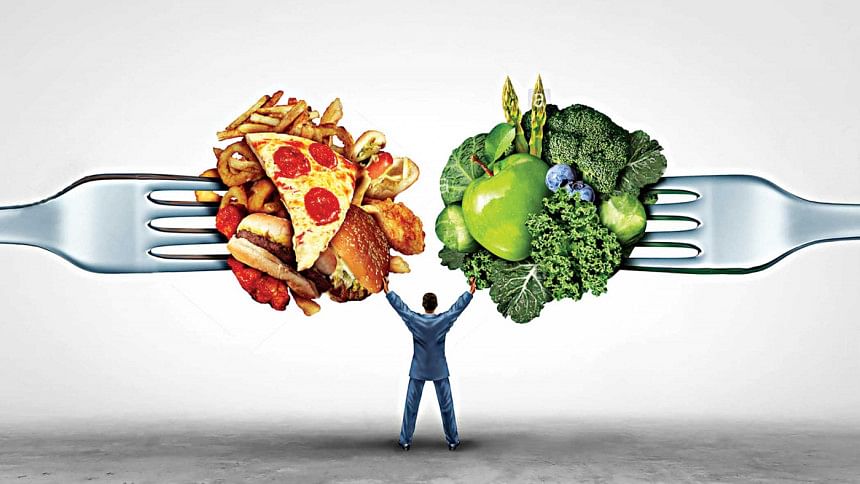 Foods to avoid
Eating a lot of sodium can contribute to high blood pressure, a risk factor for cardiovascular disease. Reducing sodium is an important part of a heart-healthy diet. Many condiments are available in reduced-sodium versions, and salt substitutes can add flavour to food with less sodium.
Sedentary lifestyles, consumption of excess carbohydrate, saturated fats and trans-fats, and limited fibre in diet are mostly responsible for causing CVD. The sources are fatty cuts of beef, the skin of poultry, full fat and processed cheeses, cream cheese, high-fat dairy products, such as whole milk, cream, butter and sour cream, fried foods and fast foods, tropical oils — palm, and coconut.
Trans fatty acids are formed when a liquid fat is changed into a solid fat through a process called hydrogenation. Many manufacturers use hydrogenated fats in their ingredients because it creates a product with an extended shelf life and better consistency.
Trans fatty acids raise the levels of LDL cholesterol in our blood and lower the levels of high-density lipoprotein cholesterol. Fast foods and fried foods are high in trans fats.
It's clear that healthy eating and living can make a huge difference. With planning and a few simple substitutions, we can eat without having to worry our hearts.
Photo: Collected