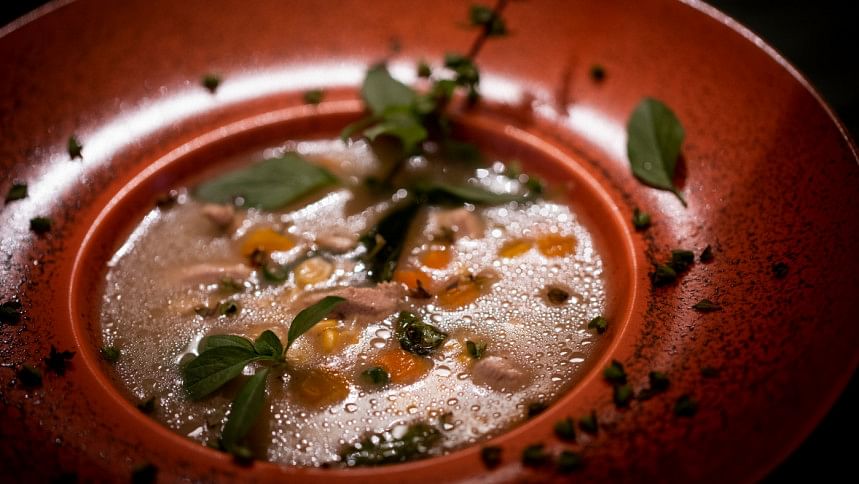 During winter, stews, soups, and broth are frequently served as everyone wants a big supper as the temperatures drop. They crave food that will not only keep them warm but also provide the nutrition needed to stave off seasonal illnesses that are so prevalent. While a broth can be compared to a thin soup, a stew has a thicker consistency as the elements — large pieces of vegetables, meat, poultry, or fish—are cooked slowly over low heat. On these chilly January evenings, you can stay warm by making one of these stew recipes below.
OXTAIL STEW
Ingredients
½ kg oxtail
2 tbsp olive oil
2 large onions, chopped
6 cloves garlic, chopped
1 tbsp fresh ginger, grated
¼ tsp allspice powder
½ tsp smoked paprika
¼ cup tomato paste
2 tbsp soy sauce, low sodium
4-6 cups beef broth
4 spring fresh thyme
2 bay leaves
1 cup sweet corn kernels
1 tbsp corn-starch
3 green onions, chopped
½ tsp pepper powder
Salt to taste
Method
Heat olive oil in a large pan over medium high heat. Season the oxtail with salt and pepper and sear them on all sides until browned. Transfer to a plate and set aside. Add onion to the pan and cook until translucent and softened. Add ginger and garlic, stir and cook for 1 minute. Stir in allspice, smoked paprika, soy sauce, tomato paste and cook for 2-3 minutes until the paste browns slightly. Add the oxtail back to the pan. Add beef broth, thyme, bay leaves and bring to a boil. Turn the heat to low and cover with a lid slightly cracked. Simmer for 2 hours. Remove the lid and stir in the corn kernels, then simmer for another 25-30 minutes uncovered. Remove the bay leaves and thyme. Whisk the corn-starch with 1 tablespoons of water to create a slurry. Stir the slurry into the pan and increase heat. Stirring until the mixture thickens. Garnish with freshly chopped green onion and serve.
MOROCCAN LAMB STEW
Ingredients
½ kg lamb tenderloin, cut into 1-inch cubes
1 large onion, chopped
1 large carrot, chopped
3 garlic cloves, chopped
1 tsp ground cinnamon
1 tsp paprika
1 tsp ground cumin
2 cups lamb broth
½ cup golden raisins
¼ cup halved pitted olives
1 cup chickpeas
¼ cup fresh cilantro
1 tsp lemon peel
3 tbsp olive oil, divided
Salt to taste
Method
Heat 2 tablespoons of oil in a heavy large saucepan over medium-high heat. Sprinkle lamb with salt and pepper. Fry until brown on all sides. Transfer to plate. Add remaining 1 tablespoon of oil, onion, carrots and garlic to the pan. Cook until vegetables are soft, stirring frequently, for about 2 minutes. Add spices and stir. Add broth, olives, raisins, chickpeas and cilantro. Bring to boil, simmer until juices thicken. Add lamb and lemon peel to pan. Stir and cook for 5-6 minutes. Remove from heat and serve.
SPICY FISH STEW
Ingredients
250g fish filled, white
250g shrimp
1 large onion, chopped
2 clove garlic, chopped
1 tsp chilli powder
3 cups fish broth
1 tsp green chilli peppers, chopped
½ tsp ground cumin
1 cup peeled and diced tomatoes
8-10 basil leaves
1 tbsp oil
Salt to taste
Method
Heat oil in a large saucepan over medium heat. Add onion and garlic sauté for a few minutes. Add chilli powder and mix well. Then add the fish broth, green chilli peppers and cumin, stirring well. Bring to a boil, reduce heat to low, cover and simmer for 10 minutes. Next, add the tomatoes, shrimp and fish. Return to a boil, then reduce heat to low, cover and simmer for 5 minutes. Add salt if needed. Add basil leaves and remove from heat. Serve hot.
SPICY COCONUT CHICKEN STEW WITH CORN
Ingredients
4 cups shredded chicken
1½ cups fresh corn kernels
3 cups spinach leaves
1 cup basil leaves
3 shallots, thinly sliced
2 fresh chillies, thinly sliced
1 cup unsweetened coconut milk
1 cup chicken stock
¼ cup fresh lemon juice
Black pepper powder
Salt to taste
2 tbsp oil
Method
In a large, deep skillet, heat oil. Add the shallots and chillies. Cook over moderate heat, stirring occasionally. Add coconut milk, stock, lime juice, and salt and pepper. Bring to a simmer. Stir in the chicken and corn. Cook for 3-5 minutes. Add spinach, basil and mix well. Transfer to shallow bowls, garnish with basil and serve.
LEMONY SHRIMP AND BEAN STEW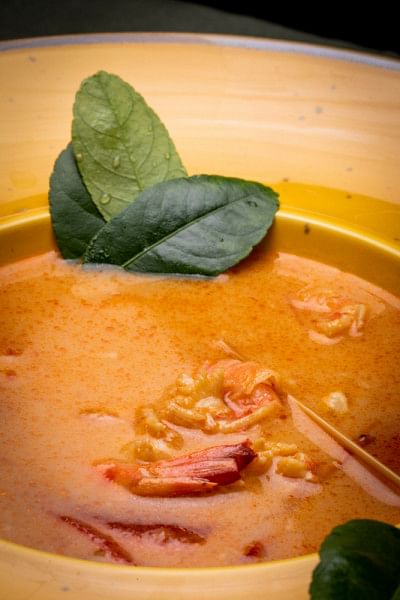 Ingredients
500g shrimp, peeled, deveined and tails removed
1 tsp fresh lemon zest
2 tbsp lemon juice
1 tsp smoked paprika
2 garlic cloves, grated
4 tbsp unsalted butter
1 large onion, minced
½ tsp black pepper powder
1 cup boiled white beans
2 cups vegetable stock
2 tbsp finely chopped parsley
Salt to taste
Toasted bread, for serving
Method
Combine lemon zest, paprika, garlic, and salt and pepper in a medium bowl. Add shrimp and toss to coat. Keep aside. In a large pot, melt butter over medium high heat. When butter is foaming, add shrimp and cook, stirring occasional, until turn into pink or 2-3 minutes. Using a slotted spoon, transfer the shrimp to a plate, set aside. In the same pan, add onion, season with salt and pepper cook until soft and starting to brown. Add white beans and vegetable stock, bring to a boil over high heat. Lower the heat and simmer for 8 to 10 minutes. Stir in reserved shrimp, parsley and lemon juice. Season with salt and pepper. Serve with toasted bread.
MIXED VEGETABLE STEW
Ingredients
2 medium carrots, 1-inch cubes
1 medium green papaya, 1-inch cubes
2 medium potatoes, 1-inch cubes
¼ cauliflower, cut into small pieces
½ cup green peas
8-10 spinach leaves, chopped
1 onion, sliced
2 clove garlic, chopped
1 tbsp refined flour
2 cups vegetable stock
7-9 black pepper corn
Salt to taste
2 tbsp butter
½ cup milk
Method
Heat butter in a deep pan. Add onions and garlic and sauté till translucent. Add potatoes, carrots papaya, cauliflower and stir. Add refined flour and stir. Add vegetable stock and salt. Cook for 8-10 minutes or till the vegetables are done. Add crushed black pepper and milk. Let the mixture come to boil. Cook for 2-3 minutes Remove from heat and serve.
Food: Salina Parvin
Styling: RBR