Recipes for a Boisabi celebration
'Boi-Sa-Bi' is a combination of the Bengali acronyms for various indigenous festivals like Boisu of the Tripura, Sangrai of the Marma, and Bizu of the Chakma communities. It is a three-day long festival, celebrated between 12 and 14 April. Here are a few flavourful recipes of traditional and non-traditional dishes that every host can try on the occasion of Boisabi. 
SANGRAI MU IN COCONUT MILK 
Mu is a dessert where rice balls are boiled traditionally in full-fat milk during Sangrai. Here, I have used coconut milk, which adds a different flavour to a well-known recipe.  
Ingredients
1 cup rice flour (preferably ½ cup atop rice and ½ cup binni rice)
Lukewarm water (as required to make rice dough)
A pinch of salt 
1 bay leaf 
3 pods cardamom 
1-inch stick cinnamon 
½ cup sugar 
¼ cup peanuts 
¼ cup raisins 
400ml coconut milk 
¼ cup powdered milk 
¼ cup grated fresh coconut 
1 litre water 
Method
In a bowl, put rice flour and salt, and add warm water (little by little). Mix to make a smooth soft dough. Make tablet-sized balls from the rice dough and set them aside.
Heat a pan with water on medium flame and add all spices and sugar, and bring to a boil. Add mu or rice balls and cook for 5-8 minutes. Add nuts and raisins. Dissolve powdered milk in coconut milk and add to the pan. Cook for another few minutes. Check and adjust salt and sugar amounts. Add freshly grated coconut chunks and transfer into a serving bowl. 
SABARANG FRIED CHICKEN
Lemon basil is also known as sabarang. It is a strong, sour, flavourful herb often used in traditional Chakma cuisine. In this recipe, sabarang along with other hilly ingredients are used to give a typical, strong native flavour to a popular, global fast-food recipe.  
Ingredients 
6 pcs of chicken
1 cup of fresh sabarang
5-8 bird's eye chilli paste
2 tsp ginger-garlic paste 
1½ tsp soy sauce
1 tsp cumin powder
1 egg 
¼ cup corn flour 
½ cup flour 
Water, as required for the batter
Oil for deep frying
Salt to taste
Method
In a mixing bowl, add chicken, ginger-garlic and chili pastes, salt, soy sauce, and cumin powder; stir to evenly coat the chicken. Marinate the chicken for at least 20 minutes. Add egg over the chicken pieces and give a good mix. Add flour, corn flour, sabarang, and a little amount of water if required to make a sticky, thick batter. Heat the frying pan with oil over medium heat and deep-fry all the chicken pieces. Serve hot and crispy.
KRASA LAHSU WITH YOUNG GALANGAL STALKS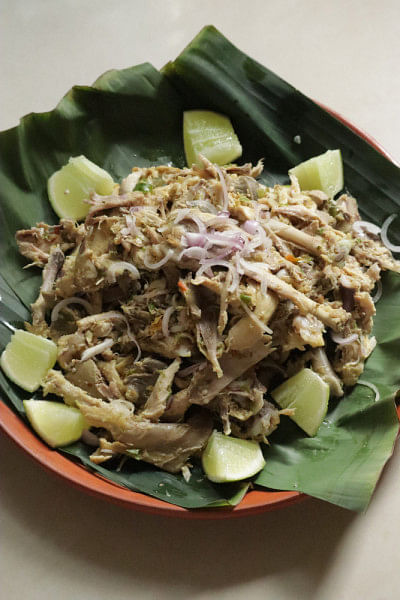 Krasa lahsu is a traditional chicken salad dish of the Marma community. Adding young galangal stalks which are known as 'taara' in the local market of CHT, makes this recipe different and flavourful.  
Ingredients
1 whole chicken 
1-inch-thick ginger (to boil the chicken)
1 garlic 
1 tsp whole black pepper 
4-6 pieces taara or galangal stalks (peeled)
1 tsp roasted cumin powder 
Water (to boil the chicken)
Few drops of oil (optional)
Dash of bird's eye chilli or hilly jum green chilli (according to taste)
2 pieces ginger (thumb size) 
¼ cup chopped onions 
1 lime, cut into pieces 
Coriander leaves, a dash (optional)
Salt to taste
Method
Put the chicken in a pot, add water, ginger, garlic, cumin, pepper, and salt, and cook over medium flame. While boiling add a few drops of oil. Maintain heat until chicken gets well cooked. Add galangal stalks and boil them for a few minutes. Turn off the flame. Get the chicken and galangal stalks out of the hot pot and let it cool down.
Break the chicken into pieces and take out flashes from the bone. Cut galangal stalks into an inch-long size. Make a coarse paste of green chilli and ginger.  
In a large mixing bowl, put shredded chicken with bones, chilli-ginger paste, salt, chopped onion, and galangal stalks pieces. Give a good mix and add lime juice according to taste. Add chopped coriander leaves and transfer into a salad bowl. 
WATERMELON SUNSET MOCKTAIL
Watermelons are known as the Boisabi fruit. No matter what we eat or drink throughout the celebration, this summer fruit helps us to stay hydrated and gives digestive support. 
Ingredients 
1 watermelon 
Mint, chopped 
Lime juice, freshly squeezed
Lime slices
Orange juice, freshly squeezed 
Salt
Ice cubes
Tonic water
Method
Cut the watermelon into halves. Take out watermelon flesh and juice it. Strain and put the juice into the watermelon bowl. 
Squeeze a lime slice all around the edge of a serving glass. And dip the glass down into a plate of salt. Put chopped mint leaves, squeezed lime slice, 1 tablespoon of lime juice, 2 tablespoon orange juice, 3-4 ice cubes, 1 tablespoon tonic water, and lastly fill the glass slowly with watermelon juice over it, to make sure the layers do not mix.