Offal recipes for Eid day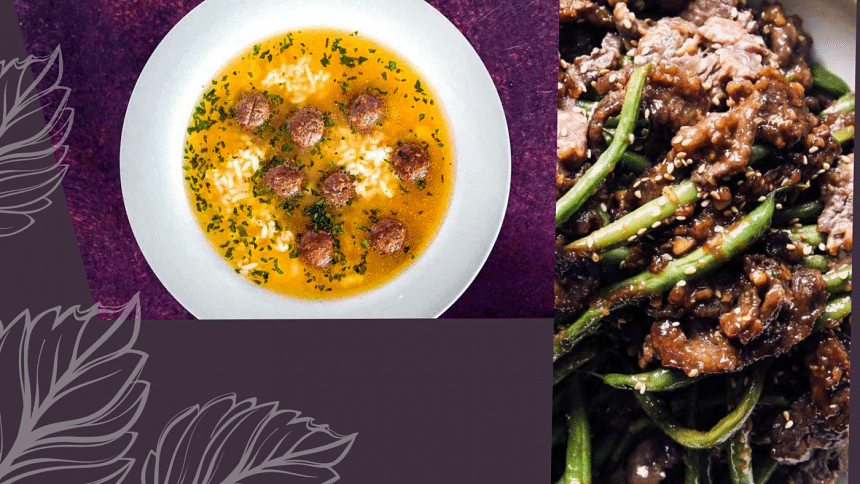 Whether you are an experienced offal enthusiast or are just beginning to explore the world of organ meats, be prepared to be astounded by the rich flavours, decadent textures, and amazing dining experience that offal dishes bring to the unique day of celebration that is Eid.
OX TONGUE ROAST
Ingredients
1 Ox tongue, medium size (cleaned)
2 onions chopped
2 tsp Kashmiri chilli powder
1 lime juice
2 tbsp ginger-garlic paste
½ tsp turmeric powder
2 tbsp oil
Salt to taste
Roast masala to grind
1 tsp peppercorns
5 cloves
2 cardamoms
2-inch cinnamon stick
1¼ tsp cumin
Salt to taste
Method
Clean and wash the tongue. Now pierce the tongue with a fork or small knife. Marinade the tongue with salt, lime juice, ginger-garlic paste, turmeric powder, Kashmiri chilli powder and roast masala. Let the tongue marinate for at least 2 hours.
Heat oil in a pan. Add onion and fry until light brown. Now add marinated tongue and water. Cover and cook for 35-40 minutes on medium heat. Open the lid and check with a knife, if it pierces easily to ensure that the meat is cooked. If you feel it needs to be cooked further do it with the same pan with the stock in it. Cook for another 15 minutes. Once it's cooked set it aside to cool. Then cut it into thin slices. Add the slices into the stock that's in the pan and let it cook for 3 minutes. This will keep the tongue nice and moist. Tongue roast is ready to be served.
MUTTON KIDNEY CHILLI FRY
Ingredients
½ mutton kidney
1 large onion, finely sliced
2 tomatoes, finely chopped
1 tsp chilli powder
½ tsp turmeric powder
1 tsp ginger garlic paste
½ tsp black pepper powder
2 tbsp coriander leaves
2 tbsp oil
Salt to taste
Method
Cut the kidneys into halves. Clean well. Boil with 2 cups of water for 20 minutes. Remove from heat and reserve stock. Heat oil in a pan. Toss the boiled kidneys into it. Add ginger-garlic paste, onions, tomatoes, chilli powder, turmeric powder, black pepper powder, and salt. Stir fry for few minutes. Add ¼ of the reserved stock and simmer until the gravy thickens. Sprinkle coriander leaves and mix well. Serve hot with rice or ruti.
BEEF LIVER NUGGETS
Ingredients
½ kg beef liver
1 cup buttermilk
2 tsp ginger-garlic powder
½ tsp black pepper powder
1 tsp red chilli powder
Salt to taste
1 cup all-purpose flour
Method
Cut beef liver with a serrated knife into 2-inch pieces. Place liver pieces into the buttermilk, and soak for 1 hour. In a bowl add all-purpose flour, ginger-garlic powder, black pepper powder, red chilli powder, salt and mix well.
After 1 hour, remove liver pieces from the buttermilk and roll in the flour mixture. Dip dusted liver back into the buttermilk and then roll in flour again. Place liver pieces on a baking sheet or a baking sheet lined with a cooling rack. Place enough oil in a heavy bottom pan. Place four pieces of liver in the heated oil and fry until golden brown, approximately 3-4 minutes. Remove fried livers from the pan and place them on a paper towel or cooling rack placed over a baking sheet. Repeat the process until all liver pieces have been fried. Serve immediately with your favourite condiment like sauce or ketchup.
BEEF OR MUTTON HEART SKEWERS
Ingredients
1 beef heart
2 tbsp ginger-garlic paste
1 tsp red chilli powder
½ tsp turmeric powder
½ tsp five spice powder
1 tsp ground cumin
1 tbsp dried oregano
2 tbsp vinegar
2 tbsp oil
Salt to taste
Method
Remove veins and sinew from beef heart and cut the resulting firm meat into 1½-inch cubes. In a bowl, whisk together vinegar, ginger-garlic, five spice powder, cumin, oregano, oil, and salt. Add the cubed beef heart, tossing to coat thoroughly. Cover and refrigerate for at least 3 hours. Now place 4-5 marinated beef heart cubes on each skewer. Set aside the remaining marinated for basting. Arrange the skewers on the preheated grill. Baste the marinade onto the skewers with a brush and grill for 3 minutes. Flip the other side, baste, and grill until cooked. Serve hot with ruti, paratha, or rice.
BEEF BRAIN CHOP
Ingredients
2 pcs brains
3 pcs large boiled potatoes
½ tsp red chilli powder
¼ tsp turmeric powder
½ tsp black pepper powder
1 tbsp chopped mint and coriander leaves
½ cup flour
½ tbsp chopped green chilli                                                                                                                      
2 slices of bread
Salt to taste
Oil for frying
Method
Pick the blood vessel and soak the brain in cold water for 1 hour. Change the water a few times. When it is properly soaked, the water will remain clean. Blanch in boiling water for two minutes and remove onto a rack to thoroughly drain. Take the bread slices and dip them in water for one minute. Now squeeze gently. Mix all ingredients except the flour and oil. Now make a chop from the brain mixture with your hand. Coat in flour and leave for half an hour. Heat oil in a pan. Fry the chop until brown. Serve hot.