Eid Recipes: A classic twist on lachha shemai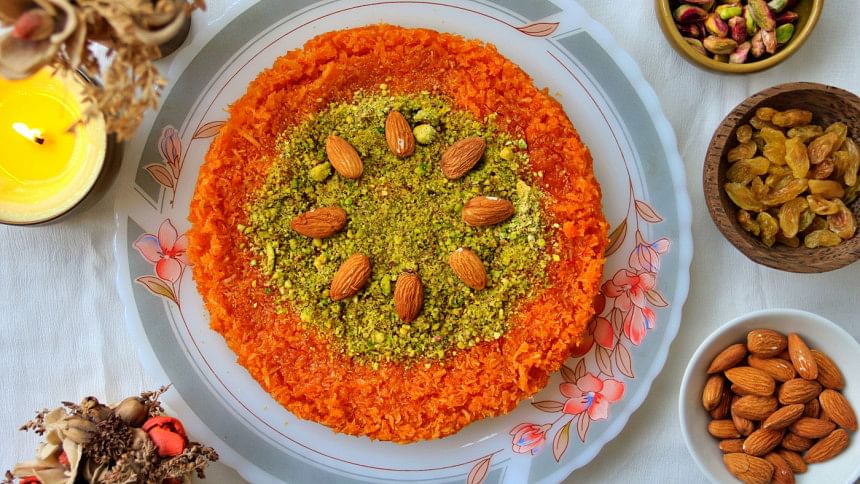 An Eid spread is incomplete without delectable desserts and shemai is sure to be on the table. It is one of the indispensable things that contribute to the gaiety of Eid. In the festive spirit of Eid, here are two traditional recipes made with lachha shemai for you to feast on with friends and family during the joyful occasion.    
KUNAFA
Ingredients
200g lachha shemai
60g butter or ¼ cup ghee
¼ tsp orange food colour
½ cup grated mozzarella cheese
100g sterilised cream
100g ricotta cheese/mawa
1 tbsp sugar
Raisins and nuts for garnish
For the sugar syrup —
1 cup water
½ cup sugar
A few strands of saffron
1 tsp lime juice
Method
Add softened butter or ghee to a pack of lachha shemai and combine well using your fingertips. Once all the butter is incorporated, drop in orange food colour and combine again, and set it aside. In a bowl, crumble mawa or ricotta cheese (whichever is available to you) and add in sterilised cream along with sugar and mix everything together to get a smooth paste.
To assemble, in a greased springform pan, place half of the vermicelli mixture. Pat the top hard using your fingertips to pack the mixture. Then, pour the cheese and cream mixture on top and spread evenly. Next, top with shredded mozzarella cheese. Finally, add the remaining vermicelli mixture on top and pat, ensuring it is tightly packed.
Let this bake in a preheated oven at 170°C for 25-30 minutes. Meanwhile, make the sugar syrup. In a pan, add water and sugar and stir, wait for it to come to a simmer. Once it is simmering, drop in a few strands of saffron and let it boil. Once it is thick and attained a strong consistency, turn off the heat and drop in a few drops of lime juice.
Once the kunafa is baked with mozzarella oozing out, let it cool down only for 5 minutes. Pour the sugar syrup on top generously and let it cool down completely. Decorate the top with raisins and your choice of nuts such as pistachios and almonds. Serve warm.          
NAWABI SHEMAI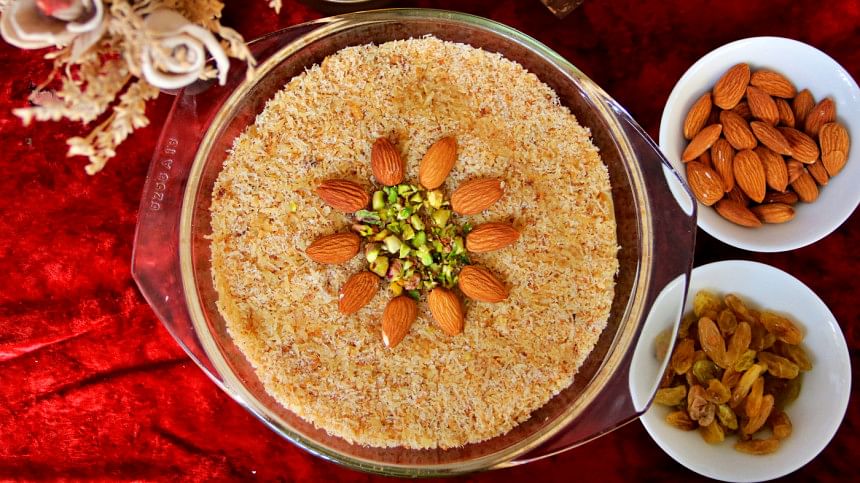 Ingredients
200g lachha shemai
2 tbsp ghee
2 tbsp desiccated coconut
2 tbsp sugar
500g milk
100g sterilised cream
200g condensed milk
2 tbsp custard powder
3 tbsp corn flour
8 tbsp milk powder
2 tbsp chopped pistachios
2 tbsp slivered almonds
Method
Heat ghee in a pan and add a packet of lachha shemai along with sugar, desiccated coconut, and 4 tablespoons of milk powder. Combine everything together and toast the mixture on low flame for 5 minutes. Keep stirring this continuously so that the vermicelli does not burn and brown. Once done, keep this aside.
In a saucepan, pour in milk, condensed milk, remaining powdered milk, and cream; whisk these together and start cooking on medium heat. Once slightly warm, take aside one cup of milk and add custard powder and corn flour and stir well to combine; pour this back to the milk and cream mixture.
Cook this mixture on medium heat while stirring constantly until it thickens and bubbles start to appear at the top. Once it reaches a custard consistency, remove from heat. To assemble, spoon a thick layer of vermicelli in your serving dish and then pour over the milk mixture. Then, top with another layer of toasted vermicelli. Garnish with chopped pistachios and almonds on top.      
Food and Photo: Fariha Amber