Easy to make seafood recipes
Traditionally, seafood was not part of our regular meal plan. Times, however, are changing and we have embraced seafood wholeheartedly. The following are recipes to make simple dishes using crab and squid that are simply delicious.
CALAMARI RINGS
The super stores are full of cleaned and washed squid rings or calamari. Fried calamari and a chilled fizzy drink are a great evening or game-night snacks. But the trick is getting to do the batter correctly. Use a small sieve to lightly dust the squid pieces with rice flour or regular flour. This will help the batter adhere to the squid.
Ingredients
250g calamari
1 cup whole milk
1 cup flour
1 cup cornmeal
Salt, to taste
Black pepper, to season
Method
The squid needs to be uncooked, washed, and properly cleaned. Allow the squid to soak for about 15 to 20 minutes in salted milk. While calamari are soaking, start heating oil in a cooking pan over medium-high heat, cover a wire rack with paper towels, and combine the ingredients for the flour mixture (flour and cornmeal, cornmeal is what helps to make the battering thick and deliciously crunchy) in a bowl. Take some calamari out and shake off excess milk. Then, toss it in the flour mixture, being sure to separate and evenly coat them. Use metal tongs and carefully add the calamari to the hot oil. It only needs to cook for about 2-3 minutes, or until golden brown. Using freshly cracked black pepper will yield the best flavour.
SWEET AND SOUR CRAB CLAWS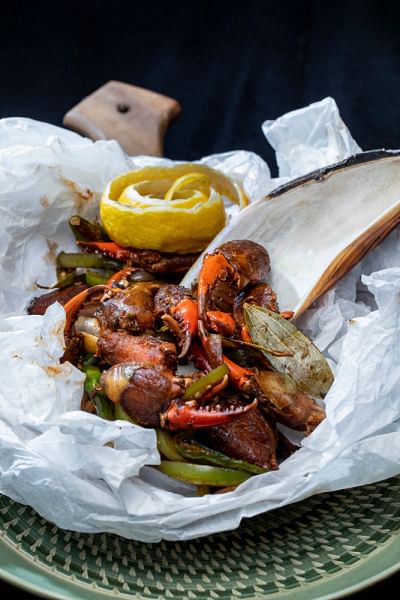 Chewing on crab claws is one favourite habit, just like chewing on bones. This hot and spicy dish with a hint of lemony tang makes it a divine option to try on relatively chilly afternoons.
Ingredients
250g crab claws
1 tbsp tomato puree  
1 tbsp chilli flakes
½ tsp oyster sauce
½ tsp sugar
½ cup water
½ tsp corn-starch
1½ tbsp oil
1 ginger, finely chopped
1 garlic, finely chopped
Cilantro, coriander leaves, chopped
Method
Rinse the crab claws with cold water. Heat a wok and add the cooking oil. When the oil is heated, add the chopped garlic and ginger, and stir-fry until an aromatic flavour is released, then throw in the crab claws.
Quickly stir the crab a few times before adding the tomato puree, chilli flakes, oyster sauce, and sugar. Toss the crab claws around with the spatula before adding water and corn-starch. Let it cook for about 1-minute dish out and garnish with chopped cilantro. Serve immediately with steamed white rice.