Easy and tasty deshi recipes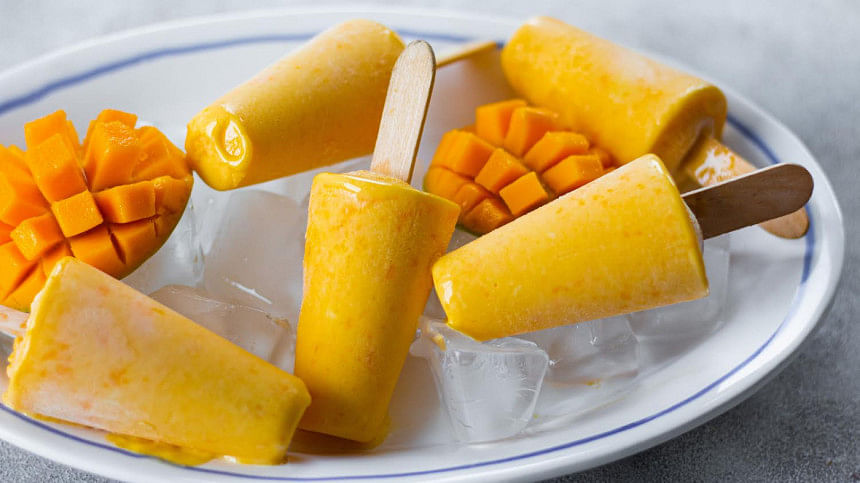 Many find it difficult to prepare food deshi style. The following are three simple recipes that make 'complex' procedures simple for everyone. Great for weekends!
WHITE CHICKEN KORMA
Ingredients
For onion paste —
3 tbsp oil 
1 cup sliced onions 
4-5 garlic cloves 
4-5 ginger pods 
2-3 green chillies 
For almond-cashew nut paste —
1 cup almonds (soaked and peeled)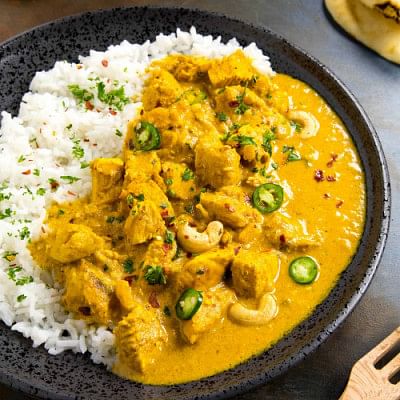 ½ cup cashew nuts 
Water, as required
For chicken marination —
1 kg chicken 
½ cup yoghurt 
2 tbsp lemon juice 
1 tsp salt 
For white korma —
½ cup oil 
1 tbsp cumin seeds
4-5 green cardamoms 
1 tsp black peppercorns 
6-7 cloves 
1 tsp salt 
1 tsp white pepper powder 
1 tsp black pepper powder
½ cup almond-cashew nut paste 
Green chillies (sliced), for garnishing
Ginger (julienne), for garnishing
Method
Onion paste preparation 
In a pan heat oil and add onion, garlic ginger and cook until onion gets soft. Transfer it to a blender and add green chillies. Blend until a smooth paste has formed. The onion paste is ready. Set aside. 
Almond-cashew nut preparation
In a blender add almonds, cashew nuts, and water and blend it well into a smooth paste. Almond-cashew nut paste is ready.
Chicken Marination
In a bowl add chicken, yoghurt, lemon juice, and salt. Mix it well. Marinate the chicken for 15-20 mins. Set aside.
White korma preparation
In a pot, heat oil and add cumin seeds. Sizzle for a few seconds. Add green cardamoms, black peppercorns, cloves and sizzle for another mins. Add onion paste and cook for 2-3 mins. Add chicken and cook until the chicken changes colour. Cover and cook for 10-15 mins. Now add salt, white pepper powder, and black pepper powder and cook for 4-5 mins Add almond cashew nut paste and cook for 2-3 mins or until chicken is fully done. Dish it out and garnish with green chillies, ginger and serve. 
FISH COCONUT CURRY
Ingredients 
500g boneless fish fillets (Basa/Cod/Haddock)
3 tbsp tomato puree or paste
1 cup coconut milk (225 ml)
2 tsp white vinegar
3 tbsp refined oil
1 tsp salt
For onion masala paste —
2 cubed onions (medium; 150 grams)
1" piece ginger, chopped
6 garlic cloves
1 tsp cumin seeds
For the tempering —
½ tsp mustard seeds
10-15 curry leaves 
2-3 green chillies, chopped 
Spice powders —
½ tsp turmeric powder
2 tsp red chilli powder
Method 
Make a paste of the cubed onions, peeled and chopped ginger, peeled garlic, and cumin seeds. set aside. Chop the green chillies; wash and take out the curry leaves. For the coconut milk, you can use readymade coconut milk or fresh coconut milk from fresh coconut at home.
 For the fish, take boneless fish fillets and cut them into thick slices.
 Heat oil in a pan and add the mustard seeds. Once it splutters, add the curry leaves and the chopped green chillies. Give a stir and then add the onion paste. Give a mix and continue to fry on medium heat for 7-8 mins until light brown.
 Now, add the tomato puree. Give a mix and fry on low heat for 2 mins. Add the turmeric, red chilli powder, and salt. Give a mix and fry on medium heat for 2-3 mins after adding 3 tbsp water until oil separates. Add the coconut milk and 200 ml water, give a mix and cover and cook on low heat for 5 mins until oil separates. Add the boneless fish pieces and give a mix. Cover and cook on low heat for 10 mins. Add the white vinegar, shake the pan to give a mix. Shimmer on low heat for 2 mins.
 Switch off the heat, cover the lid and let it rest for 15-30 mins before serving. Fish coconut curry is ready. Serve it with rice.
MANGO KULFI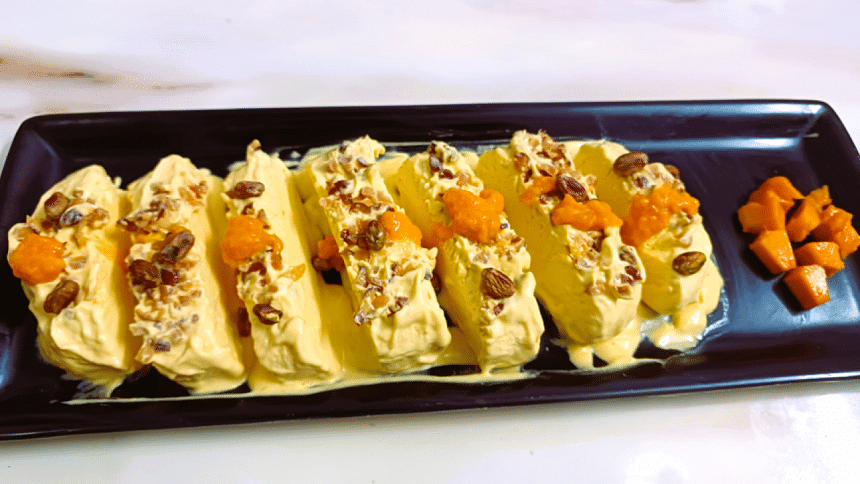 For custard-khoya mixture —
 ½ litre milk 
 ½ cup condensed milk 
 ½ tsp cardamom powder 
 Custard slurry (2 tbsp mango-flavoured custard powder; ½ cup milk)
 100g khoya 
For mango kulfi —
 ¾ cup mango chunks 
 ¼ cup pistachio 
¼ cup almonds 
 ½ cup custard-khoya mixture 
 1 cup whipping cream 
 Method 
 For custard-khoya mixture —
 In a pot, heat milk. Add condensed milk, cardamom powder and cook until it starts boiling. Add custard slurry and mix it well. Cook for 4-5 minutes. Add khoya to it and cook until it melts. The khoya milk mixture is ready. Let it cool at room temperature.
 For mango kulfi —
 In a blender, add mango chunks and blend them well to make a puree. In a separate bowl add whipping cream and beat it until fluffy and stiff peaks form. Add prepared custard khoya mixture, mango puree, pistachio, and almonds and mix it well. Now in a mould sprinkle chopped almonds and pistachios. Pour the prepared kulfi mixture and cover it. Freeze it overnight. Now move it from the mould, cut the slices drizzle mango puree over it and serve. Mango kulfi is ready.