Beauty Lassi: A legacy of taste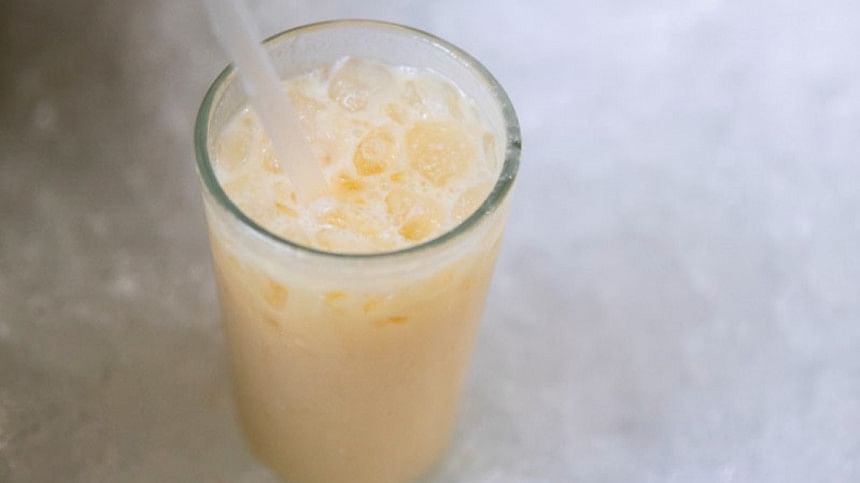 Who does not like a soul-soothing lassi after a feast of kachchi biriyani at Old Dhaka? And if you are one of those who indulge their munchies and midnight snack cravings (more like a full-blown meal) then you are no stranger to all that Old Dhaka has to offer, and of course, Beauty Lassi.
While many establishments struggle to survive in the restaurant business for more than a few years, 'Beauty Lassi and Falooda' has done it for a hundred years and it not only survived, it has thrived with glory.
It all started a century ago in the hands of the late Abdul Aziz, who started his business with lemonades and 'lassi' at Ray Shaheb Bazar. Time took its cruel toll, then his son Md Abdul Gaffar took over who has also passed away and now Md Manik Hossain and Jabed Hossain, the two brothers, are carrying on the legacy.
"We have not changed a thing. We make the lassi with the same recipe and in the same way that we used to make it a hundred years ago. My grandfather started it; back then it was lemonades first and then lassi. We kept the recipe unchanged and that is what makes it special and keeps the customers coming back for more," said Jabed Hossain, one of the owners who is very happy to be able to carry his family's legacy and hopeful that the next generation will take the torch once it is passed to them.
If you are at Old Dhaka, dropping by Beauty Lassi should definitely be on your schedule. While the lassi served in a plain glass might not look very extravagant and you might wonder — what is so special about it, you will find the answer yourself as soon as you take a sip. It is such an interesting and powerful combination of flavours that your taste buds will come alive and dare I say, you will be able to taste a harmony that makes you want to keep coming back for more. The lingering aftertaste is one to cherish and nobody will judge you for it.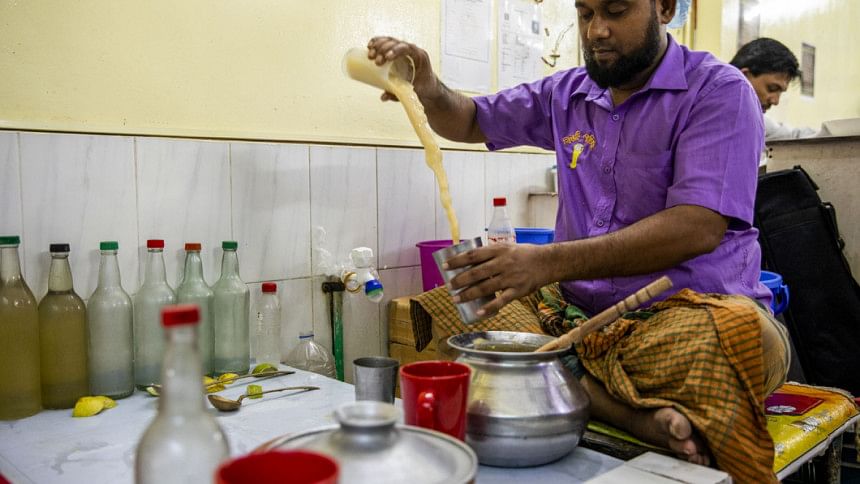 There is also falooda. Each bowl is served with enough fruits that it will definitely come up in a conversation anytime you discuss Beauty Lassi, and trust me, you will be discussing! Even if you are not particularly fond of desserts, the 'Special Falooda' on the menu will remind you why its name is thoroughly justified.
The very first branch was in Ray Shaheb Bazar. Now, there are two branches. The original one still stands on Johnson Road of Ray Shaheb Bazar and the other one is on Kazi Alauddin Road. In the year 2000, they started serving falooda and added a number of other options on the menu from 2005. The branch on Kazi Alauddin Road also serves kachchi biriyani these days but as Jabed Hossain said, "The star on the menu is lassi, it always has been."
The shops themselves might look small compared to their 100 years of history but if you have taken a stroll down the streets of old Dhaka, then you know that one definitely should not judge a book by its cover. And do not be surprised if you find that there is always a gathering in front of the shop. Thanks to their history and huge popularity, the place is almost always buzzing.
However, times have been a bit difficult lately, and like all other businesses, Beauty Lassi also suffered the twinge of the pandemic — according to branch manager Md Imran, but it continues to thrive and hopefully, will carry on the legacy of taste for future generations to come. There might have been plans for new branches but with the current pandemic-plagued economy, an immediate branching is unlikely and finding staff has been an issue lately. Perhaps given some time, Beauty Lassi will recover to its original glory faster than one expects.
In this age of social media, we are no stranger to sudden hypes over restaurants but how many can stand the test of time? Having seen so much history, Beauty Lassi itself is now part of history as much as it is part of Dhaka. If you are in the neighbourhood, consider treating yourself with one of the delicacies it has to offer. You will not regret it.