5 delicious chickpea recipes to try this Ramadan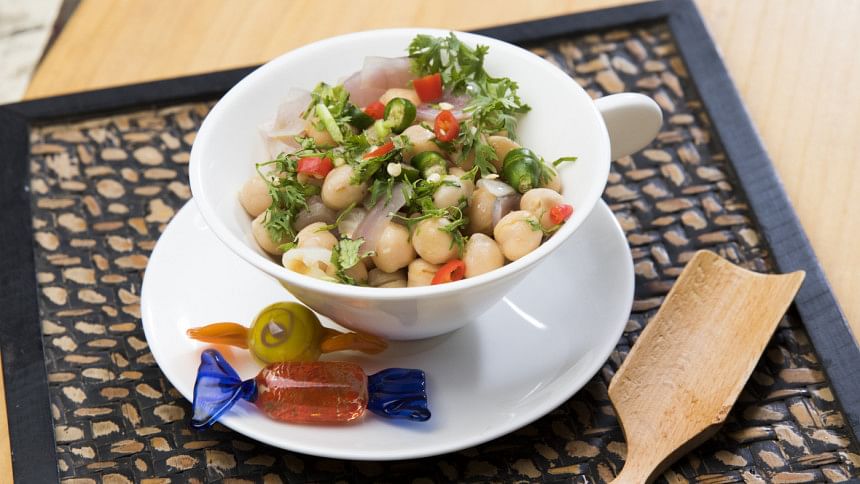 Deciding on an iftar menu is quite the task and the options drop drastically when we are looking for something easy on the tummy as well as our time. What we do not know however, is that the humble chickpea in our kitchen can be quite versatile when it comes to iftar.
Without further ado, here are 5 delightful chickpea dishes for Ramadan.
Chickpea salad
Starting off with the most basic, take a bowl of boiled chickpeas, add any vegetables of your choice like cucumbers, cherry tomatoes, bell peppers, onions, etc. season with salt and pepper, and toss it in a salad dressing. It's light, easy and a fun addition to your iftar menu.
'Chana chaat' a popular street food in India is also a type of chickpea salad, but with a desi twist. Here, we make our own dressing with some yoghurt, tamarind sauce, chaat masala, and mustard oil while adding some green chillies, and coriander leaves with the chickpeas and veggies. Give it a mix and voila! Your flavour-packed chana chaat is ready!
You neither have to be a healthy eater or a salad enthusiast to love these.
Chickpea kebab
A chickpea kebab is an easier and quicker take on the traditional kebabs where chickpea replaces meat and saves us hours of time.
Overnight soaking and pressure cooker are a must for this recipe. Once they are soft enough, mash them and mix with boiled potatoes, carrots, onions, coriander, chat masala, spices, and finally some corn starch to bring everything together.
Some store-bought kebab masala would be like a free upgrade to your chickpea kebabs.
Chickpea and vegetable Stew
This one-pot hearty stew is perfect to get rid of fatigue after a long day of fasting.
Grabbing a medium-sized pot, heat up some cooking oil, and throw in some onions and garlic. Remember, to be generous with the garlic! Once they are soft and fragrant, add chickpeas, tomatoes, carrots, potatoes, coriander leaves, and season salt, pepper and light spices of your choice. Bring in any vegetable of your liking and let them add to the creamy goodness of this dish.
Once the stew is reduced to your desired thickness, add your gourmet touch with some lemon zest and enjoy with toasted bread.
Chole Bhature
This is a classic North Indian dish loved for its bold and spicy flavours. Consisting of two components, chole bhature is a symphony of flavours and textures when done right.
For chole, soak the chickpeas overnight then boil to soften them more. Then slow-cook them in a tomato-based gravy seasoned with a blend of aromatic spices like cumin, coriander, chilli pepper and garam masala, stirring occasionally.
For bhature, make a dough of flour, yoghurt, and baking soda. While you can always cut out small circles from the dough, a life-saving hack is to divide the dough into 2 to 3 big pieces, flatten them out and then cut the circles.
Hummus
Hummus, a widely popular Middle Eastern dip what we have had a million times, is actually one of the easiest chickpea recipes to try at home.
Hummus is made simply by blending chickpeas with tahini, garlic, lemon juice, and olive oil for a smooth and creamy texture. Tahini is just sesame seeds toasted, crushed, and blended with oil to make a creamy, smooth seed butter that is pourable.
Hummus is a perfect fit for pita bread, grilled veggies, or even as a salad dressing. If you are not one to shy away from new food, try hummus with sliced apples. It might as well become your new favourite evening snack at all times.