Wedding bells and the confessions of an outfit repeater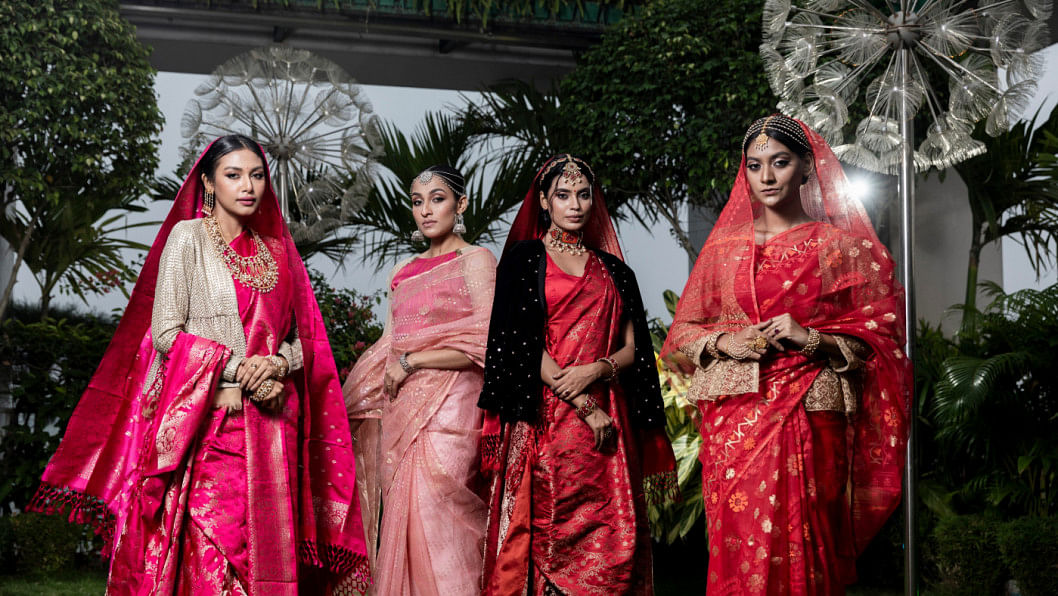 Personally, I suffer from millennial anxiety disorder, where I worry about getting dressed in the morning before going to the office. My mind gets restless about not repeating an outfit, as if I was back in high school once again. You cannot blame me either, all this obsession is further augmented because of working in a fashion-centric magazine, where I am regularly advising the new generation on their daily outfit choices.
Whatever my state of affairs, one thing is clear; it is near impossible to manage a new set of clothes every day. It is neither justifiable, workable, ecologically efficient, financially viable, nor intelligent.   
But then there's social media and society's deep-rooted judgement against misfits like a tacky outfit repeater. How do we manage both – or do we?
My next question is more whole-hearted. Heritage looms are supposed to be passed down through generations. I have seen my mother wear my nanu's authentic muslin saris on special occasions, and luckily, I have been passed down these beautiful garbs, with a few other additional wardrobes from mum's own collection, like the Banarasi katans and regal Jamdanis from the bygone era.
Now, if I wanted to wear them on special days of my life, would social media consider me an outcast? And does it even matter if it did so?
A thoughtful loved one once said – it's not social media at all. The whole thing is cooked up in our heads and we blow the idea out of proportion. Whatever it is, there must be a mediation, an in-between where we can proudly display our assets from the past and also blend in with the trends of the new age.
When heritage wear and outfit repeat is a pride
At Star Lifestyle, we always invite experimentation. The team always puts in an extra effort to contemplate styles where the heritage looms are repeated, religiously. From combining jeans and halter neck blouses with the traditional katan, we tried and tested everything. And surprisingly, the looks came out winning every time.
Shaming ourselves over outfit repeat is both unnecessary and futile. Wear outfits to your heart's content. Wear it in every way possible until it gets out of your system. Then save it for another day, when after a long time, it will seem all new and fresh once again!
And the thing about social media may be real, but people are not judging us because we wear the same clothes twice, but because we do not experiment with our looks. Everyone around us knows that is it not worth spending thousands on clothes, but they are also not interested in looking at photos where we look all the same. So, maybe the best way out of all this puzzle is to experiment.
And how do we do that?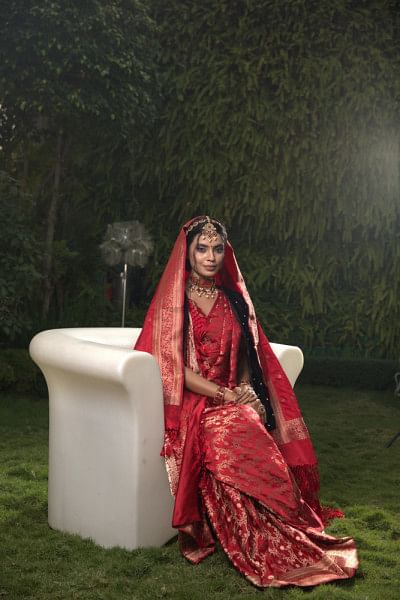 Maybe we wear different accessories with the same dress, tie up our hair in a unique way every time, or maybe drape that favourite sari of ours differently and there is plenty of ways to do it other than the traditional 'nivi' style.
And if you think you have had enough, or maybe the dress has become too worn out, but still has those sensibilities attached to it, then it's definitely time to upcycle. The same katan would look lovely as an accessory like a bag or another piece of clothing like a jacket maybe?
Whatever the case, your beloved granny's muslins stay with you forever.
Models: Efa, Borno, Tarin, Suhi
Jewellery: Six Yards Story
Blouse: The Blouse House
Wardrobe: Tangail Saree Kutir
Styling: Sonia Yeasmin Isha
Assistant Coordinator: Sumon Rahat
Makeup: Masum, Shumon
Location: Sheraton Dhaka