Twirling dresses in the sun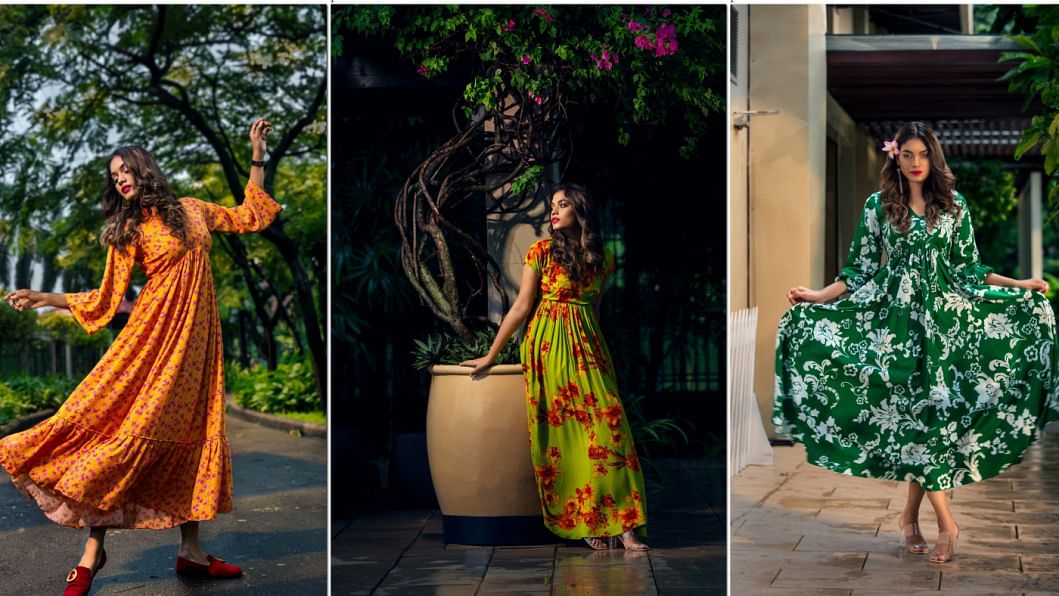 Think of a sunny poolside in Bali. What are you wearing? Probably a short, asymmetrical number in blues and greens. Imagine a warm sunset lighting up your eyes in Cox's Bazar. What have you got on now? A long, dreamy, floral dress, perhaps. Whatever the style, wherever the location, nothing screams summer like florals and geometrical patterns in all colours under the sun, which continues to blaze away everyday despite it being September already.  
Many people feel that vibrant colours and geometric prints can make them look too overwhelming but that's a myth easily busted. Worn correctly, these two classic designs can have you looking and feeling lively, energetic, and summer-ready like nothing else.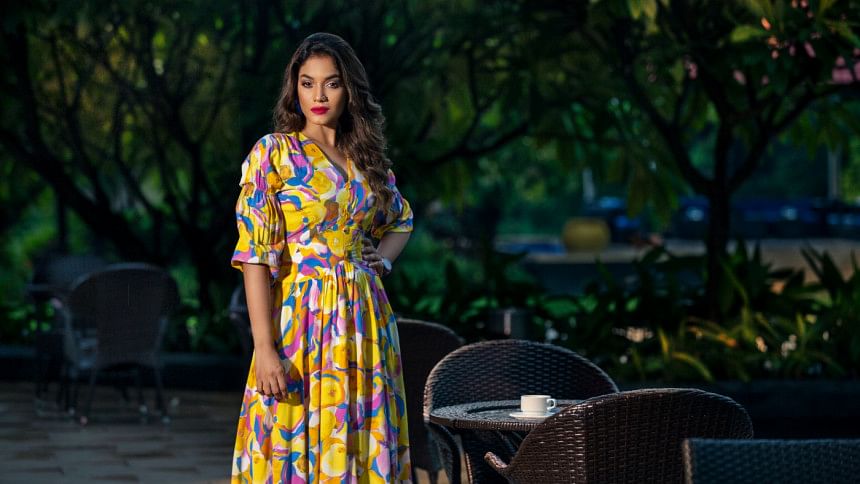 Florals and geometric patterns have ruled fashion charts for a reason. Worn short, mid length or long, the prints are versatile and can be styled easily. Think of jumpsuits with floral flounces, one-shouldered midi dresses in polka dots, strapless short numbers or long and breezy dresses in soft layers — the summer friendly motifs make almost everything look a little bit better.
Small floral prints on a light background can give you some instantly romantic charm. Electric blue flower patterns on a bright sunny yellow can have you feeling fun and joyful. Black and white polka dots will transport you back to the '60s and snazzy, abstract designs will effortlessly make you the best dressed guest to the next pool party.
While making a fashion statement is important, it is equally necessary to be comfortable. Dhaka sees some harsh summers and a flushed, sweaty look is not in. Thankfully, floral and geometrical prints are easily available in all colours and fabrics. If you wish to buy them online, there are websites that have some great pieces and some will even customise the dresses for you in your desired material.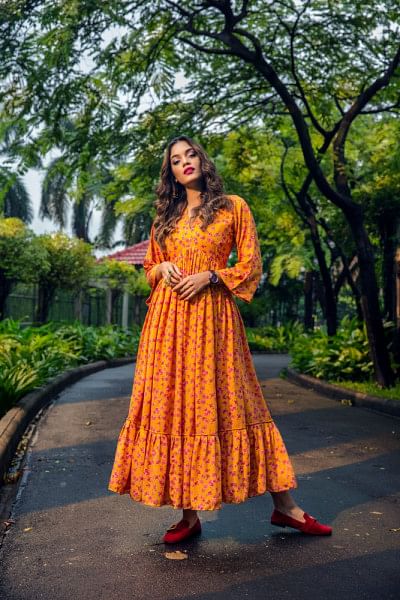 If you enjoy designing your own clothes, a short trip to the nearby yard cloth store can give you all sorts of choices in colour and material. Choose soft linens and cottons in light, soothing colours for the most comfortable feel. You can go for off-shoulder necklines, fun straps, classic sleeveless or whatever else suits your fancy. Play with the length according to the fall of the fabric. Linens make the best long dresses while cottons can make playful mid-length and shorter, asymmetrical cuts.
The best part of putting an outfit together is accessorising it. Short floral pieces look great with one coloured shoulder bags in browns and nude shades. Off white and pastel silk clutches with beaded handles are a super classy addition to longer floral dresses and fun, box purses work wonders on midis and strapless numbers. Pair the dresses with large silver hoops for the ears. They can adapt to all dress styles and are practically never out of fashion.
As patterns love to do the talking, it is important to not overload the look with neck pieces or additional jewellery, but a classic pair of heals never hurt anyone! Kittens, peep toes and pumps look great on all dresses and blend in seamlessly in nude shades. Finally, and if you dare, go for shades with pearl spectacle chains. They are a great marriage of jewellery with functionality and can instantly bedazzle the most critiquing eye.
Model and Styling: Sonia Yeasmin Isha
Wardrobe: Zabin Iqbal
Makeup: Sumon Rahat
Location: Radisson Blu Dhaka Water Garden