Grecian grace in vogue: Inspiration from ancient Greece takes centre stage in the latest fashion trends
It is no mystery that ancient Greece has been an inspiration for every aspect of culture globally, whether it be literature, art, sports, or fashion. Taking cue from the rich history of this Mediterranean country, Grecian drapes have once again become fashionable. 
Draping – the Grecian way
Draping, in simple terms, means how clothes fall, fold or land over three-dimensional bodies. Draped garments follow the form of the human body beneath them. Ancient Greeks developed draped silhouettes like peplos and chiton. These silhouettes have served as inspiration for designers for years to come.
Is history repeating itself?
This adage always comes true when fashion is concerned. Typically, trends tend to recycle every 10-20 years and that has happened once again with Grecian draping. Starting from the iconic "wet look' dress on Zendaya by Balmain, which used leather for draping, to Dior's Cruise Collection 2022 directly taking inspiration from Greco-Roman times to Di Petsa being the new favourite designer worldwide for her wet looking, body-hugging draped outfits, draping is seen everywhere.
The revival of the Grecian draping can be seen as a sign of the times. Moreover, in this new normal of hybrid working culture, most of us have tended to go for outfits that provide us comfort, ease of movement and Grecian drapes provide that exact ease and fluidity needed to tackle this new world.
The style explained
Taking inspiration straight from Greek history, floor-length gowns with soft, fluid drapes can be a classic piece for your wardrobes. Add a cowl neck to the outfit and you will look like a Greek goddess. There can be some ruching as well to ensure that the outfit accentuates the body.
Asymmetrical cuts and one-shoulder outfits like floor-length gowns or dresses hemming at the knee and above can be very fashion-forward. You can incorporate this asymmetry into deshi outfits like kurtis and kameezes. The sleeve detail for one shoulder outfits can include bows, knots, metallic embellishments, etc. Gowns can be off the shoulder or even strapless. Gowns incorporating capes can be another masterpiece.
Fabrics like chiffon, georgette, organza, Muslin and lightweight silk are perfect for creating soft, fluid drapes that fall over and hug the body perfectly. As for the colour palette, any colour will go with this style, but if you want to amp up the Greek goddess factor, go for very soft, pastel and light colours, especially in the neutral colour family, and of course, white. Nothing speaks "Greek Goddess" louder than a white, draped chiffon gown with cowl neck, some ruching and maybe even some pleating.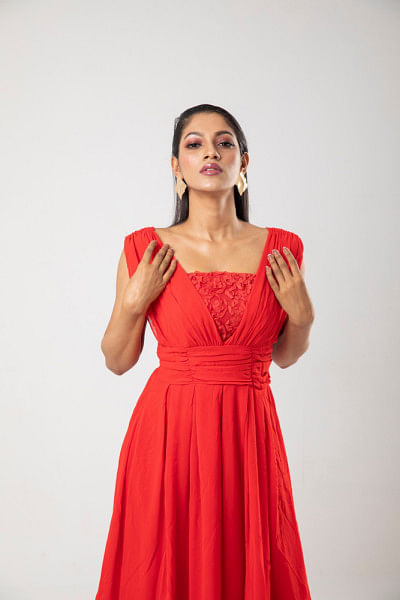 How to accessorise
You can wear some gorgeous neckpieces with these gowns, encrusted with crystals, shiny stones, rhinestones or even diamonds. Embellished, bedazzled and thick chokers can be another wonderful option.
Belts look excellent with these gowns. Embellished belts, shiny metallic belts with fancy belt buckles or belts that are beautifully designed with motifs, both thick and thin, either in gold or silver will help to cinch the waist and provide that effortless, wrapped in motion look.
Another wonderful addition to your fit can be some headpieces like metallic headbands cut in florals and leaves, hair clips in similar motifs, tiaras, etc. can truly pack in that Grecian punch to your look.
It is time to call your tailor and get that custom jaw-dropping Grecian draped gown of your dreams.
Model: Surjo
Makeup: Orko
Wardrobe: Zabin Iqbal
Styling: Sonia Yeasmin Isha