This summer is all about Boho-chic styling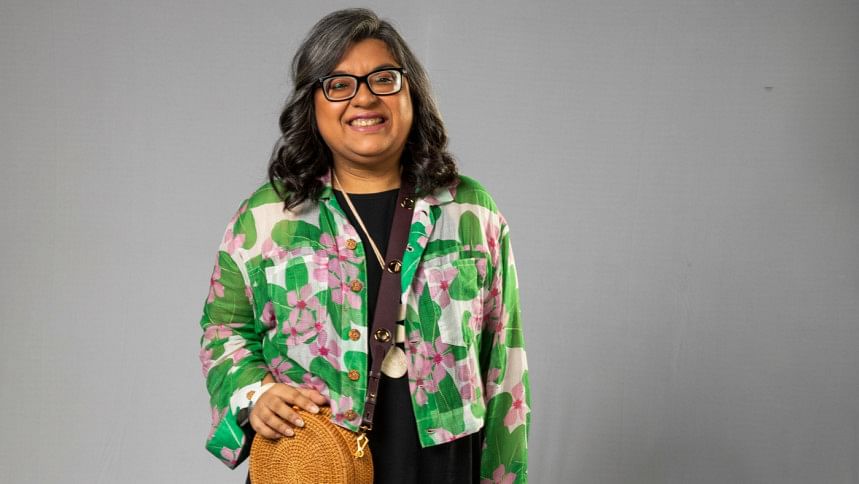 Picture this — Jaya Ahsan in gladiator sandals, maxi skirt, a solid-colour tank top and multilayers of natural wooden beads round the neck; or maybe Azmeri Haque Badhan, in a patchwork crochet midi-dress with leather belts and hunter wellies.
What are we talking about? Boho–chic fashion of course!
Like many other 90s trends making a comeback, Boho is back again with a bang. So, we are ready to welcome back floral waistcoats, midi dresses, ripped jeans, cargo pants, printed scarves, fringes on everything including belts, bags and sandals.
For those who are not much into brands, jute bags from the local market, leather baguettes and hobo bags are a 'must have' item for the wardrobe.
You don't believe us? International runways are also awash with the 'fantastic 90s' styling craze.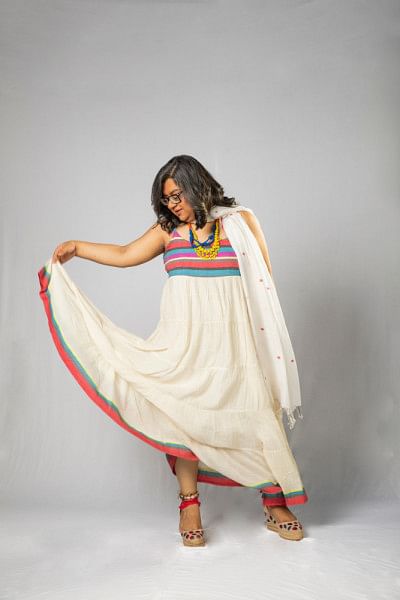 The super model Hadid sisters, Gigi and Bella, have walked multiple ramps wearing macrame dresses fizzling out in fringes, head to toe tie-dye printed dresses with an abundance of braiding and seashell jewellery.
Having said that, jewellery is back in action once again. The 'simple is the way to go style' is no longer IN, people are hoarding their summer wardrobe with anklets, toe rings, mood rings, rainbow glass beads, scarf earrings and so much more.
There's no way to tone down on the looks, thanks to social media. If you want to be in on the trendy bandwagon, then you have to be all decked up. There's just no subtle way around it.
From baguette bags to gladiator sandals, there have been a revival of the 90s trends that we love so much. It appears that designer Sharmin Rahman is almost obsessed with the style inspiration as we are. And hence a photo collaboration was a must.
For the exclusive photoshoot with Rahman, she chose to wear an off-shoulder floral top paired with a solid beige sari, mix and match her ripped jeans with a floral jacket and wear a bundle of rainbow beads with colourful anarkalis and flowy midis.
The finishing touches? Unique jewellery, Bohemian jute bags and intriguing flats.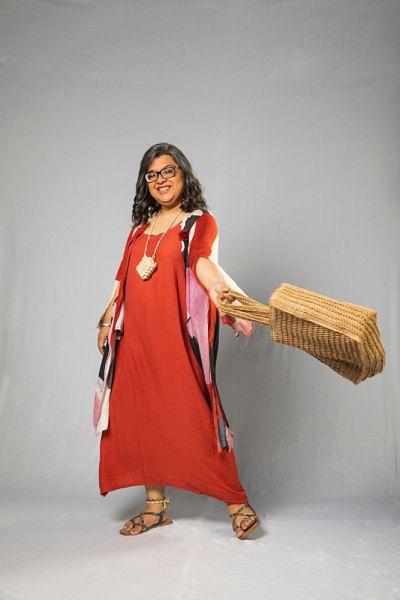 While the look particularly drew inspiration from floaty silhouettes and retro jewellery, that are more of a signature for supermodel Kate Moss, Rahman also put in some twists of her own with the introduction to sari and a soft fusion between the traditional and the Western way of styling.
So, is Boho–chic finally back, once again, to capture our hearts?
Clearly, Rahman thinks so.
Model: Sharmin Rahman
Styling: Sonia Yeasmin Isha
Make-up: Sumon Rahat
Wardrobe: Sharmin Rahman/ Sharmin Rahman personal collection