Manas: Where fashion tells a story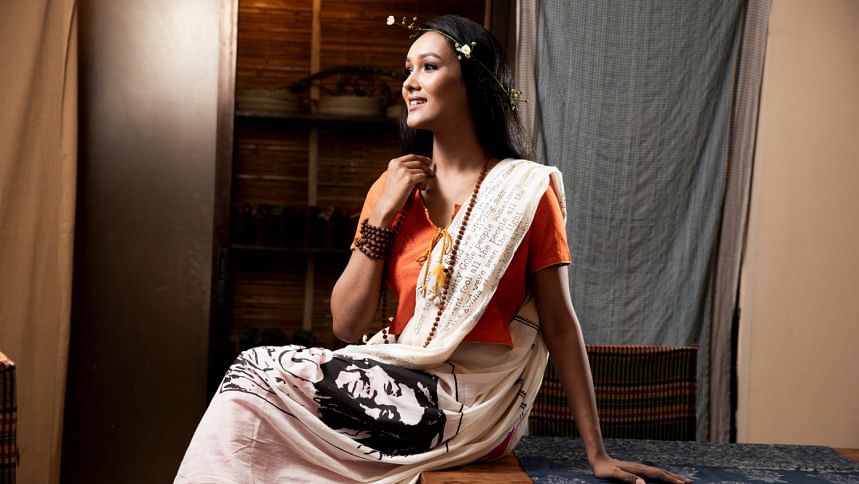 Faiza Ahmed, an artist, designer, and fashion activist has seen trends and styles change right before her eyes. And while she found herself appreciating many of these changes, the drastic decline of Bengali elements in mainstream fashion did not sit well with her. This is when she founded Manas, a fashion studio that combined classic art with contemporary fashion to create an amazing line of clothing. With her magical touch, each piece of sari exudes grace in a manner very different than what our eyes have become accustomed to.
Upon entering the studio, you will not be greeted with a vast collection of silk, chiffon, or net but rather, a selective range of khadi, cotton, and the like. Earthy tones like off-white, beige, and mustard yellow are paired with sunset orange, deep green, magenta or red, which somehow perfectly balances elegance and excitement. 
Manas started its journey with an interesting piece where the legendary band Beatles was incorporated in the design of the sari. While we have all come across t-shirts with the Beatles printed on them, this was Faiza Ahmed's way of showing that a sari can be just as edgy and fun when done right.
Another amazing creation by Manas is their petticoats. Where petticoats have been largely treated like a part of undergarments in a sari outfit, Ahmed thinks it is an unnecessary point of discomfort we must get rid of. So, stepping out of the idea where you must match the petticoat with the sari and must not let it show at any cost, she introduced a sharp contrast where, for instance, a black sari can be paired with a hot-pink petticoat. Not only does this make the humble petticoat a major part of the outfit, but also elevates the sari look itself into something funkier.
According to Ahmed, 2023 is the best time to embrace the Bengali spirit in fashion. "I think the phrase 'less is more' was definitely made for us," she says jokingly. "While people all over the world are fussing over tailored dresses, we have been draping a 6-yard-long piece of cloth into various styles for decades now. We come with endless potential in minimalistic style so why not make the most of it!"
Rabindranath Tagore's portrait, song lyrics, and poems have been printed on saris, dresses, and even t-shirts countless times. Manas, however, was the first to take inspiration from a different angle altogether. In four exclusive saris, designs showcased Tagore's own doodles and his signature scribbling.
Ahmed still speaks fondly of another piece of art, her Tagore chithi sari; a beautiful letter Tagore had written to his beloved, Bashontika. Faiza Ahmed put her heart and soul into studying it, finding and putting together any missing piece, even seeking out the stamp that was used in Tagore's time to post the letters, before composing it all into this one sari. Unfortunately, her design was replicated before she could bring her creation forward.
"This is the only drawback I, and I'm sure many like me, face in this line of work," says the artist regrettably. "The market is so heavily focused on products only; art often gets replicated unfairly and we cannot do much about it."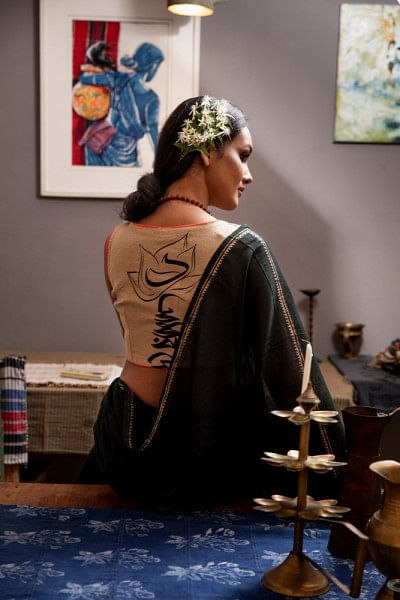 Manas was also the first to bring Bangla cinema posters as prints on saris. "We don't see, hear, or wear classics anymore," says Ahmed, "So the idea behind these designs was to build something intriguing for the youth so that they are not only drawn to this style but also to the content of it."
In a world of changing fashion, many of our old traditions have been lost. Faiza Ahmed aims to not only tell the tales of olden times but also let the new generation know that we have much to be proud of in our own culture. The journey will not be easy, she admits. But every big change starts small and every step counts.
Check out their collection on Facebook: www.facebook.com/manas.manas or visit the studio in Mohakhali DOHS, Road 22, House 136/B, Dhaka.
Model: Nidhi
Styling: Sonia Yeasmin Isha
Makeup Artist: Sumon
Wardrobe: Manas