House of Ahmed's Eid Collection hits it out of the park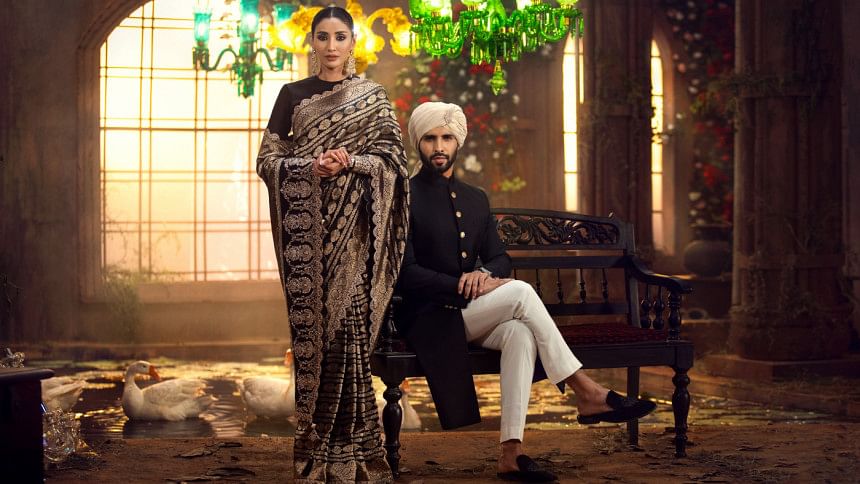 For the past few years, House of Ahmed has been consistently pushing the envelope when it comes to lavish clothing items. Catering to a certain niche, they have achieved a unique balance between experimentation, tradition, and luxury that has led to some very memorable campaigns in recent times.
Last year, they did a campaign that featured Joya Ahsan draped in elaborate and eloquent sari designs that also incorporated elements of rickshaw art.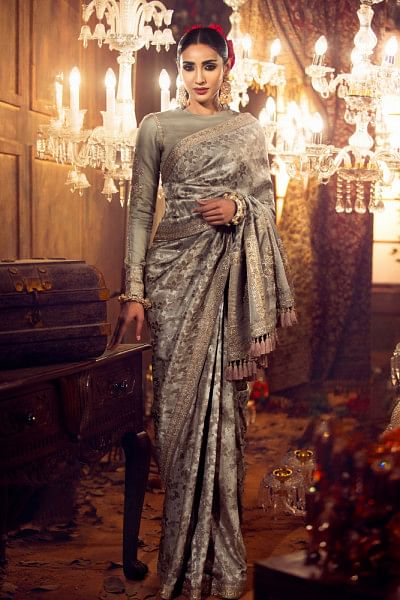 Continuing along that line, this year, they have released three separate campaigns for Eid. In the heart of their exciting operations lies the dynamic husband-wife duo of Ahmed Tuhin Reza and Tanzila Elma, and they filled us in on the stories and inspiration behind their Eid collection. 
"The first campaign featured international model Piyush Manwani and was shot in Cox's Bazar, with the focus being on panjabis made from materials such as cotton, Muslin, and taffeta silk. The second featured a Russian model named Eugenia sporting our high-end custom outfits and a few of our ready-to-wear designs and that was shot in Mumbai.
"We topped things off with a third campaign with Nibir Adnan and Tangia Methila that features some of the boldest and most intricate designs coming out of House of Ahmed and is arguably our most unique campaign," explained Tanzila Elma.
Their Eid collection is composed of timeless festive wear that can be donned on days of Eid. Not only that but the collection also took into account the wedding season that will follow in the coming months.
"The idea was plain and simple. Create exclusive pieces that scream festivities. We want to dress you for the occasion," added Reza.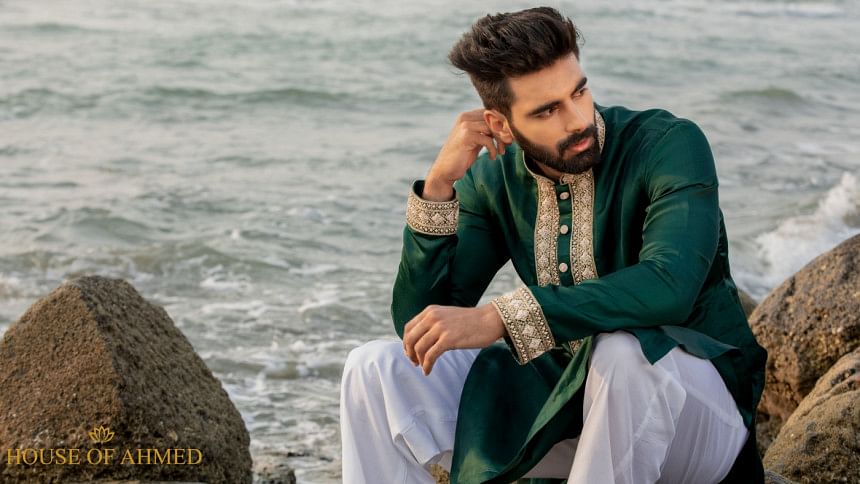 The men's collection consists of panjabis in two colour gradients: solid and pastel shades. It additionally features a selection of sherwani. It is the women's collection though where their creative prowess truly shines. The base of the collection is made of printed organza, soft silk, handloom katan, and Banarasi saris and the centrepiece comprises full-sleeved blouses that are truly the embodiment of fashion-forward.
"We pretty much took the lid off while designing these blouses. We dedicated an entire line to them. We played with metallic zardosi, stones and crystal embellishments, neckpieces that start from the back. This was a follow-up of the success we had with last year's campaign featuring Jaya Ahsan," elaborated Tanzila Elma.
"People are generally shifting towards a more traditional approach to wearing saris and have swapped the sleeveless blouses for full-sleeved ones that ooze class and elegance. Icons such as Sabyasachi have ushered in a new era for fashion that involves less showing of the skin which aligns with the values we try to uphold", Tuhin further added.
The photoshoot too, feels like a dream and features larger than life sets that capture the essence of more regal times. As mentioned earlier, this collection has been targeted towards a certain niche and some of these pieces will set you back up to Tk 1 lakh.
"At House of Ahmed, we have always tried to create a blend of culture and current trends. With our Eid Collection, we wanted to experiment with some of these trends and add our own unique touch to it," stated Ahmed Tuhin Reza.
Model: Methila, Nibir and Piyush
Wardrobe: House of Ahmed
Photography, Art direction and Set design: Rony Rezaul
Beauty Partner: Aura Beauty Salon
Jewellery partner: Kashfiaa- Jewellery designer