Futuristic makeup and Khadija Islam Reem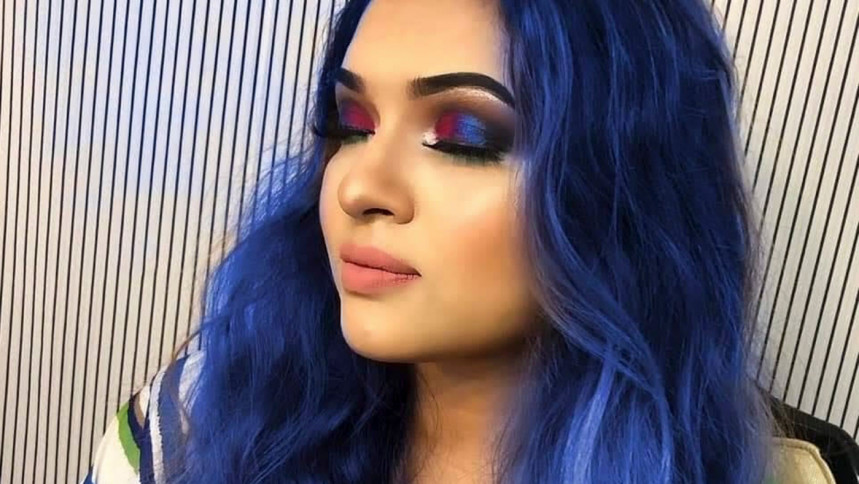 There are not many amongst us ladies who have not experimented with makeup in our younger days — be it because of an undying affection towards our mother's vanity boxes or simply because we loved to mimic a grownup. Whatever the reasons, the urge was immense. While most of us grew out the impulse, for some it stayed as a lifelong obsession, and Khadija Islam Reem, is from the latter group who went onto call the art of makeup, her one true calling.
"There were people around me who actually encouraged me to take up 'makeup artistry' as a professional career all because they liked my experimentation with the colour palette. Their words certainly gave me a lot of motivation and I would remain forever grateful to these people," acknowledged the makeup artist.  However, fate would have it otherwise and Reem got involved with multiple dealings including marriage and studies in between putting a casual halt to her lifelong passion for a certain period of time.
"No matter what else I stayed busy with, my mind was always obsessed with makeup and that's why I returned to it in a jiffy after the brief interruption. After marriage I decided to take up the profession more decisively and began my career sitting in front of a mirror, putting makeup on myself and teaching patrons how to ace the art of the profession, and hence the name, Mirror Diva by Reem popped up," acknowledged the artist.
The artist, Khadija Islam Reem definitely has come a long way from those early days of her venture. Today, she has a full-fledged beauty parlour in the capital's Uttara area: Reem's Makeover Studio, and planning to open another one where little missies, young ladies accompanying their mothers to the parlour can pamper themselves as well.
"This idea popped up solely because of my daughter. I realised the fact that when I was sitting in the parlour indulging in beautification, I personally would have wanted my daughter (a.k.a. my best friend) to accompany me and do her nails as well. That would be so much fun! Based on this notion, I want to provide a similar benefit for all my clients and their tiny best friends," said Reem.
While her indication is applaudable, Reem is not the type to dwell on just one idea. She had thousands of followers on her YouTube channel and various social media handles where she regularly arranges makeup workshops.
"I have taken multiple professional makeup courses, even with international makeup artistes to reach this level of confidence. So, it's no longer an amateur attempt but a purely thought-out professional endeavor," she said.
Inquired what made her different from any other professional makeup artist in Dhaka, she replied instantaneously, "I am the first girl to try out unconventional colours — blue, white and green lipsticks without being trolled. And that is certainly a successful attempt. People may not know my name but they know about this certain girl who successfully experimented with makeup".
In an age where futuristic makeup, trials and defying the unconventional has become the norm in the global arena, homegrown makeup artists' like Khadija Islam Reem certainly show us the way to becoming a global citizen.
Facebook and Instagram: Mirror Diva by Reem
Facebook: Fashion City by Reem