Everything you need to know about thrift shopping
Thrifting, another word for second-hand shopping, is slowly becoming the new norm of clothing consumption globally. In this article, we break down the very basics of what it is and how you can be part of this change.
What is thrifting?
Buying gently used items at a discounted price is called thrifting. A new term to our vernacular, it is also seductively termed as "pre-loved," "resale," "vintage" etc.
It is good to note that the term "vintage" differs from its popularly substituted counterparts. While any item of clothing of any age can be sold second-hand, for an item of clothing to be considered vintage, its age must be a minimum of 20 years.
So, what's with all the hype surrounding thrift?
The growing eco-consciousness of consumers, especially in the Gen-Z demographic, combined with the power of social media giants like TikTok, Instagram, and YouTube providing a platform for creative self-expression and a raging pandemic that has made us all rethink our ways of life and reduce our needs for shopping for clothes, pre-loved shopping took over our collective consciousness and transcended to the mainstream from the niche.
The second-hand clothing market is composed of two categories – brick and mortar thrift stores and resale platforms, the latter of whom fuelled the recent boom. Resale platforms like Depop and TheRealReal took off along with countless Instagram-based vintage and thrift shops. 
Trends like fashion flipping – buying pre-loved clothing and reselling them and thrift flipping – reworking a thrifted piece into something, has cemented the place of pre-loved shopping as a mainstay in mainstream fashion consumption.
Why should I opt for pre-loved?
Fashion, along with its glitz and glam, has its fair share of dark history surrounding environmental damage. According to a 2019 report published by the House of Commons Environmental Audit Committee, "textile production contributes more to climate change than international aviation and shipping combined."
Less than 1 percent of materials used to make clothing are currently recycled to make new clothing, a $500 billion annual loss for the fashion industry. This has been largely fuelled by the growth of fast fashion giants like H&M and Zara, and more recently by the uber-fast fashion companies like Shein, which churn out 700-1000 designs daily at impossibly cheap prices, contributing more and more to landfill.
With the growing environmental consciousness of modern-day consumers, especially in the millennial and Gen-Z demographic, thrifting has become their go-to for a sustainable lifestyle choice, a step towards circular fashion. Alongside these changes in values, some other inspirations for shopping pre-loved include the strive for individuality and creative self-expression, a newfound love for the whiff of nostalgia of past times, and vintage inspiration used by fashion designers in their latest designs.
Fast fashion is produced en masse, leading to many people wearing the same outfit. Vintage is the alternative response to it, providing exclusivity, the chance to create their unique style, and providing broader fashion independence to defy the trends and standards set by industry players.
Vintage/thrift shopping allows a new life to a garment, continuing its journey. Vintage pieces will last you much longer compared to fast fashion counterparts due to their higher quality and care provided. Moreover, their value soars with age, making them worthwhile investments. In the West, vintage and pre-loved shopping for archival pieces of famed designers and luxury brands are popular to obtain high-quality luxury items at highly discounted rates. 
Addressing the stigma surrounding second-hand shopping
Global statistics make it evident that the stigma surrounding second-hand clothing has greatly reduced. A 2019 report by analytics firm Global Data and online store Thredup estimated that the used fashion market will be worth $64 billion by 2028 — contrasting with the $44 billion fast fashion industry. Moreover, there are still some concerns shared by the people in our country which have been addressed below.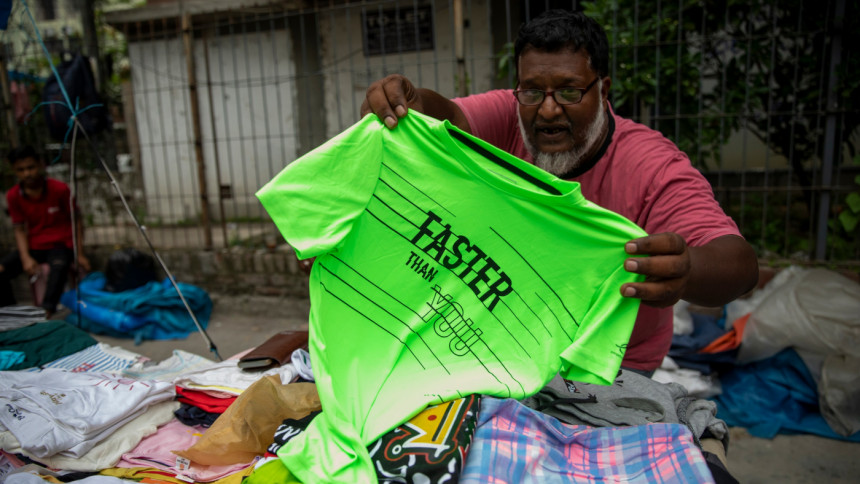 There is prejudice attached to pre-loved clothing as hand-me-downs. The question that pops into the mind of people, especially older generations is why buy used old clothes worn by other people if you can buy new ones. In their minds, it accentuates a perception about lacking affordability for new clothes. There is also the question of hygiene involved.
To address all these concerns, thrift stores go above and beyond to wash clothes and do repairs if needed to restore the quality of the pieces. The owners will curate the items carefully to ensure that no item is too old or worn out. It is interesting to note that alongside adding to the charm, vintage connoisseurs look for signs of aging and wear to determine the authenticity of an item. If there is a defect on an item, the seller will usually mention it and the price of the product will reflect so.
The Bangladeshi context and some tips
As for Bangladesh, there are a lot of shops on Instagram which collect second-hand clothes and sell them. Some popular shops include Vintage Ziana, @aesthrift.bd, Dhaka Vintage, Thrift Store BD, and countless others. You can find some amazing pieces for prices starting from Tk 300 to Tk 700.
The rules might differ slightly from shop to shop, but the general rule of thumb is to book the pieces via DMs or comments as soon as they are posted for sale. These items run out fast and there is only one piece available, so keep an eye for the timing of the drops. Before booking a piece, make sure the measurements of the garment match your size.
Happy thrifting!
Photo: Sazzad Ibne Sayed
Model: Alfie Hossain