Airport Style: Revival of a classic-wear in Bangladesh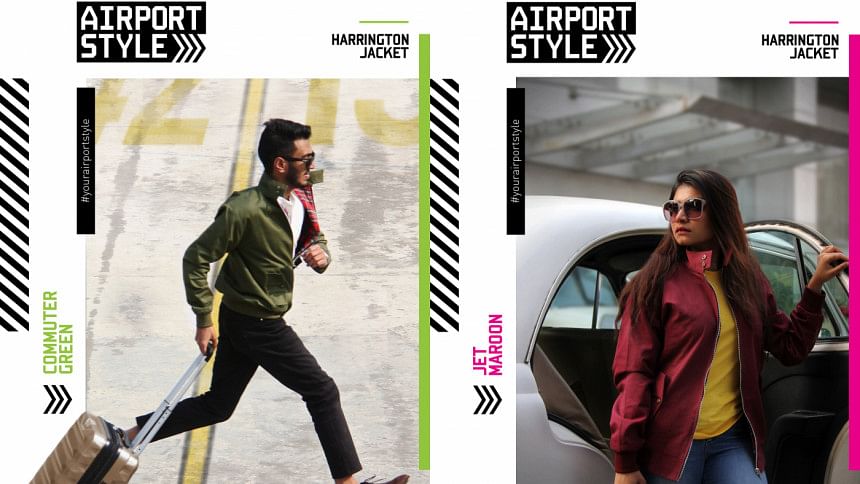 'Airport Style' is a rising clothier brand run by young entrepreneurs who have recently made a name in the fashion industry of Bangladesh. We had the opportunity to talk to the founders, Ashiq Seraj and Imayan Vignarajah, on their three-year journey.
Please tell us something about your business. How did it start?
In winter 2019, two friends Ashiq Seraj and Imayan Vignarajah who bonded over fashion decided to launch Harrington jackets for the first time in Bangladesh. Thus, Airport Style was born. We were already engaged in exporting readymade garments (RMG) to fashion retailers in the US and in Canada.
We noticed that there are still room for improvement in the classic wear produced in Bangladesh. Few big fashion houses produced them but those were not affordable for most people. That's when we decided to launch our retail brand featuring readymade classic wear.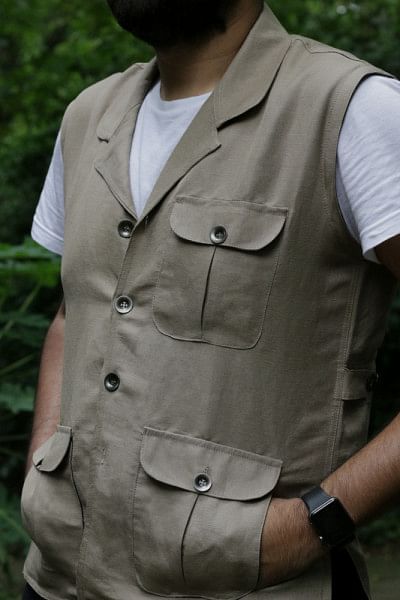 Airport Style is known for its unique collections, the Harrington jackets being our flagship outwear. We are the proud pioneers of this line in Bangladesh. You might see other brands with their versions of Harringtons, but we are the only ones to offer a varying range including the Icon series, Mechanic Harrington, Aviator Harrington, and the classic Harrington.
Airport Style over the years has grown as a team since the arrival of Tashdida Binte Masud as the Creative Head and also one of the partners. She plays a pivotal role in the business, helming our design and branding.
Who are your target customers?
Classic wear is thought to be something for middle-aged men, but young people are inclined towards old-world charm making the base of our target customers broader. However, people in their early twenties to late sixties are whom we focus on serving.
The all-time classic Riviera Shirt — a modern interpretation of the famous yesteryear safari shirts is worn by young men and women. So, our target customer base is significantly wide and gladly we can cater to men and women of varying ages by maintaining style and gender fluidity. As a result of strict quality compliance, we have secured a huge base of repeat customers.
What drove you to choose this line of work?
We were already involved in the RMG business and knew the ins and outs of it, especially with our quality control standards sourcing. We are aware of big brands overseas having strict compliance standards and quality controls. Failing to adhere becomes a costly affair, resulting in losses or claims. Therefore, starting our brand locally seemed less difficult as the groundwork was pre-existing, and all we needed was a vision and a localised strategy to execute it.
Please explain some of your design concepts, and preferred palettes, specialties, fabrics, etc. Why is it called Airport Style?
Our design illustrations of Harringtons are on our business pages, detailed part by part for everyone to understand. We have worked with Academia (dark, light, and romantic) colour palettes. We strive to set the trend by being the trailblazers in the local retail arena with our pioneering designs. Every season we try to introduce something unseen in the local market. We draw our inspiration mainly from style icons in classic movies. Actors such as Steve McQueen, James Dean, Clarke Gable, Ava Gardner, Grace Kelly, and Daniel Craig popularised Harringtons.
Our clothes are made of lightweight, breathable fabrics, taking into account the weather conditions in Bangladesh. Aside from the vintage sweaters, all the clothes we make come with multiple pockets. We chose the name 'Airport Style' as it reflects our travel-friendly, comfy, durable, and easy-to-put-on clothes.
Are your products locally produced? What sort of factories/workers do you work with?
Bangladesh's RMG sector is largely reliant on imports for its raw materials such as fabrics, especially woven kinds, accessories, cotton, etc. An export house mostly does around 15-25 percent value addition here as a result of importing the raw materials. We have in-house quality control process and procedure to make sure they comply with export quality. No process is 'bulletproof', and we learn from our previous mishaps.
100 percent of manufacturing is done in Bangladesh, and we work with SMEs. Several small garments have shut down in the country due to rising costs, extreme compliance requirements from western buyers, and COVID-19. Therefore, we work with small enterprises to keep them running. Over the years we have fostered a deep-rooted kinship with our suppliers. It has been a win-win in every aspect.
What are your biggest achievements till now?
Our biggest achievement is realising this idea and making it a commercial success. Moreover, we had the privilege of collaborating with Morris Garage — the legendary British Motoring Marque, by tailoring their in-house 'The MG Driver's jacket' for MG Bangladesh division exclusively.
What are your future goals? Please talk about some of your upcoming products.
We plan to open a studio store. Currently, we have commenced our Fall'22 season with our new Ensemble – FIFA World Cup Vintage Sweater designs. Next is the Winter Fleet, consisting of Harringtons, The Suede Flight Bomber, and The Grand Tourer Jackets. Next month, we plan on introducing a range of knitwear for the Late Winter session.
Stay tuned to Airport Style's social media handles.
IG – theairportstyle
FB – www.facebook.com/theairportstyle