Aarong — Fashion through the ages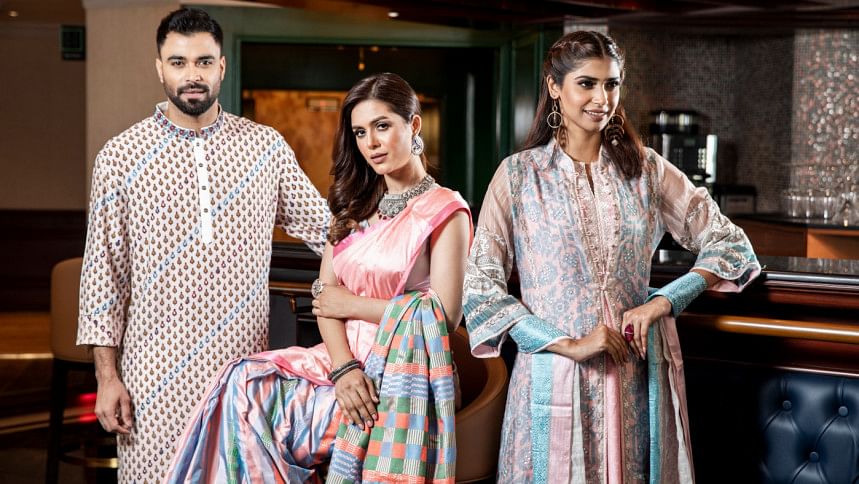 Seldom have brands fit into consumers' lives as seamlessly as Aarong, and no Eid is ever complete without a few choice pieces from the local brand that has now made its mark in the USA, UK, Australia, Germany, UAE and Singapore too. With 25 retail outlets across Bangladesh, Aarong has become a household name known for its employment of rural artisans in its manufacturing processes, its high-quality products and it's refreshing take on ethnic patterns. Its latest Eid collection is no exception. An exciting mix of bold and vibrant prints inspired by Moroccan embroidery, Persian geometry, Egyptian and Jaipuri prints, abstract art, and Bohemian and local creativity, the lookbook is resplendent with style and brimming with creative flair.
For a few good years now, Eid ul Adha is being observed in summer, and this will be the case this year too. Despite the excitement of the festival, exchanging joyous greetings tends to become a little exhausting in the heat, especially when one is also expected to look their best, festive selves. Without compromising an inch of fashion, Aarong has prioritised the use of summer-friendly materials such as soft cotton, muslin, and linen, and has made expert use of lighter, warmer shades for daytime, reserving the lush, dark silks and muslins for evening wear.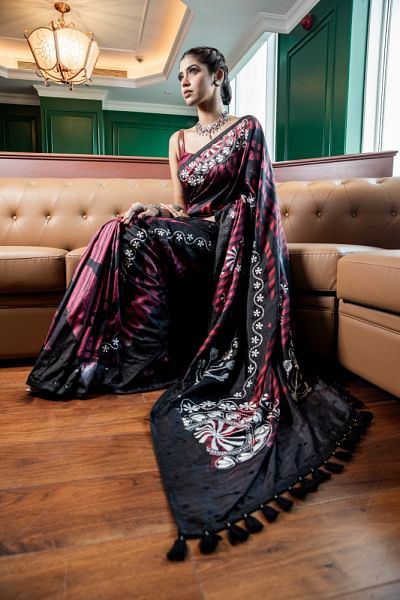 As Eid ul Fitr and Eid ul Adha are observed just a couple of months apart from each other, brands often find it difficult to distinguish their offerings from one festival to the next. Aarong, it seems, has had no difficulty in that department at all. Their Eid ul Adha collection represents a pleasing twist of different motifs, prints, and patterns, representing vintage charms, and fabrics in pastels, light pinks, whites, grey-browns and other, darker hues for both day and night time wear, a clear distinction from the colour palettes of the past festival.
Aarong's Eid ul Adha collection is a delightful combination of summer colour palettes, alternating between pale highlights and deep tones, with Aarong's stellar stitching and patterns, and pastel tones in comfortable material such as cotton, linen, chiffon, silk and viscose. They have released a number of unique kameezes, saris and kurtas for women, and panjabis, waistcoats, and short kurtas for men, under a host of different themes.
Aaron's "Arts and Craft" themed kameez collection is a mesmerising blend of Moroccan intensity and aesthetic sensibility, whereas their theme called "Kazakh Rugs" has kameezes and panjabis locked in a unique interplay of geometric patterns, tribal features and Persian flowers in classic russet reds, deep blue, jewel-toned teal, ivory, black, white and grey. Printing unique designs onto warm toned kameez fabrics is their "Emboss Craftsmanship" theme and their "Decorative Border" theme is equally remarkable, with colourful saris in printed, hand embroidered or tie-dyed borders.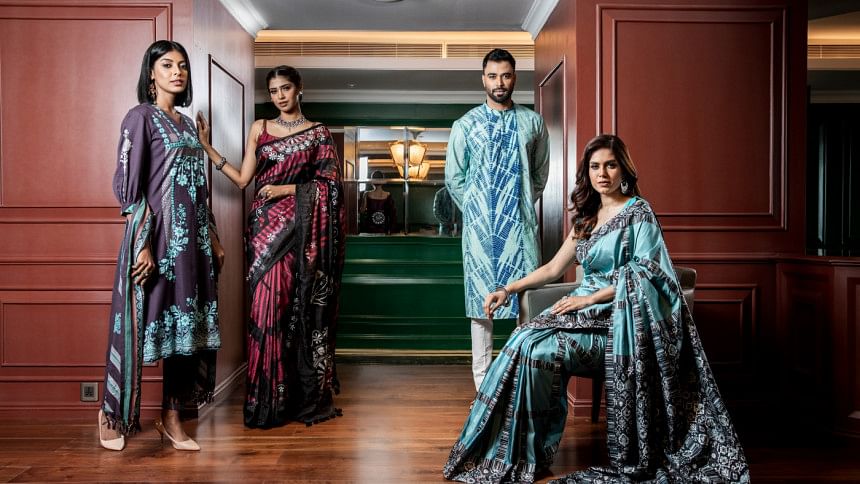 They also have an impressive collection of saris under their "Ditsy Flower", "Google Map Art" and "Abstract Layers" themes, where they have worked with vibrant, summery colours, taken inspiration from the beautiful landscape and patterns of Google Maps, and used bold florals and abstract shapes in Aarong's own designs.
The theme "Shitol Pati" has saris and kameezes in beautiful combinations of Egyptian Asset and Jaipuri Sanganeri print fused into the traditional craftsmanship of our country.
Aarong's festive collection has a lot going on for their male fans too. Themes for panjabi sets such as "Filigree", inspired by metal jewellery, and "Islamic Storyline", featuring decorative grid patterns inspired by classic Islamic art are highlighted in this Eid collection, and Bohemian prints shine in their "New Hippie Craft" theme in the same line. "Heritage of Bangladesh" and "Shitol Pati" are some traditional and fusion themes featured in the Eid ul Adha men's collection, representing the rural natural resources of our culture.
Churning out such a diverse and vibrant festive collection seems to have put Aarong on something of a fashion pedestal this Eid and summer for the brand's loyalists promises to be a pulsating event, full of the joys of sacrifice and the comfort of fine, luxurious, tradition.
Model: Tania, Raj, Marium, Arnira
Styling: Tabinda
Wardrobe: Aarong
Make-up: Sumon Rahat
Location: Holiday Inn Dhaka City Centre