LAW VISION - NOISE POLLUTION IN DHAKA
A threat to the right to life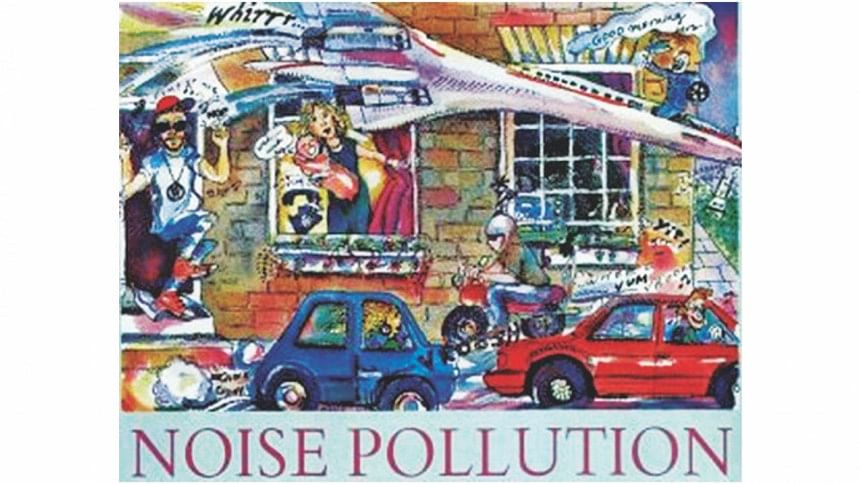 DHAKA, the capital of Bangladesh, is one of the densely populated cities in the world.  Being an overcrowded city, Dhaka has a high level of noise pollution. The survey report of WBB (Work for Better Bangladesh) highlights that 86% inhabitants of Dhaka consider noise pollution is a great problem for them. In fact, noise pollution affects their lives in various ways and it is considered as a threat to their right to life. 
Life is the most precious thing for every human being and thus right to life is the root of all human rights. The right to life is a right which indicates much more than mere animal existence of a human being. The right to life means to have intact all limbs and faculties through which life is enjoyed. It would, obviously, be deprivation of life if the body is mutilated or any part of it is amputated or if any organ of the body, such as taking out of an eye, is destroyed.
In Kharak Singh v  State of U.P., AIR 1963 SC 1295, the Supreme Court of India observed that the right to life does not mean the right to the continuance of a person's animal existence, but a right to the possession of all organs-his arms, legs, etc. 
The word noise is derived from the Latin term "nausea". It has been defined as "unwanted sound, a potential hazard to health and communication dumped into the environment with regard to the adverse effect it may have on unwilling ears." Sound which pleases the listeners is music and that which causes pain and annoyance is noise. 
Noise pollution takes place when there is either excessive amount of noise or an unpleasant sound that causes temporary disruption in the natural balance. Rule 2® of the Noise Pollution (Control) Rules, 2006 defines 'noise pollution' as noise which is above the level of sound as mentioned in Schedule-1 or 2 and which is or may be harmful for the environment. A survey, carried out by Department of Environment (DoE) in the mega city from April to May 2012, shows that the sound level in the capital is beyond the permissible limit.  It is more than double the limit in some cases.  
Noise Pollution is a very serious menace that the people are facing. The health hazards of noise pollution can be categorised into physiological and psychological hazards. While the former includes hearing loss, hypertension, disturbance in sleep patterns etc., the later includes problems such as annoyance, aggression and stress. It may cause interruption of sleep, affect communication, loss of efficiency, hearing loss or deafness, high blood pressure, depression, irritability, fatigue, gastro-intestinal problems, allergy, distraction, mental stress and annoyance etc. Noise induced hearing loss is one of the most harmful effects of noise pollution. The link between excessive noise and hearing loss is obvious. A.G.GARDINER in his lively piece "On the Rule of the Road" with particular reference to horns says "When I hear the aggressive, bullying horn which some motorists deliberately use, I confess that I feel something boiling up in me which is very like what I felt when Germany came trampling like a bully over Belgium." 
Life is not functional with silence. Soundless life is the life near death. However, the excessive sounds which is regarded as noise pollution has become a threat to the right to life. It is submitted that noise cannot be stopped forever, nonetheless it can be controlled. The law enforcement agencies should be vigilant and well-trained in this regard. Plantation of trees, restricted use of pressure horns, loud speakers, and record players will definitely lessen the magnitude of the problem. 
There are two remedies available against all unwanted noise. First to suppress noise at the source, where such a possibility exists and secondly to prevent its transmission into places where it is unwanted. On the whole, the government should be more active in implementation of the rules relating to the control of noise pollution with a view to ensuring right to life of the people of Dhaka.
The writers are PhD Candidates at the Faculty of Law, University of Malaya, Malaysia.