Roundtable discussion on Child Marriage Restraint Act 2017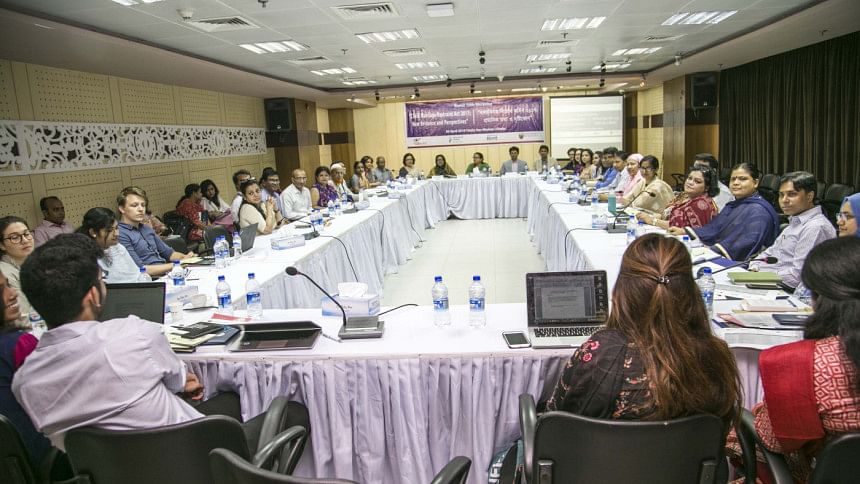 Bangladesh Legal Aid and Services Trust (BLAST) and Population Council jointly hosted the Roundtable Discussion on the Child Marriage Restraint Act 2017 in collaboration with the University of Kent, University of Malaya on 30 April, 2019 at the Daily Star Conference Hall.
The Act raises the penalty for facilitating or engaging in child marriage practices but includes a potentially problematic exception clause for cases where a court rules the marriage is in the 'best interest of the child'. About 60 participants including practitioners, researchers, donors, NGOs, government officials, academicians and media personnel attended the discussion.
New evidence about child marriage practices in rural Bangladesh since the passage of the new law was presented by Zaki Wahhaj, Reader (Associate Professor) in Economics at the University of Kent and M Niaz Asadullah, Professor of Development Economics at the University of Malaya. The research also encompassed the impact of the new law in shaping social attitudes.
Distinguished speakers such as Sara Hossain, Honorary Executive Director of BLAST and D. Sajeda Amin, Senior Associate of Population Council shared their insights about the legal and practical aspects of the law.
Many suggestions were presented in the discussion, but special emphasis was put on the nee for wider dissemination of knowledge and awareness regarding child marriage. It was also stressed that help and remedies should be made accessible. For example, apps, hotlines should be utilised alongside campaigns on mainstream media. Roles of educators in schools and Madrasah's in preventing child marriage was deemed to be vital, and attention was brought to the importance of educating young  boys about child marriage as well. The table also pointed out that the notion that girls should be sheltered must be replaced with the notion of giving them individual rights and autonomy.
The effect of legal lacunae  in a country like Bangladesh where child marriage is a social epidemic, demands proper evaluation. Research has made it clear that the negative impact of child marriage on females as well as their next generation are great, but policymakers are still working out the most cost-effective strategy for combating this issue.
Event covered by Law Desk, The Daily Star.