Law Vision
Urgent reforms to ADR in South Asia to achieve SDG-16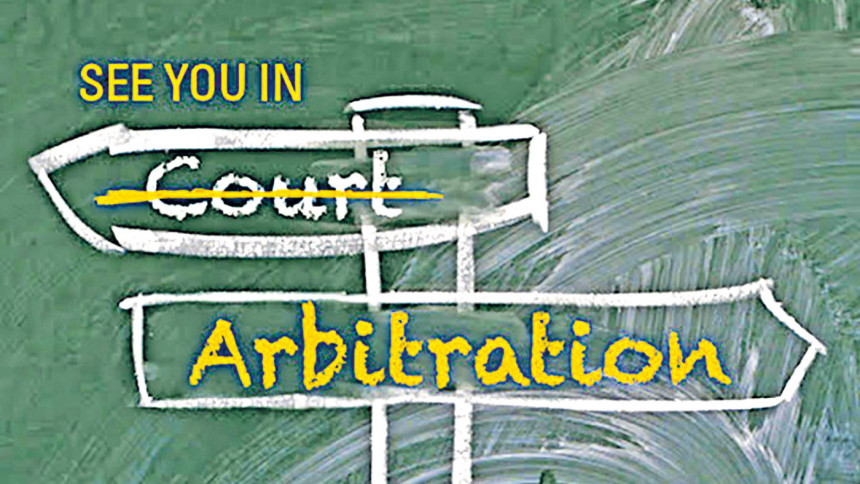 The traditional process of litigating has been one of the best ways of resolving disputes from time immemorial because of its credible methods of examination, depiction, and judgment-giving. But as the world population grew, judiciaries across the globe became overburdened and a colossal number of cases now rest in files "neatly" organised in cupboards. With the incessantly growing urge to cater to the needs of the disputants, countries sought to decipher alternatives to the traditional litigation system.
UK came first after it enacted the very first arbitration statute in 1698 which primarily aimed to settle disputes between merchants without having to submit them to a judge. But recently, when the brilliant legal minds of the South Asian countries gathered together for a webinar organised by the Bangladesh International Arbitration Centre (BIAC), it became clear that South Asian countries of the oriental wing is not far behind.
For over a decade now, countries like Bangladesh, Bhutan, India, Maldives, Nepal, Pakistan and Sri Lanka have vastly invested in the Alternative Dispute Resolution (ADR) spectrum to stimulate the emancipation of the disputants by way of peaceful settlement. In Bangladesh for example, section 89A of the Code of Civil Procedure has included mediation as a viable option to settle disputes, showing legislative steps taken towards promoting ADR. The state of ADR in other countries like India is neither too dim nor very bright, particularly on account of the pandemic.  Private mediation is famous only in the southern part of India and has not picked up in the northern arena.
For countries like Bhutan, the ADR centres have been established to expedite the justice delivering system whilst in the context of the Maldives, 50-60% of the cases are getting resolved by way of mediation or negotiation even during the pandemic.
It is indeed a promising position that these countries are in. However, to maintain this and improvise, it is imperative that these South Asian countries realise the need for reforms that must be made to ADR on an emergency basis to enable the countries achieve Sustainable Development Goal (SDG)-16.
As per the experts invited by BIAC, the first reform suggested is that ADR must be introduced in the consumer sector to resolve consumer disputes resulting from faulty industrial products. For example, it is not uncommon to find faults in the electronic mosquito bat that you recently bought. But either the cases are treated as minor ones and thereby wafted away, or the customers do not bring them to light because they are confident of not finding any solution.
Therefore, ADR in the consumer sector is very important to build the trust, to eradicate the disillusion and apathy nurtured in consumer minds and to contribute to the achievement of SDG-16, which is very crucial for the growth of a country.
ADR should get equal importance in Government contracts and public sector agreements as well so as to create a business friendly environment in Bangladesh and to build a strong ADR infrastructure that foreign investors can rely on. To do so, inspiration can be taken from the Delhi High Court which supported the Delhi Dispute Resolution Society and has encouraged mediation at both  community and state level.
However, it is crucial to comprehend that ADR methods that already exist to help the people are not being used due to lack of awareness. People do not know that they have a way to access justice. Hence, awareness campaigns by use of social media, print and broadcasting media etc. are of utmost importance.
The second suggested reform is that, more people, especially legal practitioners, should be given training that shall not remain limited to gaining a certificate but also be put to practice. Furthermore, if these trained ADR practitioners can build a linkage among the SAARC countries, it is plausible that these highly trained arbitrators and mediators of the oriental countries can freely outsource themselves in a cost-effective manner and contribute to the growth of ADR centres across all of the SAARC countries. Not only will it be a novel step towards economic growth but also will be a revolutionary one.
A third reform is to make ADR a regulatory parallel to the usual judicial system. Many experts have already addressed ADR as "additional" dispute resolution instead of "alternative" dispute resolution. Therefore, because it is visible that the purpose of both the judiciary and the ADR mechanisms are the same, they should receive the same importance, infrastructure and resources.
In a nutshell, the problem is that South Asian countries still have limited access to justice and the solution is the removal of limitations such as high cost, unnecessary delay, and other complexities associated with litigation. If such limitation is removed, and it should be removed by now, SDG 16 can easily be achieved by these oriental countries. However, as mentioned above, people should be made aware of their rights and available alternatives so that they know that they have access to justice and that, efforts are being made to protect their rights.
Let us not forget that United Nation's SDG-16 is nothing new. For instance, for Bangladesh, it is a reiteration of what the Constitution of Bangladesh has enunciated years ago. Therefore, as legal practitioners and/or ADR specialists, it is our responsibility to uphold the constitution and to contribute to the upholding of rule of law, equality and justice by introducing community-based institutional ADR practices with new and sufficient reforms and advancements.
The writer is an LLM graduate and a reviewer of the International and Comparative Law Journal.