Legal approaches to curb air pollution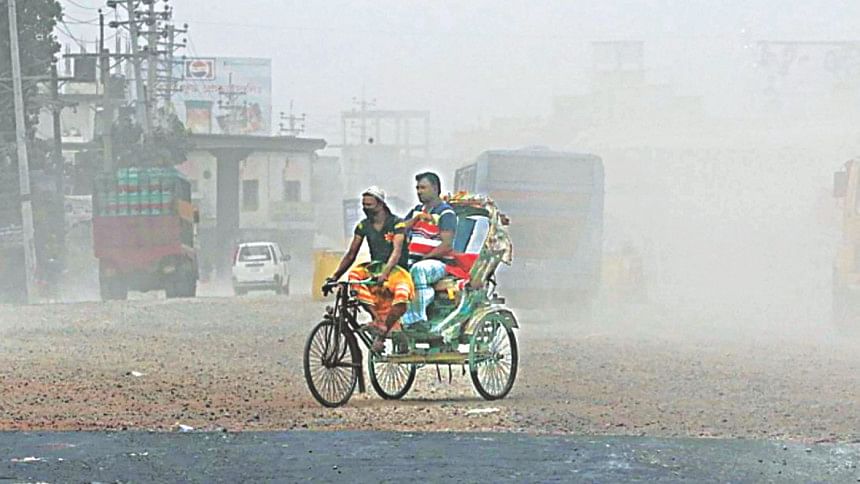 The air quality of Dhaka has been "unhealthy" and "extremely unhealthy" for an increased duration in recent years, says an analysis of Air Quality Index data, monitored by the Department of Environment under its Clean Air and Sustainable Environment (CASE) project. The capital has consistently occupied a top place for its worst air quality in the Index, maintaining an unhealthy competition with Delhi—a city that has turned into a "gas chamber".
Very alarmingly, stark similarities can be noticed between the causes of air pollution in Delhi and Dhaka. This raises the question: Will Dhaka embrace a similar fate as Delhi?
The major reasons behind air quality degradation are pollution from vehicles and construction works and indifferent operation of brick kilns. The government has commendably introduced legal measures to address these causes recently.
Section 46 of the Road Transport Act, 2018 prohibits driving of vehicles that exceeds the permitted emission of pollutants. Punishment for the violation of this prohibition under Section 89 is imprisonment for 3 months and fine along with deduction of a point on the driver's part.
Brick kilns, which are most responsible for air pollution due to the use of fire, have been planned to be converted into non-fire ones. The Brick Manufacturing and Brick Kiln Establishment (Control) (Amendment) Bill, 2019 is aimed to modify the existing law that prohibits conventional technologies in the brick-making industry. But the legislation is still to come into force.
Another proposed instrument targeted at controlling air pollution is the Bangladesh Clean Air Bill, 2019. The Bill focuses on a National Air Quality Management Plan. According to the proposed legislation, the government may declare an area "critical" if air quality deteriorates there or if it needs specific attention to deal with the situation. It also prescribes that for an offence by government agency, its head will be held accountable. However, the effectiveness of adopting such a plan can be questioned. Earlier this year, India launched a similar five-year Action Plan to curb air pollution that focuses on 102 polluted Indian cities. But it failed to produce any remarkable results.
In Bangladesh, implementation of the laws is always the primary hindrance; then there is a lack of dedication and diligence on part of different government agencies particularly in environmental issues. Therefore, even after breaking the law, offenders are seldom held accountable.
At the beginning of this year, the Director General of the Department of Environment was asked by the Court to take steps and conduct mobile court twice a week against perpetrators for air pollution. The directive came after a writ petition filed by Human Rights and Peace for Bangladesh (HRPB). Unfortunately, the report submitted by DoE to explain their compliance was ambiguous and dissatisfactory.
Apart from the domestic key factors behind air pollution, the concentration of the government needs to be expanded to international approaches too.

A study by Liji M. David and A. R. Ravishankara claims that about 40% of the boundary layer ozone from central India is transported to other regions in the Indian subcontinent and Bangladesh is affected most by India's activities. They explained that most of the regions in the Indian subcontinent cannot independently control their boundary layer ozone, since a significant fraction comes from regions beyond their control, with Indo‐Gangetic Plain and central India being major contributors.



In this regard, the government can seek reparation for transboundary harm in international platforms. That said, the neighbouring countries need to work together to check this aggravating threat.
According to the State of Global Air 2019, air pollution led to 1.23 lakh deaths in Bangladesh in 2017. Therefore, it is an undeniable threat to the citizens and the government must strive to fulfil its constitutional pledges and ensure the constitutional rights of its people. To avoid the fate of Delhi, their failure in policy implementation can be studied. Footsteps of cities like Beijing who were able to ameliorate the air quality can be followed.
The writer is student of law, University of Dhaka.