No backing out of EVM use: CEC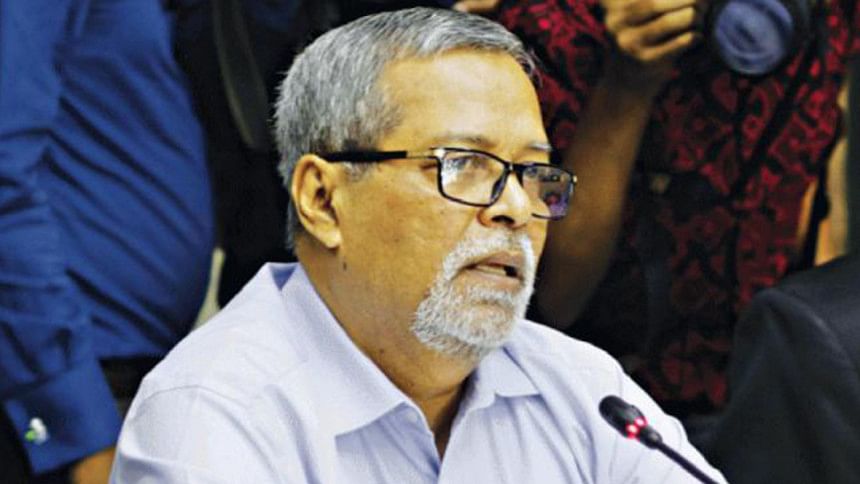 Despite strong opposition from the Jatiya Oikyafront, the election commissioners will sit today and decide how and in which places the electronic voting machines will be used.
The commission would not backtrack on its decision to use EVMs on a limited scale in the December 30 polls, Chief Election Commissioner KM Nurul Huda said yesterday.
The Jatiya Oikyafront on Thursday said it might sue the EC and government if they do not rescind the decision to use EVMs.
The Jatiya Oikyafront, an alliance of BNP and several others parties, has been saying from the outset that the EVMs can be manipulated and using these would create scope for vote-rigging.
The ruling Awami League, however, has been arguing that EVMs are modern and flawless.
 "There is no legal bar to using EVMs in the elections," the CEC told reporters at the Nirbachan Bhaban in the capital yesterday.
The EVMs will make the election more transparent, he added.
"The system will save time and is less expensive."
He urged those who oppose the system to send their technical team to examine the machines. "We believe we will be able to convince them."
President Abdul Hamid on October 30 promulgated the "Representation of the People Order (amendment) Ordinance, 2018", paving the way for using EVMs.
The Executive Committee of the National Economic Council on September 18 approved Tk 3,825.34 crore for procuring 1.5 lakh EVMs.
In the EC's electoral dialogues last year, 35 of the 40 registered parties, including the BNP and its allies, opposed the idea of using EVMs in the coming election.
However, the AL and four of its allies supported it.
EVMs were first used in Chittagong City Corporation election in 2011. The EC had not used the system between 2013 and 2017 due to some technical faults.
The EC said an improved EVM was later used on a limited scale during city corporation polls in Rangpur, Rajshahi, Khulna, Barishal, Sylhet and Gazipur.