11th Nat'l Polls: Rob threatens to sue govt, EC if EVM is used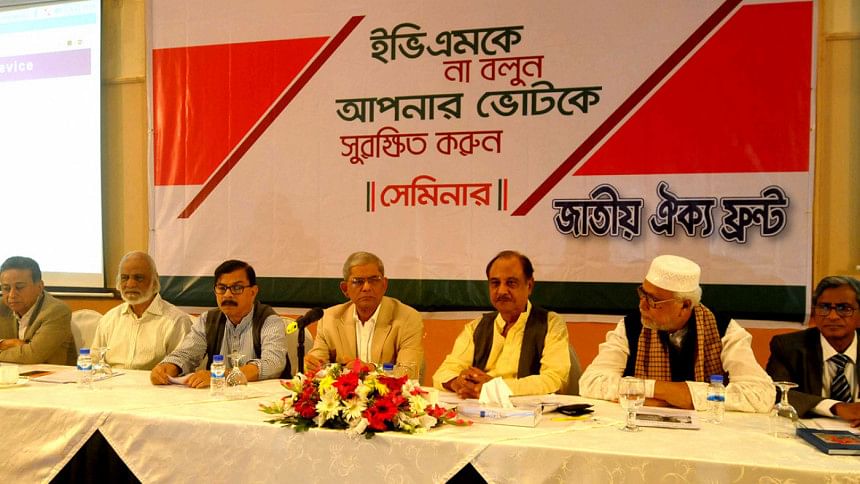 A top leader of Jatiya Oikyafront yesterday threatened to sue the government and the Election Commission (EC), if Electronic Voting Machines (EVM) are used in the upcoming general election.
"Use of EVM [in the election] is unconstitutional. If the EC moves to use it following the government directive… we will file case against the government and the commission," ASM Abdur Rob, a leading figure of Oikyafront and also president of Jatiya Samajtantrik Dal (JSD), said.
He was speaking at a seminar held at a hotel in Dhaka, organised by Oikyafront as part of its anti-EVM campaign.
A technical team of Oikyafront presented the electronic processor used in EVM -- Raspberry Pi, and demonstrated how the EVM could be manipulated by changing its code.
Rob urged the government and the EC not to put the Army into controversy by deploying them at polling centres where EVM would be used. Otherwise, the government and the EC would be liable for it, he warned.
Mirza Fakhrul Islam Alamgir, secretary general of BNP and spokesperson of Oikyafront said, "The EC itself is loyal to the government. The government is using all state machineries to return to power forcibly."
"Use of EVM will not be acceptable. However, we must go to vote; the nation will go to vote and there will be a 'voting revolution'," he added.
Speaking at the programme, Gonoshasthaya Kendra founder and one of the initiators of Oikyafront, Dr Zafrullah Chowdhury said, "When we asked the EC about the number of EVMs they want to use, they (EC) replied 'limited'. This proves they have ill motive. But the scenario has changed; we will not leave the field."
He urged the EC to give people the chance to exercise their democratic rights.
Nagorik Oikya convener Mahmudur Rahman Manna said, "The outside forces that they [Awami League] depended on most [to win the 2014 election] are now saying they will not allow another questionable election."
Krishak Sramik Janata League President Abdul Kader Siddique said formation of Jatiya Oikyafront is the first defeat for Awami League.
Speakers also urged the civil administration, law enforcing agencies and the army to stay neutral during the election.
BNP leaders Abdul Moeen Khan and Amir Khasru Mahmud Chowdhury, Gonoforum Executive President Subrata Chowdhury, Jatiya Party (Zafar) Secretary General Mostafa Jamal Haider, among others, also spoke the programme.