JKG Health Care chairman Dr Sabrina remanded again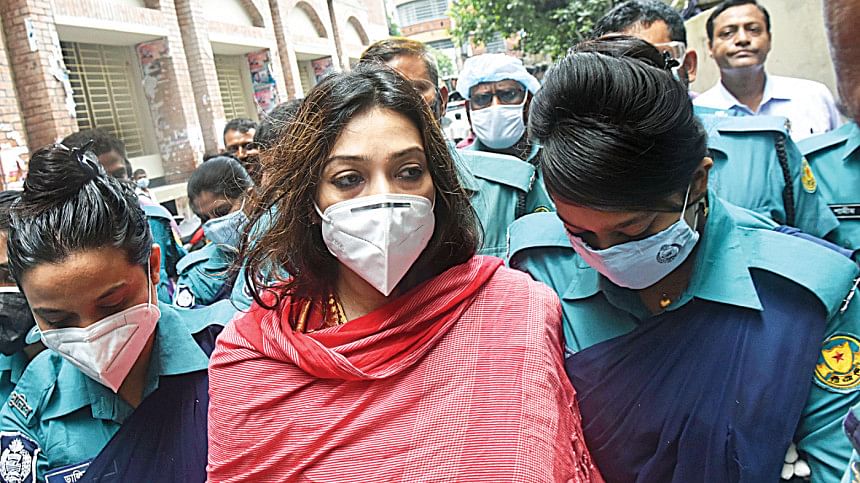 A Dhaka court today placed JKG Health Care Chairman Dr Sabrina Arif Chowdhury -- also a suspended government employee -- on a two-day fresh remand prayer in connection with a case filed over the issuing fake Covid-19 reports.
Metropolitan Magistrate Masud-Ur-Rahman passed the order after Md Liakot Ali, an inspector of detective branch (DB) of police and also the investigation officer (IO) of the case, produced her before his court with a five-day remand prayer.
Sabrina was produced before the court today on completion of her three-day remand.
In the remand prayer, the IO said Dr Sabrina, being the chairman of JKG Health Care, was directly involved with issuing fake Covid-19 test reports. So, she needs to be remanded to gather more clues about the matter and to know the whereabouts of others responsible for committing such offences, the IO said.
On the other hand, Sabrina's defence lawyer submitted a petition seeking her bail along with cancellation of the remand prayer, saying that their client was not involved with such offences.
Replying to a question, Sabrina informed to the court that she is no more the chairman of the organisation and was not involved with such incidents.
After hearing both sides, the magistrate turned down her bail and issued the remand order.
The court also directed the IO to interrogate her in presence of female police.
The case, filed with Tejgaon Police Station on June 24, was handed over to DB for investigation.
Earlier on July 12, police arrested Dr Sabrina, about three weeks after the scam came to light.
Following her arrest, the health ministry suspended her from the post of registrar at the National Institute of Cardiovascular Diseases for violating rules.