Mamata meets Modi, urges him to rethink CAA, NRC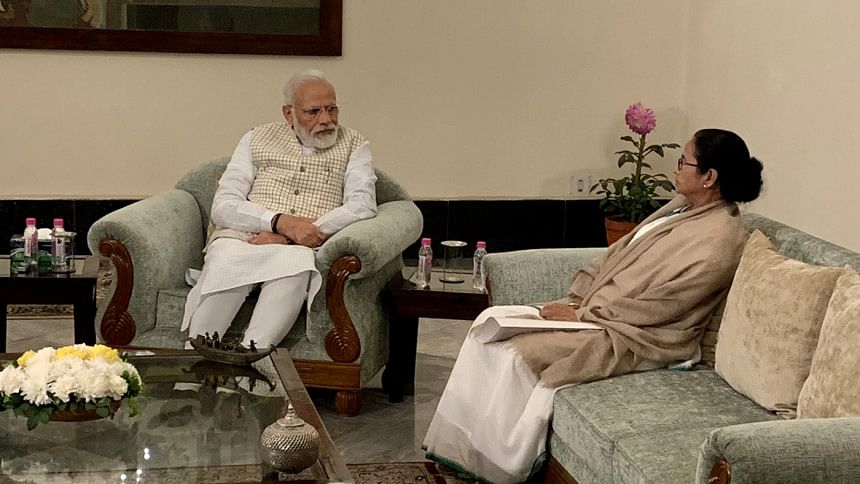 West Bengal Chief Minister Mamata Banerjee today urged Prime Minister Narendra Modi to rethink his government's decision over the controversial Citizenship Amendment Act and the proposed National Register of Citizens.
"I told the PM that we are opposed to CAA, NRC and National Population of Register and requested him to withdraw all the three moves," Mamata told reporters after meeting with Modi at the Raj Bhavan in Kolkata, in a rare interaction between the two political rivals.
Mamata said, "It was a courtesy call since he (Modi) has come to Bengal. I told the Prime Minister that people of the state are not accepting the NPR (National Population Register), NRC (National Register of Citizens) and CAA. I asked him to rethink these steps."
The chief minister said Modi requested her to come for a meeting in New Delhi on the issues since he had come to Bengal for other programmes.
Mamata said she also took up with the PM with some financial demands of West Bengal.
Soon after meeting, Mamata attended a sit-in demonstration organised by the student wing of her party Trinamool Congress.
The Modi-Mamata meeting took place soon after the PM landed in Kolkata on a two day-visit, two days after the West Bengal Chief Minister announced a boycott of a joint meeting of opposition parties convened by Congress President Sonia Gandhi to firm up a strategy to take forward the countrywide protests against the controversial CAA which went into force from yesterday.
This was the first meeting between Modi and Mamata in several months. The West Bengal Chief Minister is one of the most vocal critics of Modi and the CAA which she has refused to implement in the state along with NRC.  
On his arrival in Kolkata, Modi was received by West Bengal Governor Jagdeep Dhankhar, state Municipal Affairs Minister and Mamata's close aide Firhad Hakim, West Bengal BJP President Dilip Ghosh and other senior BJP leaders at the airport which saw protests against the CAA outside the gate.
Modi, who will be in Kolkata on Saturday and Sunday, is scheduled to attend the function marking the 150th anniversary of Kolkata Port Trust on tomorrow and other programmes.
Hundreds of protesters staged demonstrations at the crossing outside Kolkata airport gate number one despite strict security.
Demonstrations were also held in various other parts of West Bengal against Modi's visit to the city.
Mamata is one of the most vocal critics of the CAA, proposed NRC and NPR and has been holding regular street marches against the new citizenship law.