Modi sets goal of turning India into a developed nation in next 25 years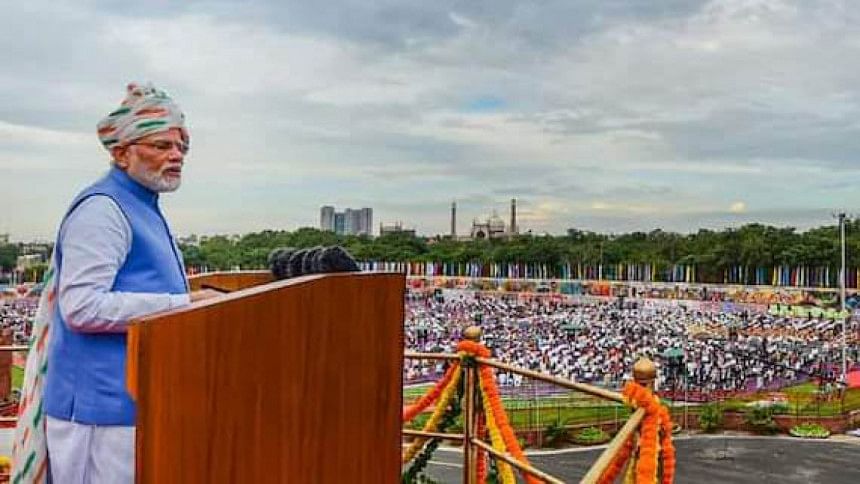 As India marks 75 years of its independence from more than two centuries of British rule, the country's Prime Minister Narendra Modi today (August 15, 2022) flagged corruption and nepotism among the biggest two challenges saying graft is eating into the country like termites.
In his customary address to the nation from the ramparts of the landmark Red Fort in Delhi, he set a goal of turning India into a developed nation in the next 25 years and called for an end to insult to women for faster development.
"Corruption is eating up my country like termites. And nepotism is snatching opportunities from all...even dynastic politics – let's pledge to rid India of this," Modi said, our New Delhi correspondent reports.
"From here, today, I want to discuss two things – corruption and dynasticism. We have to weed out corruption. We are making efforts to seize properties of people who have fled the country. I request you all to help me fight corruption," he said.
The Indian PM said: "The second issue – bhai-bhatijawad, pariwarwad – is not just limited to politics. We need to discourage this in institutions, in sports. We need to start a revolution against it. This is our social responsibility. We need transparency."
His remarks about corruption came in the midst of interrogation of a number of leading opposition politicians, including Sonia Gandhi and Rahul Gandhi, in connection with money laundering cases and arrest of Partha Chatterjee (former TMC leader for alleged money laundering) and Anubrata Mandal (for alleged involvement in cattle smuggling).  
A highlight of Modi-s nearly 90-minute speech was his special emphasis on the dignity of woman. "It's important that in speech and conduct, we do nothing that lowers the dignity of women," he said.
"A distortion has crept in our conduct and we at times insult women. Can we take a pledge to get rid of this in our behaviour?" he added.
Respect for women is important pillar for India's growth, the PM said, adding that we need to support our women's power.
Calling for celebration of India's unity in diversity, Modi said, "At home too, the roots of unity are sowed when both the son and the daughter are equal. If they are not, the mantra of unity cannot reverberate...Gender equality is a crucial parameter of unity."
He said for India to achieve the goals envisioned by its freedom fighters in the next 25 years, women have to play a critical role. If we uplift women and empower them, we can achieve the goals in a shorter duration and with less effort, he added.
Modi listed five promises for development: unity, goal of developed India, removal of traces of colonial mindset, taking pride in India's roots and a sense of duty among the people. End